Whether you ride a motorcycle, a bicycle, a skateboard or a scooter, a crash helmet is an essential safety gear piece. In the event of a crash, fall, or accident, wearing a high quality safety helmet in good condition significantly reduces the risk of death and of head, brain, and spinal injuries. Knowing what key factors to take into consideration when purchasing a crash helmet ensures you are fully protected in the event of an accident.
Choosing the Correct Fit of Crash Helmet

Getting the fit of the crash helmet right is crucial. If the fit is wrong, the helmet at best offers very limited protection, and, at worst, can cause more risk. Simply guessing roughly how big your helmet needs to be is not sufficient given that a crash helmet is so important. Measure your head just above the ears, wrapping the tape measure around your head in a straight line. Check the size of the specific brand of helmet you choose, as different brands use the same label size for different measurements. Try on the helmet, then close the chinstrap and ensure you can comfortably fit two fingers between the strap and your lower jaw. Hold the sides of the helmet and try to rotate it from side to side. For a full-face helmet, your cheek should follow the motion of the helmet while maintaining contact with the helmet. For a proper fit, you should be able to feel the helmet in contact with your whole head, without pinching, pressure points, or discomfort.
Choosing the Correct Style of Crash Helmet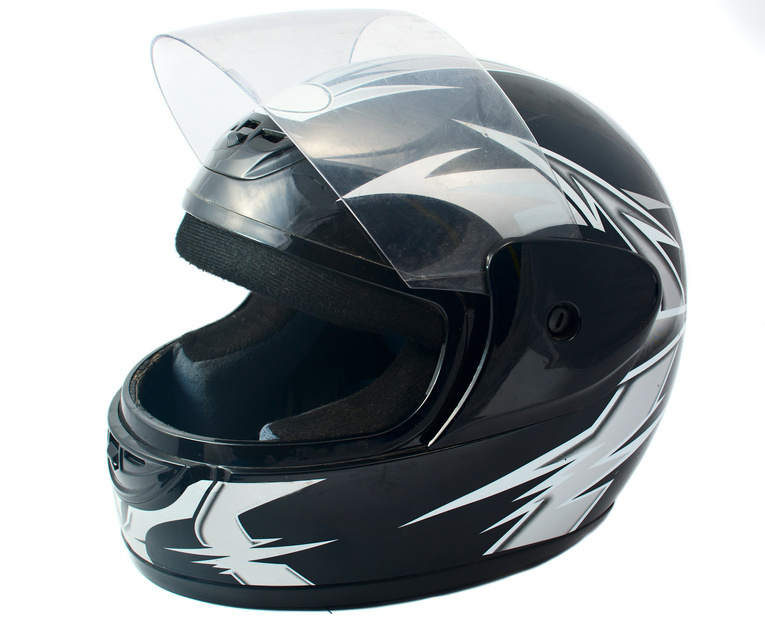 Full-face helmets are ideal for motorbikes, as they protect your head and face from debris, dust, and adverse weather, providing less distraction as you travel. These are the safest helmets, as they protect the face and chin from injury. The clear, tough, transparent face shield offers a large, protected field of vision, and many helmets feature air vents to keep you cool. Full-head helmets have a great deal of padding on the interior to increase your comfort. Modular helmets have a flip-up visor and chin protector and are suitable for motorcycles and other motorised vehicles. Cycle helmets and skateboard helmets are open-face helmets that are lightweight, suited to cycles, skateboards, and non-motorised vehicles.
Choosing a Helmet that Meets British Safety Standards
Before you purchase a crash helmet, always ensure that it reaches minimum British Safety Standards. For motorcycle helmets, the helmet must meet British Standard BS 6658:1985. Additionally, the helmet must have the BSI kitemark, which is proof of safety certification. Otherwise, the helmet has to meet the UNECE Regulation 22.05.