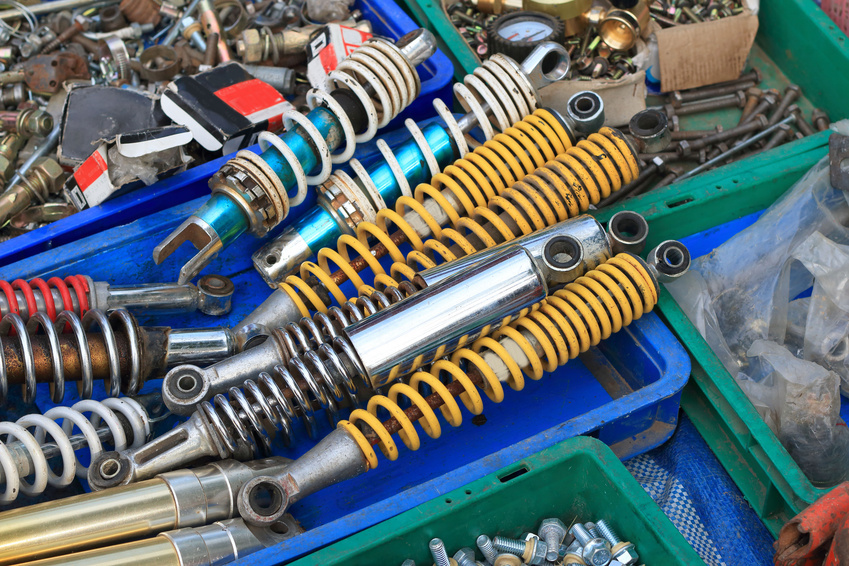 Auto racing teams researched and developed coilovers to enhance vehicle performance. Eventually, these performance car parts became common as aftermarket additions to non-racing vehicles. Consumers who want to purchase coilovers should know how the suspension system part works as well as the top types of coilovers.
Coilover Overview

The term coilover refers to a suspension system car part that includes a coil spring that circles the shock absorber. The coilover spring is a standard component of the McPherson strut suspension system, which includes an anti-roll bar the acts as a longitudinal restraint on the undercarriage of a vehicle. Coilovers operate with a threaded shock body and adjustable lower mount to adjust suspension damping. The combination of the threaded shock body and adjustable lower mount creates maximum damping, without increasing the torsional load of a car. Some manufacturers construct coilovers to adjust for ride height and preload by employing a spring perch.
Blox Series Coilover
Blox spends hundreds of hours testing its racing rear coilover to ensure precisely matched spring rates and shock valving. The result is a coilover that delivers good handling that protects vehicle owners against rollovers. Blox enhanced the support of its coilover by calibrating coil movement with to compensate for latitudinal changes. Most coilover systems only compensate for longitudinal changes. Blox series coilovers work well for car owners who make daily commutes in high congestion traffic, as well as those who spend their weekends competing in high performance race cars. Vehicle owners can fine tune and optimise their suspension systems by installing a Blox coilover car part to adjust vehicle ride height and corner weights.
Megan Racing EZ Street Coilover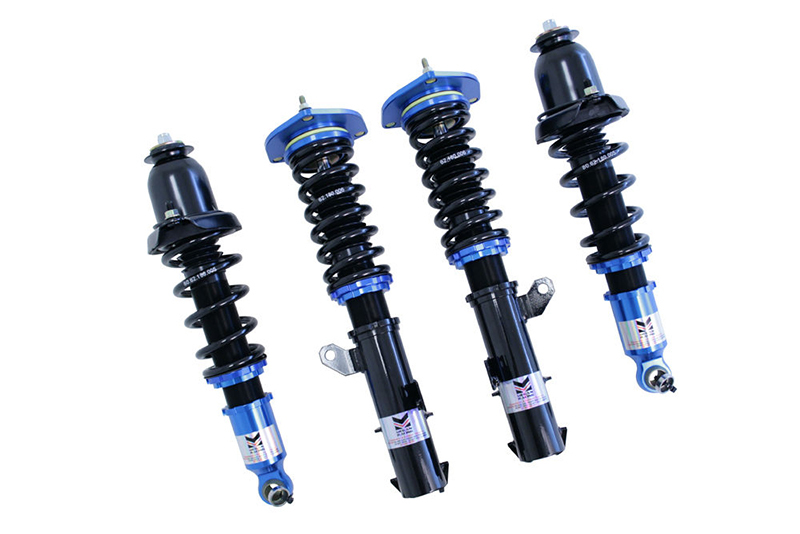 Megan racing designs and manufactures the EZ Street coilover for car owners who shop on limited budgets. The company's coilovers offer 15 adjustable damper strength levels, which covers most types of driving terrains. Aluminium brackets combined with rubber inserts provide long lasting durability and the flexibility for vehicle owners to adjust for ride height. Megan Racing includes all of the hardware vehicle owners need to set up the suspension system component. The race car part manufacturer targets off road vehicle owners who require suspension enhancements to withstand constant driving over undulating terrain.
Eibach Double Spring Coilover
Eibach combines the company's main and tender springs to create a variety of spring rates for cars that operate over a wide variety of road conditions. Tested on auto racing tracks and off-road venues, the Eibach Double Spring coilover utilises two different main spring rates to handle both small and large road bumps. The softer spring rate compresses both springs together to provide vehicle owner's with smooth riding over level terrain, while the harder spring rate adjusts the main and tender springs for different size bumps in the road.