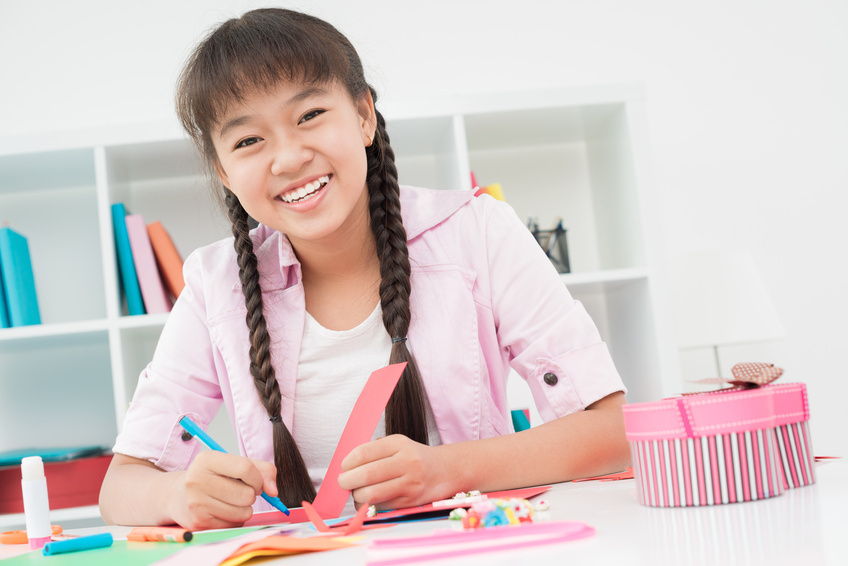 Whether making a birthday card, thank you card, or other type, personalised cards are a simple and inexpensive way to show someone how much you care. With card stars for decoration, your handmade cards are sure to impress both loved ones and friends.
Card Borders
Add a border to the front of your homemade card using card stars to capture the intended recipient's attention. Card stars come in many forms. When helping a younger child, consider working with card star stickers, which come in a wide array of colours. Some may even offer a holographic, transparent, glitter, or velvet effect. Still, others may come double embossed or with a matt or gloss finish. When starting out, keep in mind the occasion. For a Christmas card, consider making a border of green and red stars. On the other hand, pink and red stars prove perfect for Valentine's Day. Still, for a get-well card, opt for card stars that offer words of sentiment and encouragement. When working with older children, plastic card stars or those made from cardstock work well and typically need glue to adhere to the card.
Card Confetti
Use small card stars of varying size as confetti. These card stars should be made of colourful cardstock or vellum paper for the best possible presentation. Keep in mind that smaller star shapes may prove difficult for the intended recipient to clean up. You can place them inside the card as well as the envelopes. Depending on the wedding theme, choose the appropriate colours. Silver and gold card stars prove popular and work for multiple themes. Use larger pieces and string them across the front of the card to tie together the look.
Card Frame
When making birthday invitations, consider adhering a picture of the celebrant to the front, and then use a hollowed-out card star made of cardstock to create a star frame around the picture. Either select a neutral colour, such as white, beige, or black, or choose a colour that best complements the depicted image. To enhance the card and picture, strategically paste on other suitable elements, such as smaller card stars, bows, and stickers. Alternatively, you can use a large card star as the basis of the actual card. Make sure, however, to find correctly sized envelopes.