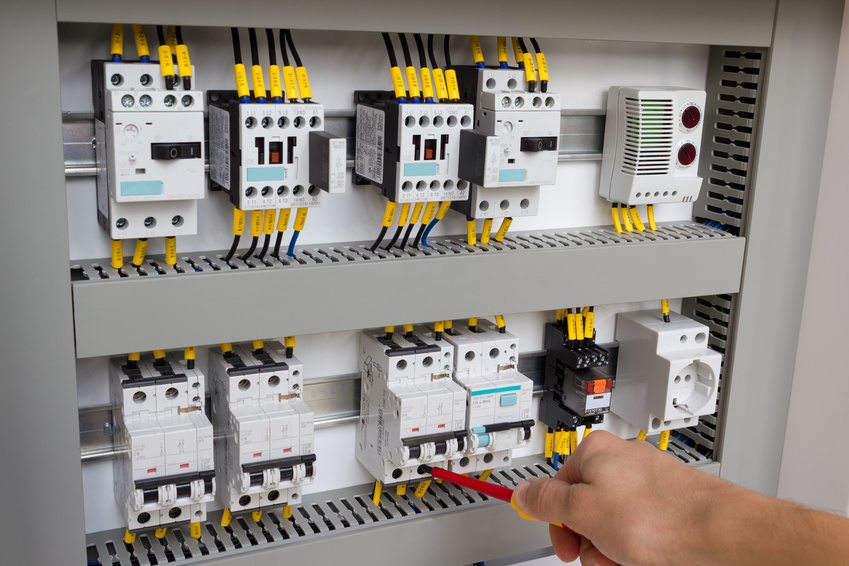 Circuit breakers stop the flow of electricity. These safety mechanisms work as part of one large electricity monitoring board in a home or attach to individual outlets to monitor current flow. They help prevent fires as well as complete power outages and detect when they need to shut down an electric source. Individual Wylex circuit breakers monitor the flow of electricity and plug right into large circuit panels.
Wylex B32 MCB 32 Amp Circuit Breaker

This small plug-in circuit breaker from Wylex replaces old out-of-date fuses and fits in Wylex-manufactured circuit breaker boards. It even retrofits into old model circuit boards. It also replaces re-wireable and cartridge fuses, making a home safer. You can identify this circuit breaker by its colour-coded contact shield that lets you know which electrical line needs a restart. Made for UK power, this Wylex circuit breaker works with a maximum of 230 volts and monitors 32 amps of electricity. When it does shut down an electrical source after a power overload, flip the read switch to get things working again. This Wylex circuit breaker is type B and 6 KVA rated.
Wylex 32A SP Type B Curve MCB Circuit Breaker

Do not replace an entire old fuse box when you can just replace the individual fuses with circuit breakers. This 32-amp type B curve breaker also replaces worn older model breakers. You can use it with a Wylex-manufactured circuit breaker board and feel confident your house is safe from common power surges, no matter how much electricity you use on one circuit. The orange switch makes this breaker easy to identify when it shuts down a power source after a possible overload. This Wylex individual circuit breaker plugs right into a main board and is easy to see in the dark when power goes out thanks to its bright orange switch.
Wylex SFB16 16 Amp Circuit Breaker
Designed for circuits that handle smaller loads, this Wylex 16-amp circuit breaker replaces old, outdated fuses, as well as worn older circuit breakers. Inexpensive and convenient, it is a miniature circuit breaker and works with just one pole. Plug the Wylex SFB16 directly into circuit boards for easy installation. Use this breaker on a line that only handles light switches and does not have powerful devices such as heaters and microwave ovens. The switch trips any time you attempt to overload the circuit. When the breaker trips, just turn off one or two lights and switch the power back on with ease. This Wylex circuit breaker features a 16-amp rating.