Owners of
eBook
s are generally particular about the eBook they use. Once the particular eBook has been acquired, then the right accessories make the eBook look and function exactly as desired. These include colourful covers, cases, and folios that project the correct image, protect the eBook, and may function as stands. Chargers keep the eBook working day and night at home and away. Any additional cables allow for data transfer and sharing. Kindle lights make it easier to read at night, like little book lights did in the analogue world. One of the top five accessory bundles below should provide the gear to complete any eBook outfit.
| | |
| --- | --- |
| 1 | 6-Item Bundle Accessories Pack |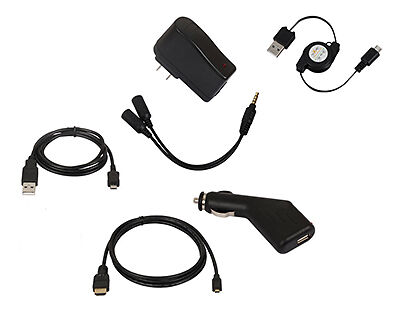 A 6-item Bundle Accessories Pack for the Kindle includes a folio case that functions as a stand. These cases are the main distinction among packs: they are offered in different colours and styles of leather, from synthetic to polyurethane-coated, or PU, split leather. Some are designed with pockets for cash or credit cards so they can function as wallets as well. A screen protector completes the device protection element of the bundle. Packs typically include both a car and wall charger. Confirm that the wall charger is made for UK current. Some chargers are designed to adapt to any global current. If not, make sure a Mains travel adapter is on hand. A USB cable for charging and data sync is the final element of these kits.
---
| | |
| --- | --- |
| 2 | Nook Color eBook Folio Cover Case |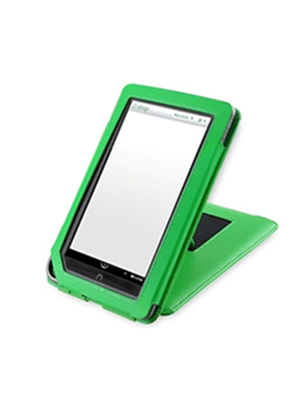 Nook Color Case Bundles customise and protect the Nook Color and Nook Tablet. Each bundle offers decorative vinyl skin decals for the front and back of the device. A slim cover made in a coordinating colour of synthetic leather holds credit cards, business cards, and other essential papers. Elastic straps hold the cover to the Nook while a magnetic clasp holds it closed. Colour and design options range from brilliant Asian dragons in fiery red folios to sweet pink cases with pretty roses on the skins.
---
| | |
| --- | --- |
| 3 | Leather Case Cover With LED Light For Kindle |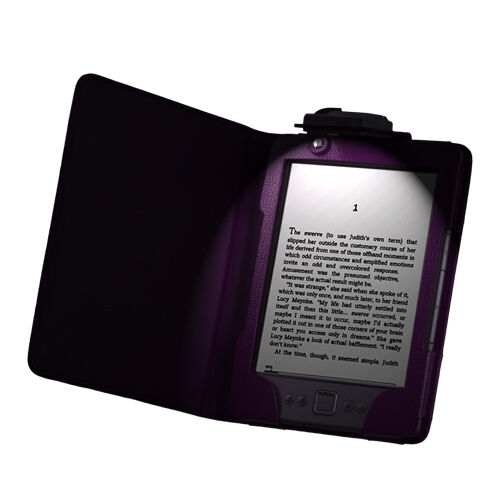 Luxury and illumination pair up when the Kindle is wrapped in a leather Kindle cover that comes with a built-in LED light. The light makes night time reading easy and convenient. Many also include a screen protector and stylus. The options in Leather Case Covers with LED Light For Kindle are as diverse as the imaginations of those who dye, texture, or colour leathers. Hard plastic cases may have leather front covers; these cases they may have padded interiors. The various leathers used include faux, or imitation, leathers in a rainbow of colours; "PU" leather, which protects split grain leather with a top layer of polyurethane; and traditionally processed leathers. Some of these Kindle covers function as a Kindle stand for convenience while reading.
---
| | |
| --- | --- |
| 4 | Reversible Cover Case and Accessories Bundle |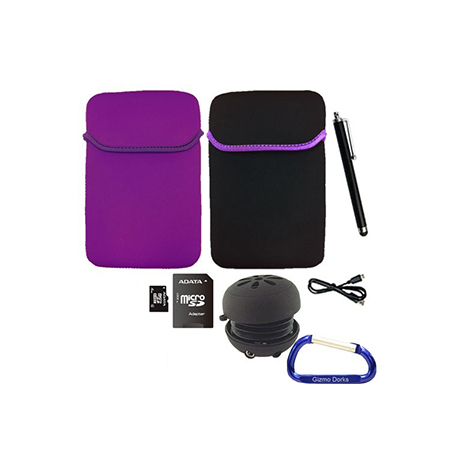 A reversible cover case and accessories bundle provides a protective neoprene sleeve for carrying the Kindle, plus a screen guard and a micro USB cable for data transfer. A coordinating carabiner carries keys securely. The reversible neoprene sleeve gives the owner two options for appearance when carrying the device.
---
| | |
| --- | --- |
| 5 | Case, Book Light, Stand, and Charger Bundle |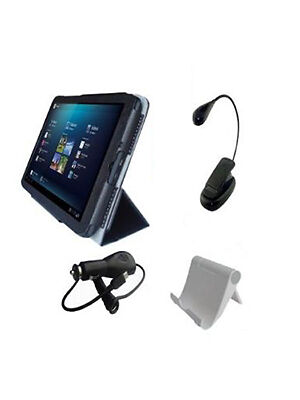 This kind of bundle is offered for Kindle, Nexus, and Nook, as well as the Galaxy tablet. The case, book light, stand, and charger bundle provides a synthetic leather folio case that functions as a book stand, usually providing either a vertical or horizontal orientation. Different bundles have cases in different colours that make very different style statements. A screen protector stands up to fingerprints, dust, and dirt. A car or home charger is included. Home chargers are sometimes designed for 110V US current, so buyers may wish to also purchase a Mains travel adapter if this is the case. The book light is helpful for those reading under low light conditions who do not wish to turn on a room light.
---
How to Buy Accessory Bundles for Your eBook
An excellent source of eBook accessories is eBay. Diverse eBay sellers offer accessory bundles with a wide range of covers, folios, stands, and other useful accoutrements. To find accessories suited to your eBook, key the name of the eBook and its size into the Search window on any eBay page: "
Nook 7
". Avoid keying "inch" or "in" or the mark because different sellers present their products differently and you miss some great opportunities. You can specify further "
Nook 7 accessory
" or "
Nook 7 case
", which often gets more results, then skim to find the bundle with exactly what you want. Other great items pop up on the Daily Deals
Tablet Accessories
. You quickly have the accessories bundle to perfectly outfit your eBook.