Every bride wants to look her best on her wedding day and choosing the right wedding gown is always one of the top goals for this special occasion. Ballroom-style wedding gowns are a favourite style of dress for weddings because they are very princess-like and elegant, however finding the perfect gown is not always that easy. Often with all of the hustle and bustle of activities that surround this day, time to try on these gowns gets short. At times like these, it is very helpful to know more about which gowns are the best and what features they include in order to make the buying process easier.
| | |
| --- | --- |
| 1 | Casablanca Wedding Gown Model 1789 |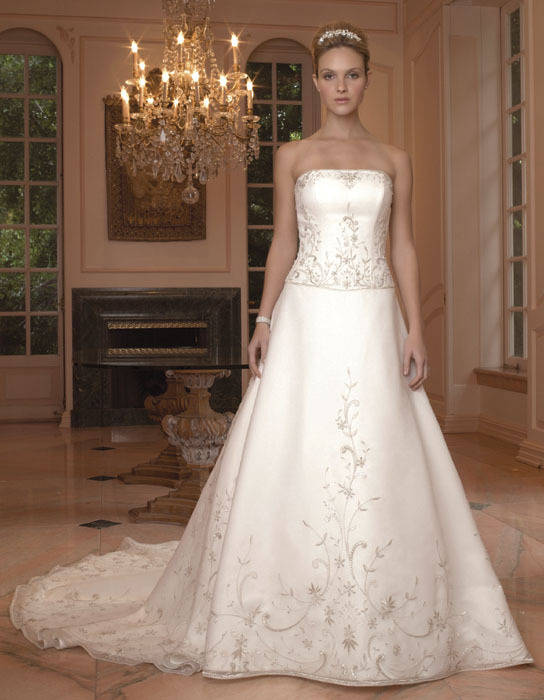 Known for exquisite attention to detail, Casablanca wedding gowns are a favourite amongst many future brides. One very elegant dress is the Casablanca wedding gown model 1789 with intricate Swarovski crystal detailing. The matte organza and satin material has excellent reflective qualities and drapes the body well. It comes in various colours which include white, ivory, or champagne. Each dress includes detailed hand embroidery that goes into creating the delicate flowers with crystal beadwork which starts at the bodice, then begins again at the waist, flows down the sides of the gown and finishes off with sprinkles around the hemline. A chapel train caps off the dress for a very breathtaking look.
---
| | |
| --- | --- |
| 2 | Vera Wang Organza Fit and Flare Model VW35101 |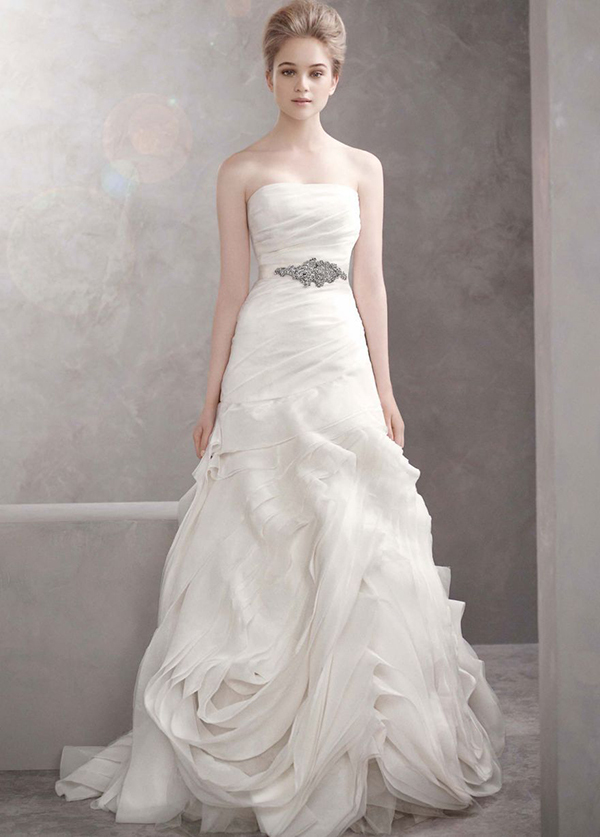 A leader in the fashion industry, the Vera Wang name is one that exemplifies style and quality, especially when it comes to Vera Wang wedding gowns and other types of formal attire, and the VW35101 model from the Vera Wang White collection is no exception. Every bride feels special wearing this fit and flare ballroom wedding gown style since each gown uses bias-organza that is hand cut for each dress, ensuring that no two dresses are alike. Designed for a perfect fit, this wedding gown hugs the shape of the body while adding flare to the overall look with the inclusion of a chapel-style train and flange detailing on the lower portion of the gown. It is available in blush, ivory, white, and soft-white options.
---
| | |
| --- | --- |
| 3 | Enzoani Beautiful Model BT13-7 |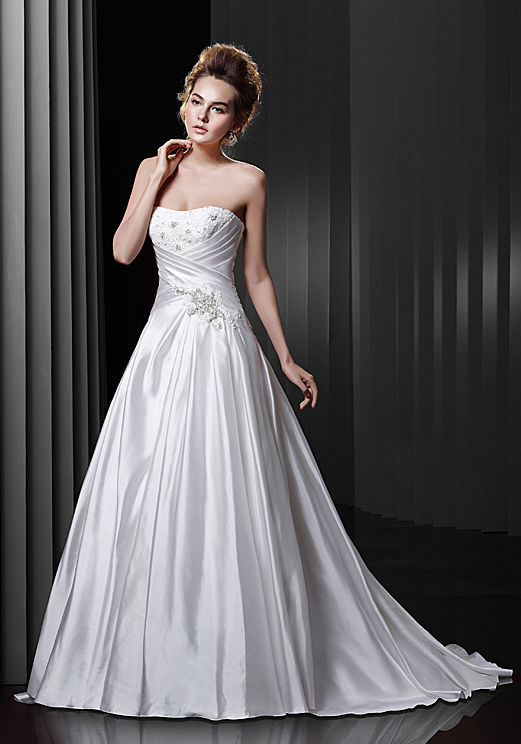 Just as the name of this ballroom wedding gown suggests, the Enzoani Beautiful gown model BT13-7 is a wonder to behold. All Enzoani wedding gowns are stunning, and this particular Enzoani wedding gown follows suit with features that include a double sheen organza and lace material design with intricate crystal floral beadwork detailing that makes any woman feel like royalty. Available in various shades of ivory, this wedding dress has a lace-up back that also incorporates the crystal beadwork embroidery stitching into the pattern. This sleeveless model also features a strapless sweetheart neckline that completes the beautiful look.
---
| | |
| --- | --- |
| 4 | Maggie Sottero Decadence Model |
Ballroom-style wedding gown favourites cannot be complete without adding the Maggie Sottero Decadence model to the list. It features a dropped basque waistline that is ideal for minimising the middle, and the diamond white taffeta fabric flows into a stylish ballroom gown style and finishes with a long train. The cap sleeves are detachable and include a smattering of Swarovski crystals artistically placed over handmade floral embellishments with this same motif scattered on the skirt pickups as well. This particular model features a sweetheart strapless neckline for a more seamless appearance. A corset closure and bubble hemline finishes off the duchess ballroom gown. Shades of ivory are choices available for the Decadence model gown.
---
| | |
| --- | --- |
| 5 | Ronald Joyce Dublin Model 64023 |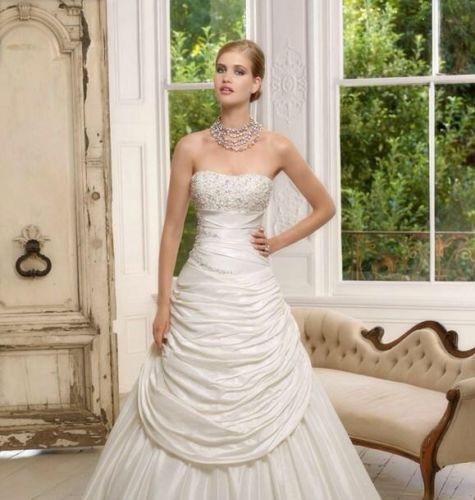 Ronald Joyce wedding dresses come in a wide array of styles that include the duchess or ballroom gown wedding dresses. Future brides-to-be who are looking for another choice in a stunning ballroom-style wedding gown should not overlook the Ronald Joyce Dublin Model 64023 bridal gown. This floor-length model features a strapless straight neckline. Sequins sprinkle the bodice without overpowering it. This elegant dress includes choices in white and ivory and is ideal for women who are seeking wedding gowns with long trains. The shimmery taffeta fabric features a handmade flower embroidery motif that includes pearl beads which decorate the material on the small of the back. It has fit and flare characteristics that help make this an appealing combination, especially for women who desire to make their bodies appear more proportionate.
---
How to Buy Ballroom-Style Wedding Gowns on eBay
If is not hard to find the perfect ballroom-style gown for your wedding when you shop on eBay. Save valuable time by ordering a dress online in your size instead of waiting for a brick-and-mortar store to order it. Just enter specific search terms on any eBay page or use the filters available in the advanced search option feature, then you are on your way to owning a great wedding gown. Even though the style of this dress is that of a ballroom gown, there are variations between brands and models. Some of these variations make a difference to a future bride between owning a "great dress" or the "perfect dress", so knowing those details is important.