The increasing reliance on portable technology, such as laptops and tablets, means that protective bags and cases are in high demand. These accessories protect the electronic devices from scratches, bumps, and spills, and offer an easy method of transportation. Good quality materials and durable construction make Belkin one of the top-selling manufacturers of computer cases. Features such as multiple storage pockets, water-resistant exteriors, and padded, removable straps, ensure
Belkin cases
offer the protection and convenience that buyers require. Whether buyers carry laptops or tablets, they can protect their devices with one of these top five Belkin computer cases.
| | |
| --- | --- |
| 1 | Belkin Quilted Case Cover |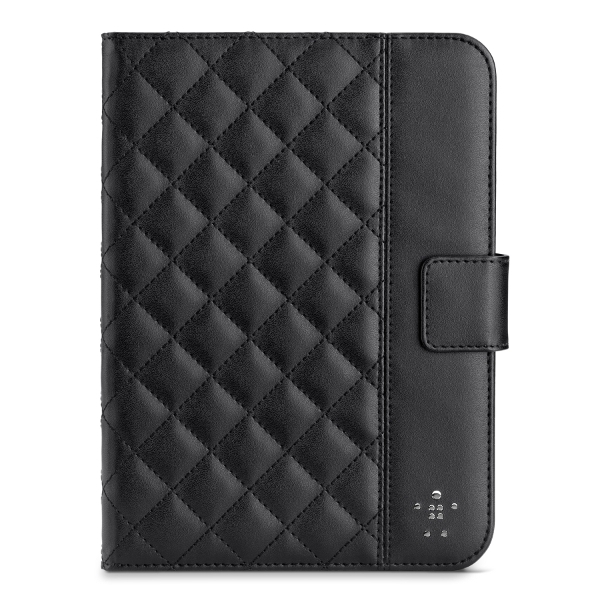 The Belkin quilted case cover is a stylish take on a simple laptop case. It features a quilted fabric exterior with reinforced edges and a padded inner lining. It comes in a range of sizes designed to fit devices as small as a 7-inch tablet up to a 15-inch laptop. A lightweight sleeve is appropriate for a Kindle or iPad, whereas a horizontally or vertically-oriented case with a removeable shoulder strap is more suitable for a laptop. With several different colour and pattern combinations available, the Belkin quilted case cover gives fashion-conscious buyers an individual look, while still offering excellent protection for their devices.
---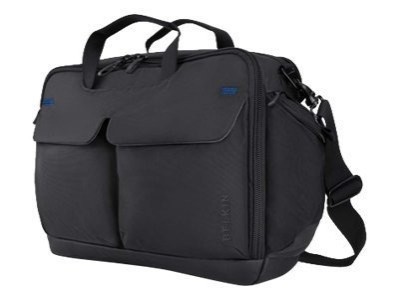 The Belkin Move Toploader has a spacious interior and easily accessible exterior pockets. The top-loading design resembles a briefcase and allows easy access to a device, as well as any accessories. Buyers can wear the padded shoulder strap in a cross-body style to ease the burden of a heavy load or remove the strap and carry the case using the padded ergonomic handles. A designated pouch for a water bottle and outer pockets ensure that everything stays in place safely, while the water-resistant exterior keeps it the case's contents dry. The separate laptop compartment offers additional padding and protection for devices up to 17 inches. A specially designed trolley strap attaches securely to rolling luggage, making this case a popular choice for travellers.
---
| | |
| --- | --- |
| 3 | Belkin FlyThru Laptop Case |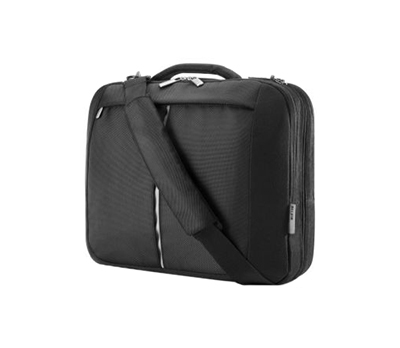 Travellers that wish to save time when going through security at the airport may appreciate the unique style of the Belkin FlyThru laptop case. It opens to reveal an isolated compartment with a clear window, which may prevent the need to remove the device, depending on the regulations of the airport. The FlyThru has several storage compartments to keep accessories organised. Its slim, lightweight design makes it easy to carry. It holds devices up to 15 inches and features a 58-inch shoulder strap and soft, padded top handles. It does not have a trolley strap to attach to rolling luggage, but it still meets the needs of many business travellers.
---
| | |
| --- | --- |
| 4 | Belkin Evo Messenger Case |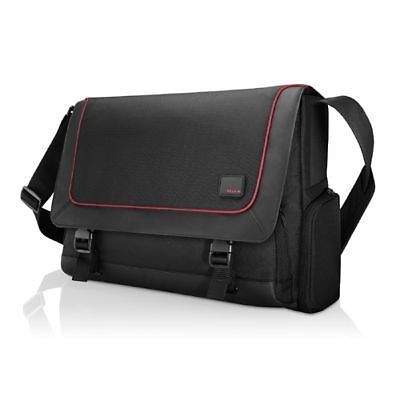 The Belkin Evo Messenger has an abundance of storage options in its slim, lightweight profile. There are separate compartments for mobile phones, MP3 players, pens, and business cards, which makes it easy to keep accessories organised. It is available in stylish colours and designs, such as a top-loading case or backpack. Belkin's KeepSafe notebook compartment securely stores laptops with screen sizes up to 15.6 inches, preventing scratches and other damage with its soft lining. A thin, contoured strap reduces the discomfort experienced with bulkier shoulder straps. Power adapters and cables are easily accessible in the removable storage pouch.
---
| | |
| --- | --- |
| 5 | Belkin Stealth Slip Case |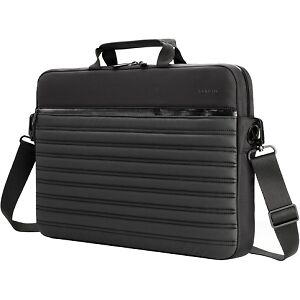 High-tech style and a matt black finish make the Belkin Stealth Slip Case as sleek as its name implies. It is designed to be simple and lightweight, with a 2-inch deep case featuring a water-resistant exterior. It has ribbed padding for added protection and a rubberised base to keep it upright. The Belkin Stealth computer case has just enough room for a few small accessories, allowing travellers to carry the essentials without feeling overloaded. The Stealth Slip fits most laptops up to 10 inches. It features an expandable storage pocket, soft-grip handles, and a removable shoulder strap.
---
How to Buy Belkin Computer Cases
Whether in search of a simple Belkin computer case for professional use or a colourful sleeve that expresses your individual style, visit eBay to find a wide selection of products. Buyers can use the search field found on any page to find laptop cases, laptop messenger bags, netbook sleeves, and tablet covers. Use the category filters to find a specific product. Belkin computer cases offer a range of features, including multiple storage compartments that make it easy to keep the contents organised. Belkin's durable materials and ample padding offer a high level of protection for laptops and tablets.