Convenient and functional, a car video in-dash unit with GPS with touch screen functionality provides owners with directions as well as hours of entertainment whilst navigating city streets or the open road. The devices typically display information such as operating mode, volume, time, and videos on the screen, and the integrated audio can relay directions, transmit on-air and recorded music, and integrate via Bluetooth to pair with all smartphones for hands-free driving. Whether the unit comes from a local electronics shop, car audio specialty retailer, or online at eBay, a bit of research into the top car video in-dash units with GPS and touch screen allows shoppers to make informed purchasing decisions.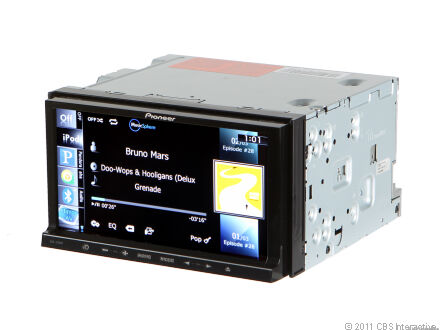 The multi-functional Pioneer AVIC Z130BT offers on-air radio, CD, and MP3 playback functionality as well as on-screen DVD playback and turn-by-turn navigation with thousands of pre-loaded points of interest. The full colour 18-cm WVGA touchscreen display allows for easy mode switching amongst audio, video, and navigation, and the onboard buttons also fast forward, rewind, play, skip, and mode toggle DVDs with a light press. This device streams Pandora Internet radio programming when connecting to an iPod or iPhone via Bluetooth and allows for the transfer of playlists, videos, and movies.
---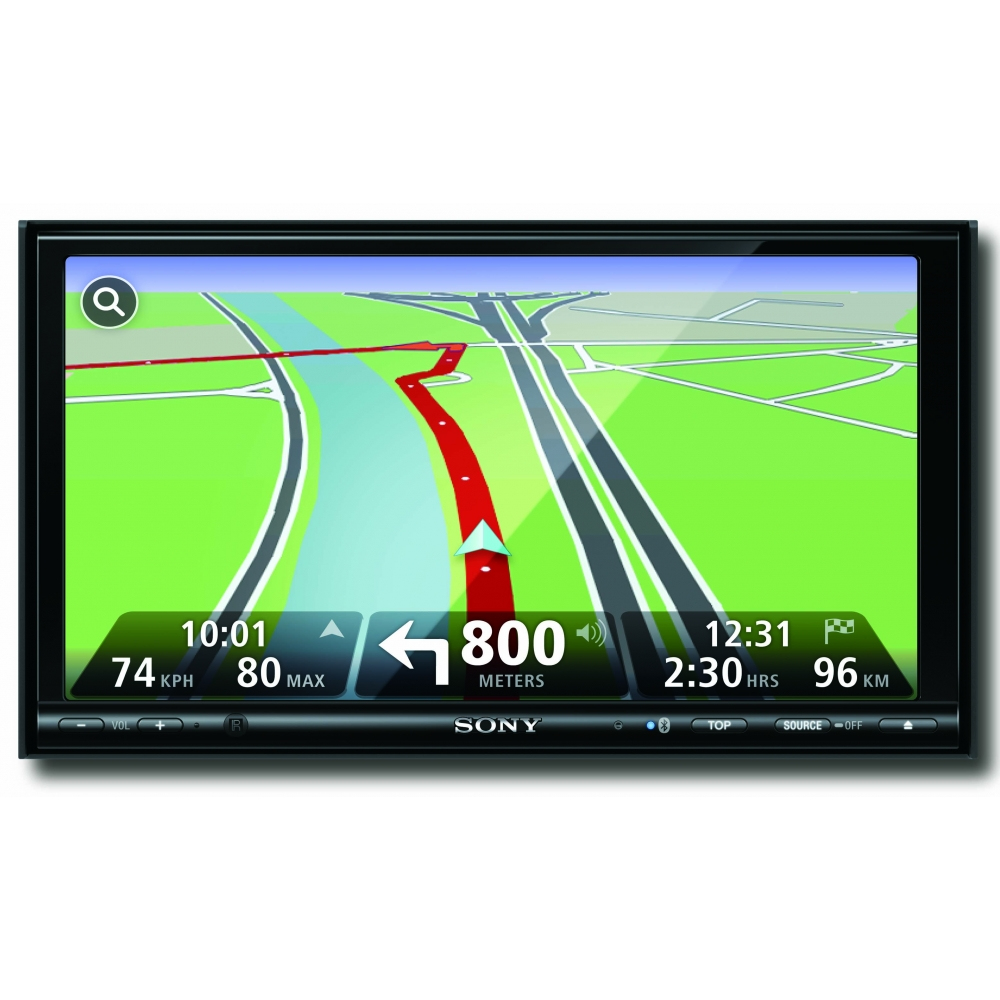 Combining a AM/FM tuner, CD player, and on-screen DVD playback with full navigation system, the Sony XNV-770BT makes use of on-screen controls as well as physical buttons to skip between the three modes to provide entertainment and directional support. The 18-cm full colour touch screen displays video with a resolution of 800x400 pixels and up to 480P encoding. Owners have full control of the navigation systems' voice, with a pick between male and female voices with several accents, and the TomTom maps and traffic feeds ensure quick navigation to any point on the list. In addition, Bluetooth calling sets up with a simple pairing of a smartphone.
---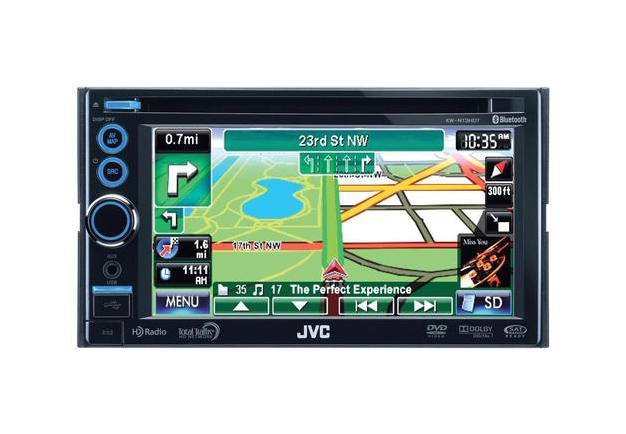 With a full colour 15-cm touch screen and 400 MHz processor, the JVC KW-NT3HDT features a detachable face and optional steering wheel adapter that allows for easy mode and volume changes with the tap of a button. The on-screen audio equaliser settings allow full control of treble, bass, fade, and balance, and the available Bluetooth and USB port allow for the pairing of an iPhone or iPod to facilitate hands-free calling, playlist sharing, and contact list transfer. The GPS device provides quick turn-by-turn directions to any location based on coordinates or street addresses as well as precise navigation to thousands of waypoints and points of interest across the country, and as an added bonus, the on-screen navigational menu displays current speed, traffic information, and upcoming turns for worry-free trips.
---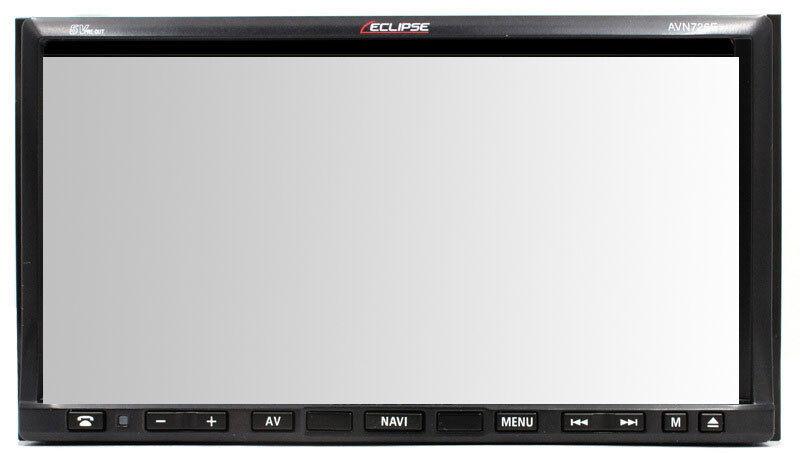 Thanks to its standard size, the Eclipse AVN726E exchanges easily with factory-installed systems and provides satellite radio streaming and iPhone pairing as well as a complete navigation system and a full colour 18-cm TFT active matrix screen with 16:9 aspect ratio. In addition to standard CDs and DVDs,, this device accepts CD-R, DVD-RW, MP3, and WMA and ensures full compatibility with DivX media encoding. Thanks to a secure Bluetooth connection, hands-free calling and file sharing completes in the span of a few seconds and, with the aid of a specialised adapter, also displays backup camera feeds.
---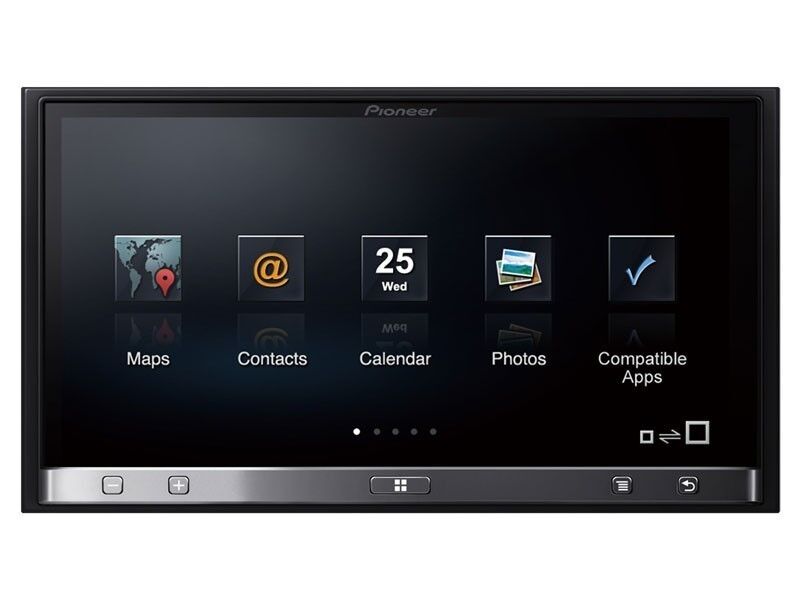 Compatible with both Android and Apple smartphones, the Pioneer AppRadio 2 with 18-cm screen combines full navigation and on-air AM/FM broadcasting with DVD, CD, and MP3 playback and on-screen access to applications, mode changes, and turn-by-turn directions. The built-in Bluetooth function allows for hands-free calls, the transfer of audio and video titles, and phone book sharing for quick access to frequently dialled numbers. In addition, the on-screen equaliser allows complete customisation for treble, bass, fade, and balance as well as brightness.
---
How to Buy Car Video In-Dash Units with GPS and Touch Screen on eBay
Whether you prefer a specific brand name in car audio or make buying choices based on features and technical specifications, you can find many brands and models of car video in-dash units with GPS and touch screen on eBay. To search for one, try targeted phrases like "Pioneer AVIC car video in-dash unit", " Eclipse AVN726E in-dash unit with GPS", or "Sony car video touch screen unit with GPS" for the best results. Choosing the perfect component gives you an in-dash unit that performs well long-term and provides entertainment for front and rear seat passengers whether taking a spin around town or crossing the country.