An ultra-protective case and an effective charging device are necessary for any serious
eBook reader
user. Accessories of this sort are not only popular, but important safeguards. However, eBooks do not traditionally include accessories such as protective covering and special chargers. These pieces are considered to be extras, not explicitly necessary for use. Purchasing accessory bundles that include cases and chargers saves money and ensures consumers gets everything they need in one single, convenient purchase. Consumers have several effective and affordable case and charging bundles at their disposal. Purchasing items in a package tends to include a special discount price overall for the bulk purchase. These accessory packages safeguard expensive investments like eBooks, keeping value intact for the long term. eBook type, budget, and need determine the specific bundle most purchase.
The eForCity company offers a variety of eBook case and charger bundle packages. Most popular options include those for the Nook and Amazon Kindle.. The basic packages include a stylish leather case, a stylus, a screen protector, and a USB compatible car charger for travel. Despite having few accessories included, this kit offers all the necessities at a great price. The revolutionary screen protector not only protects from future damage but improves the look and appearance of the LCD screen by enhancing images and reducing the appearance of pre-existing scratches or dull spots.
---
| | |
| --- | --- |
| 2 | Eco-Fused Accessories Combo for Kindle Fire 7-Inch |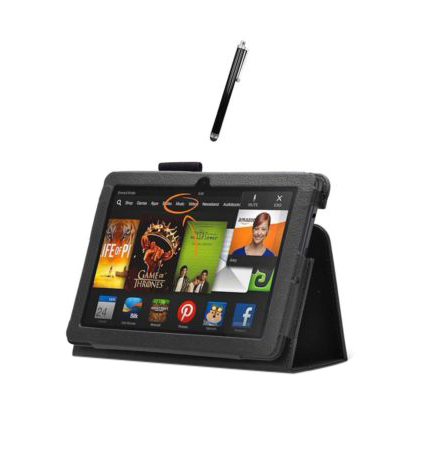 Designed by Eco-Fused, this popular accessory combo for Kindle Fire features several convenient items. The kit includes a 360 degree leather case, a silicon case, five stylus pens, a reading light, a wall charger, screen protectors, and even a cleaning cloth to safely clean off dust. The massive package comes at a low price while still providing high quality, premium accessories. This kit comes in multiple colours including shades of red, purple, grey, orange and pink.
---
| | |
| --- | --- |
| 3 | Bundle Monster Nine-Piece Accessories Set For Kindle Fire 8.9-inch HD |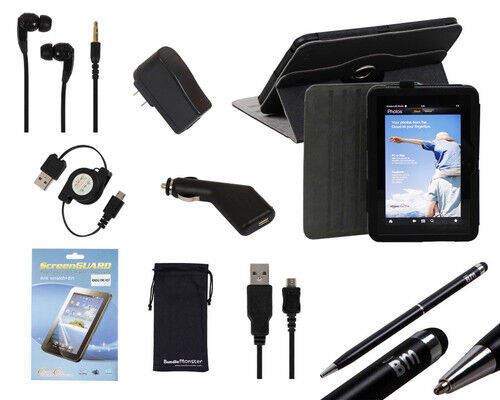 The Bundle Monster nine-piece accessories set for Kindle Fire 8.9-inch HD is one of the most thorough bundles on the market. It includes a carrying case, retractable USB port, earbuds, a screen protector, a stylus, a pen, a wall charger, and a car charger. Available at a spectacularly low price, this is the only charger and case bundle the owner of a Kindle ever needs.
---
| | |
| --- | --- |
| 4 | Sony Reader eBook Touch Edition PRS-600 Bundle Pack |
The Sony Reader eBook Touch Edition PRS-600 Bundle Pack features a faux black leather case. The included stylus features a LED light making it possible to read Sony eBooks in the dark. This dual purpose design comes in handy during late night study and reading sessions. It also means less to carry around, a great complement to the convenience of digital books. Additional accessories include a screen protector and both a car and wall charger to make use possible whenever and wherever. This is a well thought out package for any Sony Reader eBook Touch owner.
---
| | |
| --- | --- |
| 5 | Gizmo Dorks Touring Bundle for the Kobo eReader |
The Gizmo Dorks Touring Bundle for the Kobo eReader offers the necessary accoutrements to get the most out of the Kobo. This package includes the a zipper purch, as well as a wall and car charger. The kit includes a keychain, one item separating it from other bundles. Less popular eReaders such as the Kobo are often overlooked in the accessory market. This particular bundle offers the same convenient accessories commonly available for more popular eReaders in an affordable, Kobo-compatible package.
---
Comparison
All eBook bundles offer something special for eReader enthusiasts. All of the bundles listed above include a charger set, as well as a protective case. Most also offer a protective screen. Additional accessories help to add to the package. Users who enjoy gadgets can take pleasure in the massive, multi-piece setup of the nine piece Bundle Monster or the Eco-Fused Accessory Bundle. Consumers hoping to get only the bare essentials for protection and charging can get all they need in the Sony Reader eBook Touch Edition PRS-600 Bundle Pack, or the multi-brand bundle offerings from eForCity.
Finding eBook Bundles on eBay
eBook bundles are widely available on eBay. To find the perfect eBook set, try searching for a general term like "eBook bundle". Afterwards use eBay refinement options to narrow the search to a specific brand, size, or style. Using these specifics in the example, such as in the case of " Kindle eBook bundle"or " iPad eBook Bundle", may also make searching easier. Bundles of this type are a great addition to any eReader purchase. They make great gifts and certainly come in handy. Having the two chargers is very important and protective cases are priceless. Other useful accessories like cleaning cloths, book lights, and stylish headphones are also a good idea.