A new parent may find that there are a million items to purchase for a nursery. A
changing table
is one of the vital and major purchases parents generally need to make to prepare for a new baby. It is important to look for a table that goes with the decor of the baby's room and consider the safety features of the table. A buyer has many changing tables from which to choose, such as the Graco Lauren Dressing Table, the Stokke Care Changing Table, and the DaVinci Kalani 3 Drawer Baby Changer. Consumers can purchase changing tables at department stores, retail outlets, and from various sellers on eBay.
| | |
| --- | --- |
| 1 | Graco Lauren Dressing Table |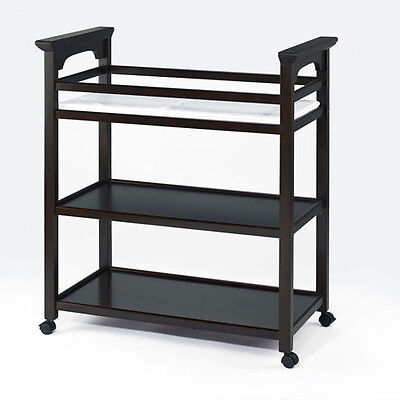 This dressing table from Graco Lauren is a classy addition to any nursery. It comes in a variety of colours including natural, walnut, white, and espresso to match any decor. The table is pretty lightweight and has a simple design. Not only does the changing table have rails, it also has a strap to ensure the safety of a baby. This changing table has wheels on the bottom to move it around easily, but parents can also lock the wheels to ensure the table does not move while changing the baby. Graco is a well known brand in the baby product industry, and the changing table meets a variety of industry safety standards.
---
| | |
| --- | --- |
| 2 | Badger Basket Modern Changing Table |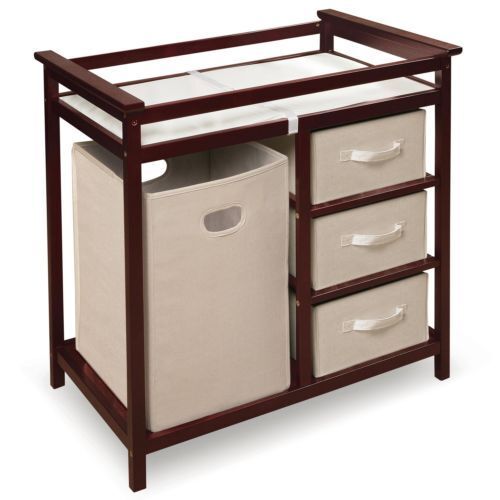 The Badger Basket Modern Changing Table may be a good option for parents who need more storage in a nursery. This table has fabric baskets with handles that provide a soft and clean look. There are three baskets and a large hamper that parents can keep in the changer or use in other parts of the room to help tie together the decor. The baskets are also easy to store. Parents just need to remove the bottom panel, and they fold right up. This table also has removable pads and rails and it comes in white as well as dark wood.
---
| | |
| --- | --- |
| 3 | Stokke Care Changing Table |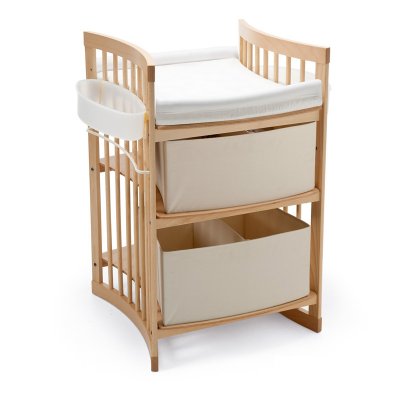 The Stokke Care Changing Table is somewhat unique in that it is set up so a parent can face his or her child when changing. This durable table is made of beechwood and it comes in several different shades, including walnut, natural, and white. The table has an easily removable mattress. One useful feature of this changing table is that parents can adjust the height between 88 to 98 cm. Furthermore, the product has a very long life because it transforms into a bookcase, TV stand, or a student desk as the child grows.
---
| | |
| --- | --- |
| 4 | DaVinci Kalani 3 Drawer Baby Changer |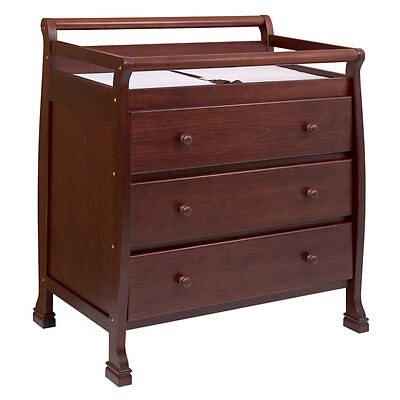 This changing table brings a touch of elegance to any nursery. The DaVinci Kalani 3 Drawer Baby Changer comes in five different finishes: ebony, honey oak, cherry, espresso, and white. The table looks like a dresser with three large drawers, which have safety mechanisms to prevent children from opening them. The lines of the table are very clean and have soft curves. In order for it to be useful even longer, this changing table is great for storage because the pad is removable. Parents should also be happy to know that the company makes its products with nontoxic finishes, so they are safe for children.
---
| | |
| --- | --- |
| 5 | Leila I Changer Dresser |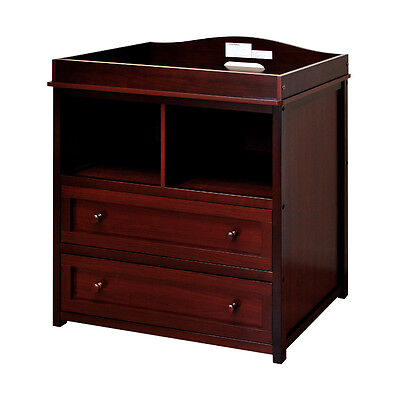 Another option is the Leila I Changer Dresser, which is an elegant and classic piece for any room. This piece of furniture is easy to transform into a regular dresser when a child gets older, and it is a very versatile design, so it would look good in many rooms. This model does not come with a changing pad, but it does work with standard changing pads. This changing dresser has two drawers as well as two open cubbies that can fit baskets or left as is for towels or other items. It comes in a dark rich espresso or in medium wood.
---
How to Buy Changing Tables on eBay
If you are looking to purchase a changing table, you can find many great options on eBay. You may want to start off with a keyword search. Simply type terms, such as "changing tables" into the search box. If there are too many results, you can narrow it down with categories. You should see what top sellers have to offer and whether any of them provide free shipping. You can use the feedback tool to see what other buyers have said about a certain model of changing table. Do not forget to leave feedback to help other buyers after you have made your own purchase. A changing table serves an important purpose, so it is important for parents to find the best model.