As compression wear can significantly benefit athletic performance in many different sports, consumers should shop carefully to get the most out of their purchase.
Compression shorts
in particular are a benefit to both professional and casual runners, with different products offering different benefits. While it can be difficult for consumers to find a quality product that meets their athletic needs, researching the top compression shorts can provide consumers with the knowledge to make an educated purchase. With this understanding, consumers can determine which product is best for them, and purchase their ideal pair of compression shorts quickly and with confidence.
| | |
| --- | --- |
| 1 | SKINS A400 Compression Shorts |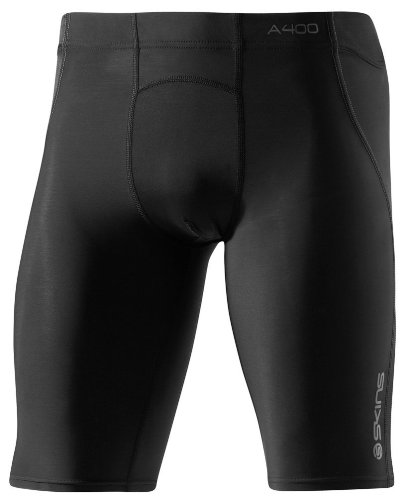 SKINS A400 compression shorts are a nylon-compressed design for summer use, that offer runners UVA 50+ protection. The memory fabric compresses the legs to accelerate circulation and oxygen delivery while keeping lactic acid at bay. In addition, the fabric helps regulate runners' body temperature and wick away moisture to keep the wearer dry. The fabric knit reduces vibrations from movement during athletics, reduces soft tissue damage, and returns to its natural shape no matter the intensity of stress or stretch. The men's compression shorts use enhanced stitching to reduce movement, heat-buildup, and chafing. The women's compression shorts utilise a sizing system that integrates a BMI algorithm for a more perfect fit.
---
| | |
| --- | --- |
| 2 | Under Armour Ultra Compression Shorts |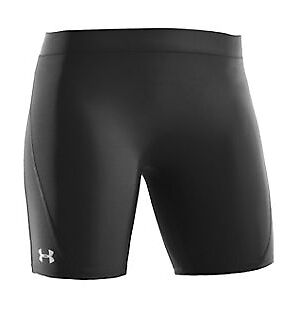 This model of women's compression shorts comes in several lengths for consumer satisfaction, including 5-cm, 10-cm, and 17.8-cm inseams. The Under Armour Ultra compression shorts utilises four-way stretch for premium compression, assisting circulation and decreasing recovery time. In addition to the moisture transport system to keep customers dry, Under Armour also utilises anti-odour technology to prevent microbe growth. Extra gusset fabric provides unrestricted movement, and a low-rise, wide waistband prevents that cutting feeling often felt in other models of compression shorts.
---
| | |
| --- | --- |
| 3 | Pearl iZumi Sugar Compression Shorts |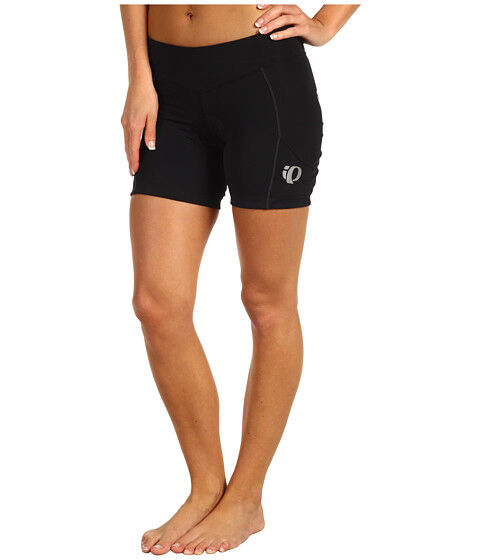 The Pearl iZumi Sugar compression shorts complement female cyclists' performance in several significant ways. The 14-cm inseam provides compression and increased blood flow to the quads while preventing chafing with moisture-transfer fabric. A wide waistband keeps cyclists comfortable while the six-panel design provides even compression and stability to the wearer. While some consumers may find the pre-moulded, padded fabric uncomfortable or too thick, others enjoy the high-quality padding during extended periods of cycling. Consumers can also enjoy feeling safe with reflective elements incorporated into the compression shorts.
---
| | |
| --- | --- |
| 4 | Nike Pro Compression Shorts |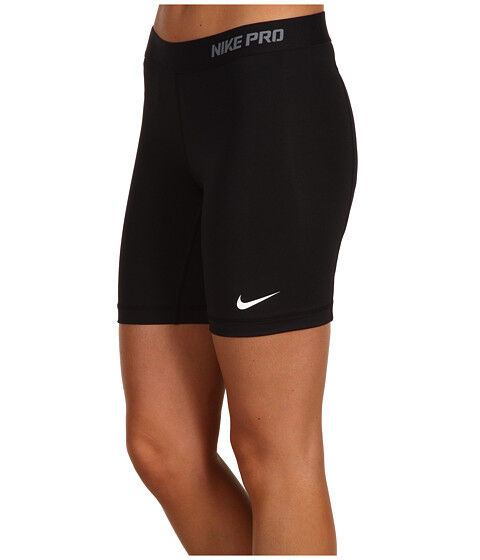 Nike Pro compression shorts come in men and women's models in several variations. For women's compression shorts, Nike offers several models of the Nike Pro Essential, including 6.5-cm and 12.7-cm inseams, and a printed version of the 6.5-cm inseam. The Pro Essential offers the support and stability of typical compression shorts while retaining a thinner width ideal for layering when necessary. Nike also offers two other models in the women's Pro line, including the 6.5-cm Nike Pro Hypercool compression shorts and the Pro Core II 17.8cm compression shorts. The Hypercool compression shorts offer a mesh layer in the gusset for enhanced breathability, larger ventilation pores in the fabric overall, and a microfibre/polyester blend to increase moisture-removal. The Pro Core II compression shorts utilise a longer inseam and tighter compression. The men's Pro compression shorts come in their own variation called the Nike Pro Combat line. Within the Pro Combat line they have the Hypercool and Hyperstrong models of compression shorts. In the Nike Hypercool models, Nike offers consumers breathability and ventilation without compromising a secure fit during movement. The Nike Hyperstrong compression shorts offer double-layer, foam padding plates over the tailbone, hips, and thighs for added protection, ideal for high-impact sports.
---
| | |
| --- | --- |
| 5 | Champion Double Dry Women's Compression Shorts |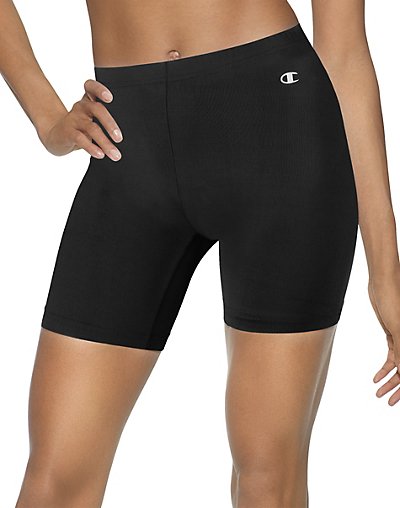 The Champion Double Dry Women's compression shorts offer women a nylon and spandex blend of support and comfort. With a 17.8-cm inseam and double-stitching, women can workout without worry of chafing while moisture wicks away as workout intensity increases. While these women's compression shorts may be more appealing to customers because of their lower price point, consumers note a lower level of compression and support in the fabric.
---
How to Buy Compression Shorts on eBay
With a variety of products available to consumers looking for compression shorts, consumers can enjoy the athletic gear they desire without guilt when shopping on eBay. Typing "Under Armour Ultra compression shorts" into the search bar on any eBay page produces a list of available products that consumers can filter. This helps consumers to find what they need within their budget. In addition, checking the sellers' pages helps consumers find a reputable seller, and purchasing from a Top-rated seller may also get free shipping for buyers. Consumers can find the compression shorts they need for a price they love when they shop on eBay.