Convertible cots
are convenient pieces of nursery furniture that help consumers' money go further. A convertible cot starts out as a cot for an infant and, as the child grows, transforms into a bed. Once the child outgrows the toddler or junior bed, many of these cots transform again into a sofa. This provides maximum value for money, negating the need to buy multiple pieces of furniture as the infant grows. Many of the top convertible cots have a range of safety features, including teething rails, and offer environmentally friendly construction, made of sustainable wood such as cultivated pine or beech.
| | |
| --- | --- |
| 1 | 4Baby 3-in-1 Sleigh Cot Bed |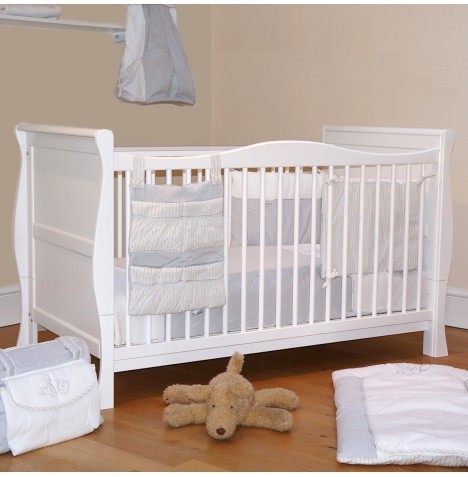 The 4Baby 3-in-1 Sleigh Cot Bed has an 80 per cent wood construction, made of sturdy pine. The classic sleigh-style contours and curves make this cot bed an attractive addition to any nursery. This sleigh cot bed is height-adjustable, allowing consumers to choose between three safe height positions. The higher the position, the less strain on the back when parents lean down to pick up their infant. As a cot, it is suitable from birth and converts into a junior bed for children up to five years of age. Once the child outgrows the junior bed, the 4Baby 3-in-1 Sleigh Cot Bed converts once more into an attractive sofa for maximum versatility.
---
| | |
| --- | --- |
| 2 | Cosatto Hogarth 3-in-1 Cot Bed |
The Cosatto Hogarth 3-in-1 Cot Bed boasts clean, sleek lines coupled with gently sweeping curves and a classically traditional look. Made from sustainable pine, the Cosatto Hogarth is environmentally friendly, making it a great choice for parents who are eco-conscious. From birth, this unit makes a safe and luxurious cot. When the little one is ready for a bed, the Cosatto Hogarth converts quickly and easily into a junior bed. As the child moves into a standard bed, instead of getting rid of the Hogarth, parents can simply convert it into a sofa. It has three mattress heights to prevent undue stress on parents backs when bending over the cot. The Cosatto Hogarth has safety teething rails to protect delicate teeth and gums of a teething infant.
---
| | |
| --- | --- |
| 3 | Cosatto Arlo 3-in-1 Cot Bed |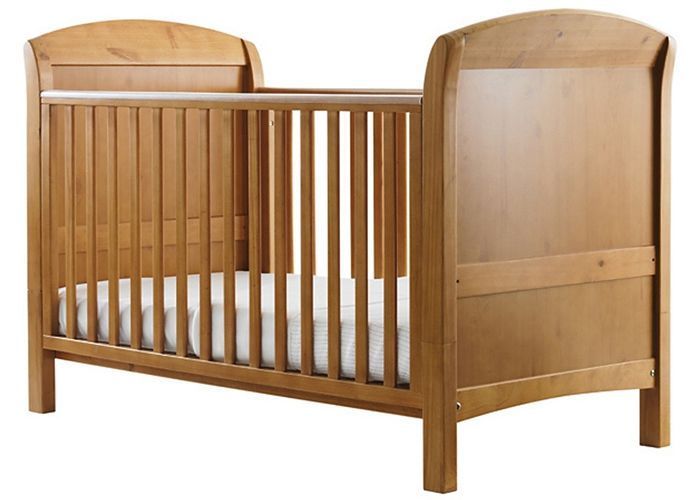 The Cosatto Arlo 3-in-1 Cot Bed follows the Scandinavian style, with a clean minimalist look. This cot has fixed sides for added safety and a mattress base with grips as it prevents the cot mattress sliding around. It is available with a honey pine, dark walnut, or a white finish to fit with the decor in any room. Crafted from New Zealand pine, this cot is sustainable and eco-friendly. From the cot, suited to babies from birth, the unit converts into an attractive junior bed, then into a smart sofa, changing as the child grows, providing great value for money.
---
| | |
| --- | --- |
| 4 | Mothercare Darlington Cot Bed |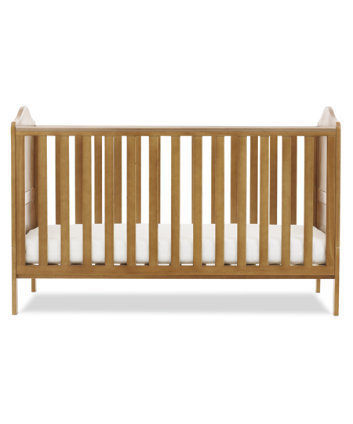 The Mothercare Darlington Cot Bed offers three mattress height positions for ease of use and comfort, particularly for mothers who underwent a cesarean section. Suitable for children from birth to four years old, this popular offering from Mothercare starts out as a height-adjustable cot with fixed sides for additional safety. Once the child is ready, the cot converts into a practical and aesthetically pleasing toddler bed, which is low enough for the little one to climb in and out of safely and low enough to not pose any great danger if the child takes a tumble during the night. The Mothercare Darlington cot bed has teething rails, allowing teething infants to chew while cutting their teeth safely, protecting sensitive teeth and gums.
---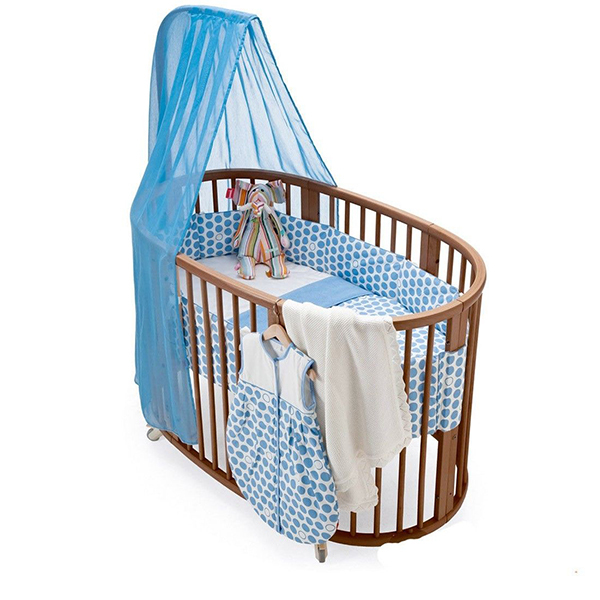 The Stokke Sleepi is an impressive 4-in-1 cot bed, suitable from birth to ten years. However, consumers must be aware that some additional parts are necessary to correctly set up some of the conversions. The Stokke Sleepi is an oval cot bed, providing infants a safe, warm, comforting sleeping space with no corners or sharp edges. The curved style is aesthetically pleasing and works well in classic or contemporary nurseries. It is lightweight, easy to manoeuvre and eco-friendly, with a sustainable, cultivated beech construction. The unit is durable and boasts high quality craftsmanship for long lasting reliability. The first set up is a small, adjustable height cot suited to newborns to six months old. It also has lockable wheels allowing parents to move it easily and provide a gentle, soothing, rocking motion for their infant. The cot then converts into a larger sleeping space with fixed sides for infants up to 18 months. The next conversion is suited to youngsters up to three years old and creates a larger, freer sleeping space with the use of a bed extension. Parents can also lower the cot bed at this stage and remove one side to create a low, safe toddler bed. After three years of age the cot bed converts to a junior bed, a sofa, or two individual chairs. The height is raised slightly to accommodate the size of the growing child, which also creates storage beneath.
---
How to Buy Convertible Cots on eBay
When buying
convertible cots
on eBay, you can choose from the most popular models, offered by reputable sellers at affordable prices. If shopping on a budget, you can make even bigger savings by purchasing your convertible cot in gently used condition, with plenty of wear left. When buying a convertible cot, ensure it meets the legal UK construction and safety standards. For the best value nursery furniture, purchase one of the most popular convertible cots so that you have a piece of furniture that changes form as your child grows. Find great deals on nursery furniture, including convertible cots, at eBay.