With the invention of optical storage products like CDs,
DVDs
, and
Blu-ray discs
, computer owners and movie makers have a way to store large amounts of data easily. This allows for such innovations as better computer games and programs, as well as high-definition movies for home theatre viewing. A derivative of the DVD+R format created by the DVD+RW Alliance, each DVD+R Dual Layer, or DL, disc can store 8.55 GB, or roughly 4.7 GB per layer. When buying DVD+R dual layer discs, shoppers have a selection of different brands to choose from while shopping locally or on eBay, including Verbatim, TDK, JVC, Ritek, Philips, and others.
| | |
| --- | --- |
| 1 | Verbatim DVD+R Dual Layer Discs |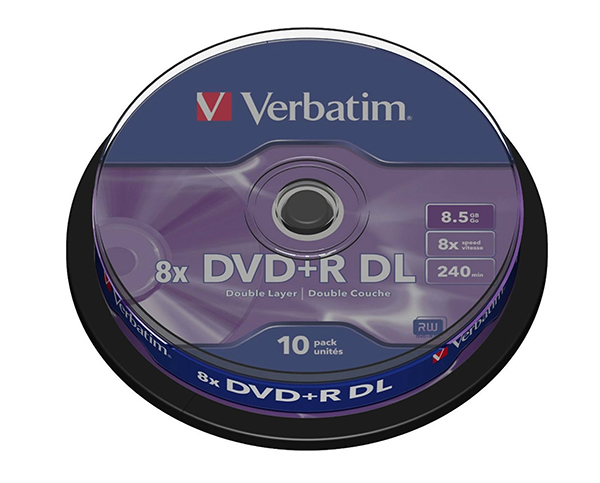 Verbatim DVD+R dual-layer discs hold four hours of high-quality video, or the capacity of 12 CDs. These discs feature compatibility with a variety of manufacturers' devices. The two recording layers present on Verbatim discs work well on high speed drives as the discs can withstand high rotational speeds, and they work on a wide range of legacy drives as their absorption wavelength works with a wide range of recording speeds. The recording layers' high reflectivity also helps reduce read errors.
---
| | |
| --- | --- |
| 2 | TDK DVD+R Dual Layer Discs |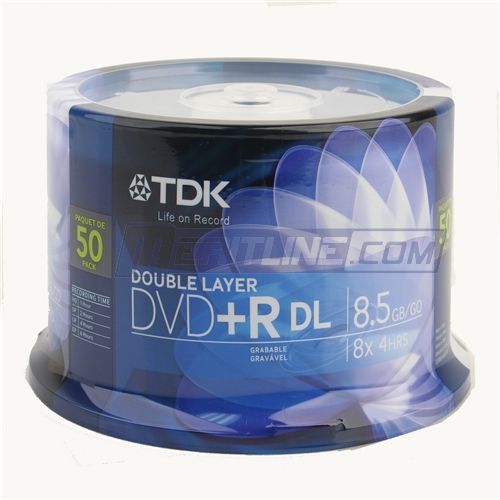 The write-once TDK DVD+R dual-layer discs can hold up to 3 or 4 hours of high-quality DVD video depending on the specific discs. Compatible with most 8-speed DVD+R drives, these double-layer discs allow the recording of full-length feature films on just one DVD+R dual layer disc without requiring compression, which can degrade sound and video quality. Useful for backing up large archives of data and recording long feature movies, the TDK DVD+R DL discs come in a variety of spindle packs, including 5, 10, 20, 25, 50, and even 100.
---
| | |
| --- | --- |
| 3 | JVC DVD+R Dual Layer Discs |
Double the storage of a single-layer disc, JVC DVD+R dual-layer discs can hold approximately 8.5 GB of data, roughly four hours of DVD quality video. The JVC DVD+R DL discs also support write speeds of up to 8X and can burn up to its maximum amount of information in less than 14 minutes, with the dye used on the discs recording surface helping to ensure that information saves accurately and quickly and with a stable, clean, and reliable data transfer. They are also compatible with most DVD devices that support DVD+R DL.
---
| | |
| --- | --- |
| 4 | Ritek DVD+R Dual Layer Discs |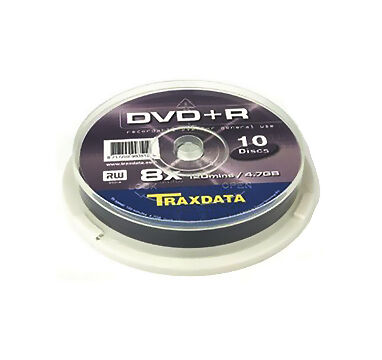 Like other dual-layer discs, Ritek DVD+R Dual-layer Disc allow for the recording of up to 8.5 GB of data, at speeds of up to 16X in some cases. The high-quality dye ensures smooth and reliable data transfer at even the highest speeds, and the DVD+R DL discs can hold up to four hours of DVD-quality movies. Users can record data to one layer without affecting that on the other layer. The labels allow for inkjet printing on compatible inkjet printers.
---
| | |
| --- | --- |
| 5 | Philips DVD+R Dual Layer Discs |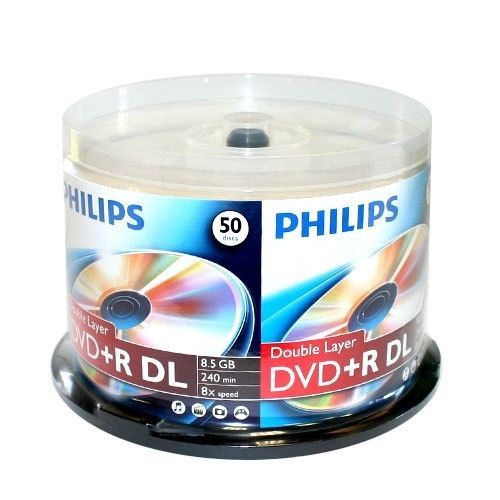 Philips DVD+R Dual-layer Discs can burn up to four hours of DVD-quality video, 16 hours of VHS-quality video, or 120 hours of MP3 files. The discs 8.5 GB of storage means twice the data storage of standard discs, even allowing the burning of full-length features onto only one disc instead of multiple discs. The Philips DVD+R DL discs work with most DVD+R devices at speeds of up to 8X. The disc label allows for the marking of the contents with a permanent marker.
---
Determining DVD+R Dual Layer Discs Quality
With a large selection of
DVD+R DL discs
available, shoppers need to keep in mind the quality of any discs they buy. The quality of various discs available depends primarily on the manufacturing materials used, the method of recording, and disc handling and storage. Materials used in the disc's manufacturing process include the type of reflective layer, the composition of the dye, and any sealing methods used.
How to Buy DVD+R Dual Layer Discs
Find
DVD+R dual-layer discs
on
eBay
easily and quickly by performing a search with keywords. This allows shoppers to choose DVD+R DL discs according to brand and the number of discs in a pack, as well as whether the front of the disc allows for the printing of labels. Shoppers should consider purchasing items from eBay top sellers and take advantage of the free shipping that many offer. Also, remember to check a seller's feedback rating before making a purchase to ensure that other shoppers had a positive experience. Computer owners can fill all of their DVD+R dual layer disc needs on eBay.