Denon is a brand that has a long-standing tradition of producing quality
audio equipment
. They have a whole line of products that provide high fidelity reproduction and all of them come with a number of useful features and support equipment. Those that wish to build or upgrade their home audio system, should definitely consider one of these top five
Denon CD players
. They differ in power output and functionalities, so there is no clear favourite among them, however, buyers can easily choose between them if they acquaint themselves with what each model has to offer. The brief descriptions below outline the important characteristics of each model and provide a fine basic understanding of the technology.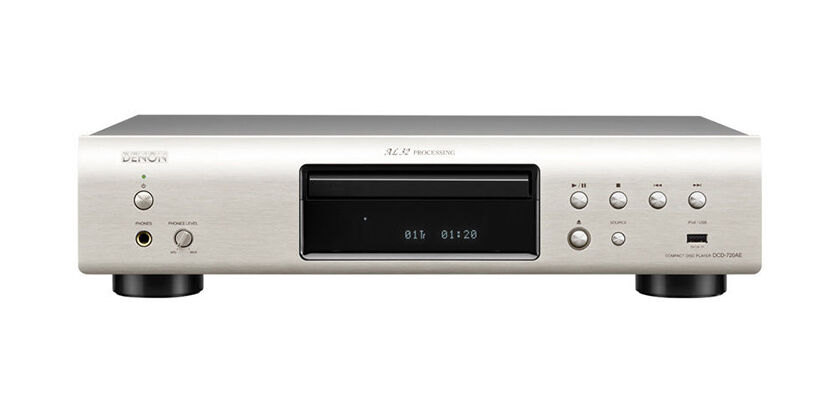 The DCD-720AE offers the innovative AL32 processing technology. This is one of its top features and it enables this device to dramatically enhance the music listening experience. Denon has tuned this device for the European market and has equipped it with a high precision 32-bit/192kHz digital to analogue converter. This ensures a further improvement on the sound quality. The DCD-720AE has a minimum signal path design inside and a Direct Mechanical Ground Construction that makes it vibration-resistant. Pure Direct preserves the pure audio details and there is a USB port that offers connectivity for different devices. The DCD-720AE has a nice aluminium front panel and it comes in two colour variations, premium silver and black.
---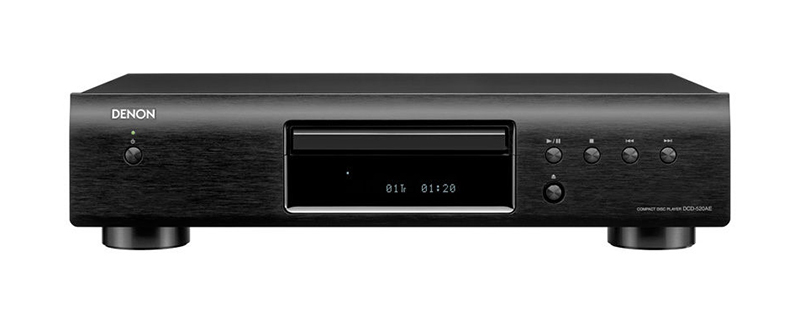 The DCD-520AE is similar to the DCD-720AE. It works with the same high precision 32-bit/192kHz digital to analogue converter and it offers similar improvements on the sound quality. Also tuned for the European market, Denon has equipped this CD player with a Direct Mechanical Ground Construction. The ECO friendliness of this model is one of its unique features. It has an automatic power off option and a low power consumption in standby. Furthermore, the design of this CD player matches the PMA-520AE amplifier.
---
| | |
| --- | --- |
| 3 | DN-500C Denon Electronics CD/iPod Player |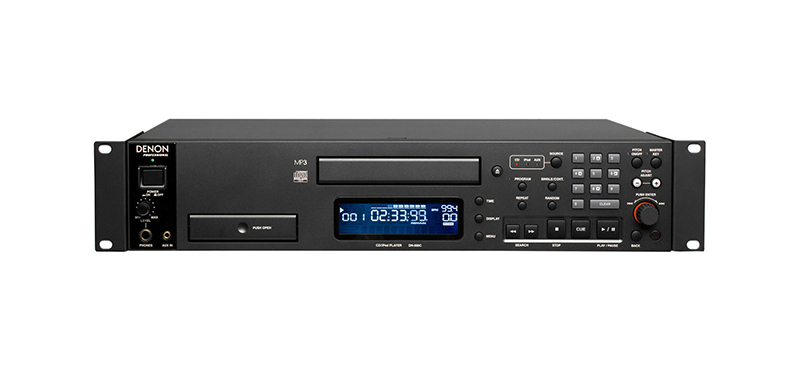 The DN-500C is a CD player with an integrated iPod dock and an auxiliary line input. This device offers a lot to music enthusiasts, both through its compatibility with media and the quality of sound it provides. The CD player supports VAW and MP3 music formats and it comes with pitch control and master key adjustment functions. The front panel has a 10-key numeric panel that allows users to directly select the track they desire. These functionalities are only a small fraction of the DN-500C's capabilities. When users connect this device with an iPod, the Denon's professional Pitch Control App reveals a completely new set of options. These options include a touchscreen pitch or master key slider and full control over the playback. The software also enables track selection, cue and frame search. Users can perform the less complicated actions via the standard DN-500C Denon remote.
---
| | |
| --- | --- |
| 4 | DNC 110P Denon Electronics Single Disc CD Player |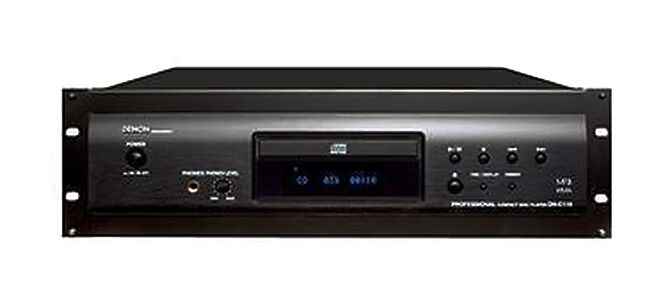 The DNC 110P has a lot to offer. It provides users with quality WMA and MP3 playback via either CD-R or CD-RW. This device is compatible with Denon's standard 19-inch rack. It weighs around 2 kg with dimensions of 43.4 x 10.7 x 27.9 cm. In the back, there are two outputs. One, an analogue line output, the other an optical digital output. This makes the DNC 110P highly compatible with other audio equipment. The device also has the programme, random and repeat playback options. These options allow users to have better control over their track selection and provide a more enjoyable listening experience.
---
| | |
| --- | --- |
| 5 | DN-C635 Denon Professional CD Player |

Those planning to build a home audio system with high-end functionality should definitely consider the DN-C635. This durable CD player comes with professional inputs and outputs, MP3 compatibility, CD text functionality and many other features that improve the music experience. It provides a high quality output with a signal to noise ratio of 104 dB and a total harmonic distortion of 0.004 per cent. The device responds in the frequency range between 5 and 20 kHz, it has a dynamic range of 100 dB and channel separation of 90 dB. Though it only has a one-disc tray, it still offers a lot in terms of convenience. The front panel has a jog dial that allows users to go through the options easier and there are 'repeat all' and 'repeat one' playback modes. The device also features 99 programming steps and it can show both CD text and ID3 tag on its display.