After the stressful times of the Depression, consumers craved glamour. Many people turned to movies to escape reality and get inspired, and movie stars often carried beautiful handbags. The need for glamour inspired the bags of the 20s and 30s, and purses were feminine, sometimes handmade and detailed. The flapper-influenced fashion designs of the 20s were still in vogue, including beads, mesh bags, and glittering
metallic handbags
. Leather also became popular during this time. With production designs increasing, handbags toward the end of the 30s became well constructed and polished. There were a few standout brands during this time which consumers research before making purchases.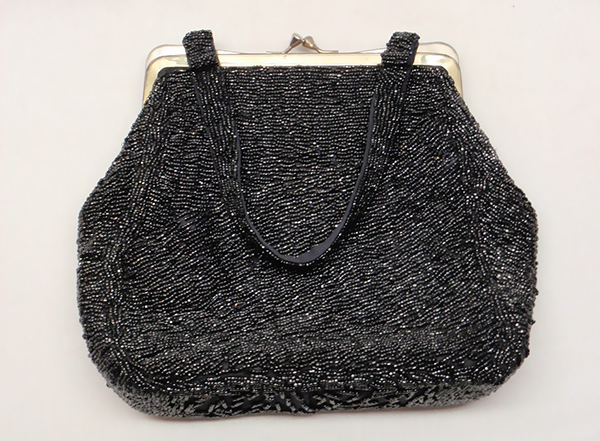 One of the most popular handbag designers of the 30s and 40s was Graceline. Graceline handbags oozed glamour, and came in luxurious fabrics like velvet, silk, and faux fur. From basic black purses to textured, patterned designs like animal print and brocade flowers, Graceline bags came in many styles, including clutch bags, box bags, and muff bags. Small details made Graceline bags special, including rhinestone or metal decorations, silver clasps, ruched fabric, matching coin purses, and satin inner linings. Graceline produced more fabric bags after the Depression than any other brand.
---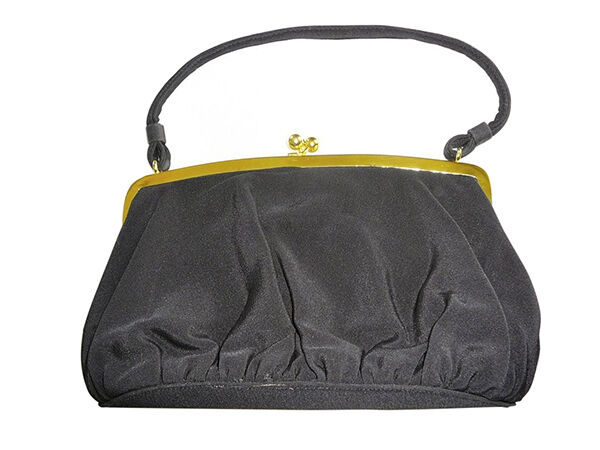 Handbag designer Julius Resnick made fashion history with leather look bags made with Zapon, a faux leather material. The bags looked almost utilitarian yet eye catching, with details like interesting shapes and attached coin purses. Other popular Julius Resnick purses offered a basket weave design made popular in the 50s. Julius Resnick bags included intricately detailed and embroidered bags, vinyl clutch bags, and beautiful beaded satin handbags. Painstakingly crafted, Julius Resnick bags offered unique craftsmanship and a high level of artistry and sophistication.
---
Mary Frances vintage handbags are pocket-sized works of art. The Depression-era bags combine fun with fashion to produce one-of-a-kind pieces women clamoured for. Made with sparkle, shimmer, and meticulous attention to detail, Mary Frances bags feature high-end designs made with satin, beads, brocade, feathers, and satin. The bags offer detailed handles made with crystals, velvet, and sparkling beads. Additionally, the bags themselves come in interesting shapes like long fringed arm bags, baguette-shaped bags, and box bags. After the Depression, women needed to feel beautiful, and Mary Frances bags fit the bill. More costly than other bags, Mary Frances handbags offer evening or cocktail hour elegance, and come in colours like gold, and even unique, fun shapes like animals and funky Art Deco designs like ovals.
---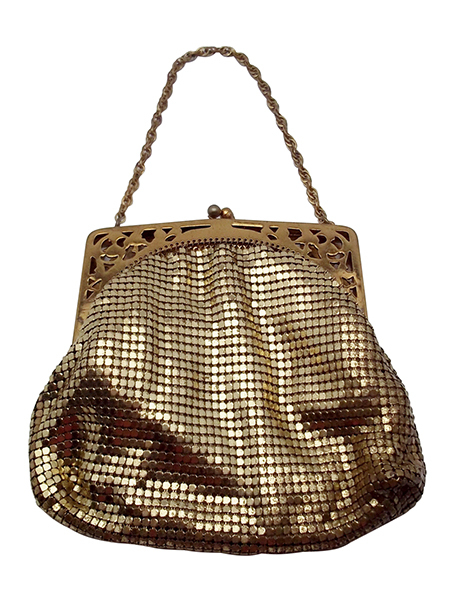 Known for mesh purses, Whiting and Davis did something different with its handbags post-Depression. The company began manufacturing mesh handbags in the early 1900s, and by the 1920s, Whiting and Davis mesh bags included metals like silver. Luxury versions of the bags even contained real gemstones and real silk interior linings. Once the market crashed, the company switched its focus to affordable mesh bags and used plated metals instead. The popular mesh bags were sometimes painted and had gold or silver frames. Styles of bags included small bags with long straps, fringed metallic mesh bags, and bags with silk-screened designs like geometric shapes. A status symbol in the 20s and 30s, high-profile actresses and sophisticated flappers carried the popular mesh bags, creating a high demand for Whiting and Davis purses, also known as the first mesh handbags.
---
Artistic, creative, and modern, Jane Shilton bags offer women genuine leather purses in simple colours like tan and black, or Art Deco designs with multiple colours such as pink and white. Clutch bags were a popular style in the 20s and 30s, and shoulder bags offered convenience and sophistication. Materials used to make Jane Shilton bags include snakeskin, faux leather, real leather, and shiny metallic fabric or patent leather. Jane Shilton bags are classic and glamorous, with details such as inner pockets, clasp closures, and tags inside so consumers know they are purchasing a genuine Jane Shilton bag manufactured in England. The sturdy bags offer authentic brass gilt details, butter soft leather, and premium quality designs that keep the bags in demand.
---
How to Buy Depression-Inspired Handbags on eBay
Guarantee that you own a bag nobody else has when you purchase a beautiful, one-of-a-kind Depression-inspired handbag on
eBay
. Find a vintage handbag from one of many famous designers, including
Mary Frances
, to add to your purse collection. If you need to see more photographs of the bag or you have questions about its condition, contact the seller to ask questions before your purchase the purse. Vintage bags often last for years due to the high level of quality materials and attention to detail. Complement your current wardrobe with the elegance of a timeless, classic, and glamorous vintage bag. A sparkly vintage clutch is the perfect finishing touch to an evening outfit.