Modern
weather thermometers
are more than just devices that show users the current temperature. They are multifunctional mini weather stations with programmable features that can even give better weather predictions than the news. There are virtually hundreds of different weather thermometers available on the market, and a good number of them offer services that look identical. Still, there are some differences in the design features and the sensor accuracy, which can make specific models a good or a bad choice. These top five
digital weather thermometers
are units that have quality components and a smart design with intuitive features. The detailed descriptions below can help buyers make up their mind on which one best suits their needs.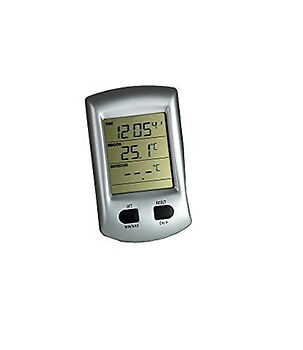 The Watson 8684 is a bedside weather station with an indoor-outdoor thermometer and a clock. The inside unit has a display that shows three separate numbers representing current time, local temperature and remote sensor temperature. Users can purchase additional sensors and upgrade their system. The device can handle multiple sensors and it can work on three different channels. With the different operating channels, neighbouring houses can use the same system without causing sensor interference. The wireless connection on the other hand allows sensors to be as far as 100 metres from the display unit. The main unit uses two AA cells while each sensor operates on two AAA ones. The original packaging comes without batteries.
---
| | |
| --- | --- |
| 2 | Oregon Scientific BAR208HGA |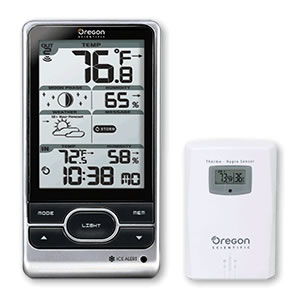 The Oregon Scientific BAR208HGA is an advanced weather station with atomic time. This device can work with multiple sensors that provide useful weather data for homeowners anywhere. Users can place sensors both inside and outside their home. The sensors allow users to closely monitor the temperature and humidity on any location of their choosing. With the aid of this weather station, homeowners can have reliable information on the conditions in rooms of crucial importance like the nursery or the wine cellar. The display provides a graphical representation of the whole situation. It shows a weather forecast that predicts the weather activity in the next 12 to 24 hours and it even has a moon phase icon. The device also displays weather warning messages that can help users avoid extreme weather. Homeowners with this type of information in advance can leave their home better prepared to deal with weather phenomenons such as high winds, storms, fog frost and extreme heat.
---
| | |
| --- | --- |
| 3 | SmartWeather Digital Wireless Weather Station |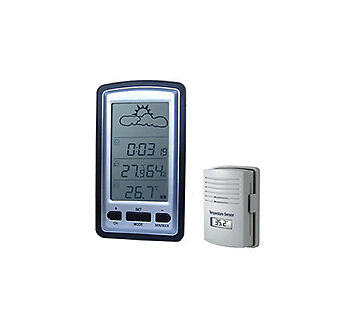 The SmartWeather Digital Wireless Weather Station is a device that packs many interesting features. It monitors the temperature both inside and outside and it even creates a weather forecast based on its barometer readings. The inside unit displays the graphic representation of the weather with icons and arrows for tendencies. In addition, the screen shows inside and outside temperature, humidity and the current date and time. The device also acts as a time alarm and a storm alarm. Users can set the alarm to go off at a particular time or as a warning for more extreme weather conditions. The starting package includes one receiver and one wireless sensor. Users can purchase up to two additional units and monitor their feed from the same receiver. The wireless signal range is 100 metres and each sensor has an accuracy of 1.0 degrees Celsius.
---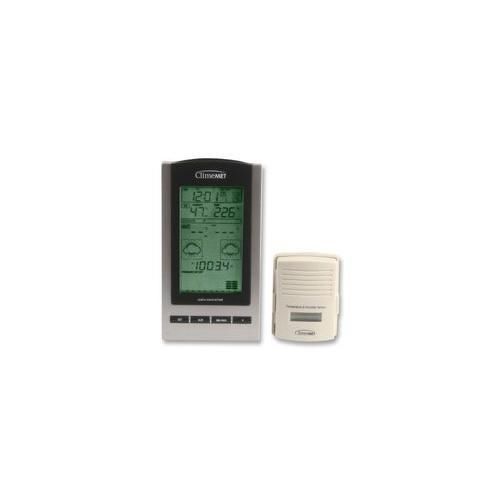 The CLIMEMET CM-9088 monitors indoor and outdoor temperature, humidity and it displays the results with a nice graphic representation. The screen shows icons that represent the weather forecast. It even has a feature that creates a history graph of the 24-hour barometric changes. The device has an atomic clock and it adjusts automatically for daylight savings time. Users can keep the main unit beside their bed and use it as an alarm clock. It even has a snooze button for those that wish to prolong their sleep in the morning.
---
| | |
| --- | --- |
| 5 | La Crosse Technology Wireless Forecast Station WS-9133T-IT |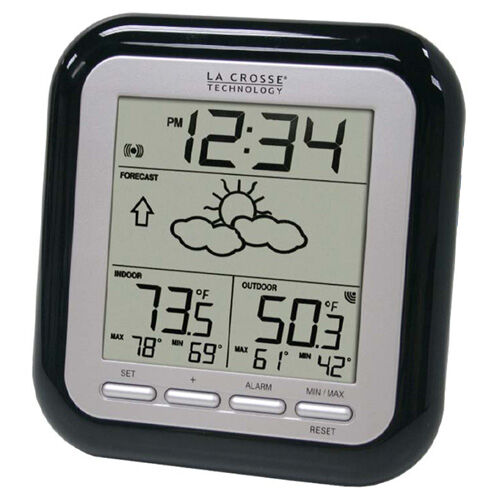 The La Crosse Technology Wireless Forecast Station WS-9133T-IT is a slick and stylish device that provides useful weather data. The LCD display has three forecast icons and a pressure tendency arrow that graphically describes the weather conditions at all times. This device also displays current time in a 12 or 24-hour format. The square frame around the receiver is titanium-finished and has a hanging hook and a foldout stand. The sensor that comes with this device has a 100 metre range in unobstructed conditions. This allows users enough freedom to pick an ideal position for the sensor so it can provide a reliable read. The receiver and the sensor work on five AA batteries in total. Three go in the receiver and two in the sensor. The original packaging does not contain batteries, so buyers need to purchase them separately.
---
How to Buy Digital Weather Thermometers on eBay
Buyers can easily locate digital weather thermometers on eBay. Simply go to the search bar on any eBay page and type in 'digital weather thermometer' as a query. This returns a vast number of results buyers can sort with filters and subcategories. Keep in mind that this search may not provide all the models eBay has to offer. Some units do not contain 'digital weather thermometer' in their name, which makes them harder to find. Buyers can browse through categories to locate these models, or simply use the model name as a search parameter. Those looking for digital weather thermometers should not overlook the used market. Great offers are available on used units that work just as new.