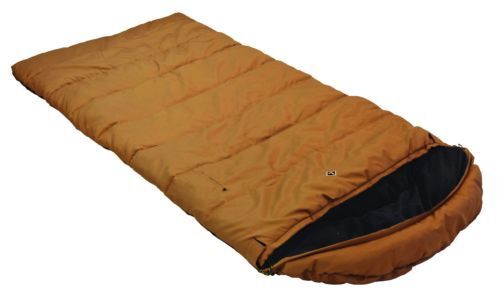 There could be many different reasons why a sleeping bag is on your 'to purchase' list. It could be for outdoor adventuring or for an adventure closer to home. Whatever the reason, there are important factors to consider when making the choice of which sleeping bag will suit you best.
The reason for the purchase of a sleeping bag will often determine where to look to buy one. This could be an outdoor adventure shop or a multipurpose store. It might take you to the local high street or a specialist shop miles away from your home. There is a simpler option and it is possible to purchase from the comfort of home. eBay offer a great selection of sleeping bags for all occasions at the touch of a button.
This guide will consider the top 5 factors when purchasing a sleeping bag.
Factor 1: The Season It Will Be Used in
Where possible, it is important to assess the season when the sleeping bag will be used. This will link directly to the weather and conditions attached to that including average temperature. There are three types of bags available for the different seasons:
| | |
| --- | --- |
| Season | Considerations |
| | Summer sleeping bags are suitable for higher temperatures. They are made out of lighter fabrics making them lightweight and able to be packed down into a small size. They will often have full-length zips in order to offer the option of opening the bag up entirely in extreme heat. Because its main function is not to contend with low temperatures, the bag itself doesn't come with many different features. |
| Three Season | The three season sleeping bag is suitable in colder weather. It is great for spring or autumn temperatures. It will offer adequate protection in nights that are mild, but occasionally dip to just below 0 degrees. A good three season sleeping bag will include added extras to combat these colder nights, such as cinch-able hoods, draft collars, and zipper draft tubes. |
| Winter | Winter sleeping bags are similar in design to a three season sleeping bag, but will be made out of a more thermal material. This will offer additional insulation, but will make the bag more cumbersome in size. |
Factor 2: The Shape of the Bag
There are a number of different shaped sleeping bags on the market. The choice of what shaped bag to choose is as much a personal choice as it is for comfort, body shape and reason for requiring the bag. The different type shaped bags include:
* Mummy Sleeping Bag: this bag is cut wider at the top and tapers in towards the feet. It also has a hood that can be pulled up over the head and drawn in with a cord, creating a hood. The mummy sleeping bag is great for warmth, as the design is conducive to trapping and insulating air.
* Rectangular Sleeping bags: as the name suggests, the sleeping bag is rectangular in shape, and it provides great foot room for the sleeper. This is a more traditional design that is not so great for colder temperatures. However, it is possible to zip two rectangular sleeping bags together to form one sleeping bag blanket.
* Semi-Rectangular Sleeping Bag: the Semi-rectangular sleeping bag is a combination of both the mummy and rectangular sleeping bag shapes. It provides slightly more warmth than the rectangular sleeping bag and has more legroom than the mummy.
* Double Sleeping Bag: the double sleeping bag is designed for two people. As a result, it is a wider version of the rectangular sleeping bag.
Factor 3: Size and Accessories
The size of the sleeping bag should be determined by two main factors:
* Comfort
* The size of the person sleeping in it.
Generally speaking, a sleeping bag that is too big will lose a lot of heat, whereas a bag that offers a snugger fit to the user will retain the heat easier.
In addition to the size, it is important to look at the added accessories of the bag. Good points to keep in mind are:
* Zip: is the zip two ways? Does it extend the whole length of the sleeping bag?
* Hood: does the bag have a hood? How adjustable is the hood? Does the hood hug the head naturally?
* Do Hook and Loop Tabs Cover the Zip? This can provide additional protection to the zip and stop it form catching on its surroundings. This will also assist in maintaining the condition of the sleeping bag, stopping it from any unnecessary wear and tear.
Factor 4: Temperature Rating
Most sleeping bags will have a temperature rating. This rating will offer a suggestion of the minimum temperature it can handle comfortably. It is important to use these suggestions as a guide to purchase. However, sometimes there is no universal temperature rating guide in place. Generally speaking, the manufacturers will offer a fairly accurate overview on their product.
Type of Insulation
There are a few different materials used to make sleeping bags. Most will have their advantages and disadvantages, depending on the reason required for the bag. The different types are:
* Down: down is light, easy to pack down and compress, as well as being effective in its insulation. Down can be an expensive option, but worth the added investment.
* Synthetic: synthetic is often a blend of different materials. Generally speaking it includes polyester. Because of this it is good for camping, where there is the chance of rain or being exposed to water, as it offers a degree of water resistance.
* Nylon: the tight knit of Nylon provides basic water resistances, as well as wind resistance. Nylon is a durable material.
* Microfibre Fabrics: microfibre fabrics offer similar advantages to the above as well as good breathability. This added ventilation means they are great for people who perspire easily.
* Gore-Tex Fabric: traditionally this isn't the best choice of fabric, as it doesn't breath easily and therefore retains moisture. However, Gore-Tex fabric is weather and water resistant. As a result, most sleeping bags will have a percentage of the bag made out of this material.
How to Purchase a Sleeping Bag on eBay
With a wide range of products available, purchasing a sleeping bag on eBay has never been easier. eBay sells every type of product outlined in this easy to follow guide. Not only that, but it also has other camping products, including tents, camping stoves, head torches, sleeping bag inner sheets and sleeping mats.
eBay is an easy to use site that offers a number of different searching options. Perhaps the most visible is the search bar function at the top of the page. This function allows the user to add a specific key-word or item into the site and a cohesive list of all products corresponding to the search will appear. This product list is then ready to browse at your leisure or advance further using the check boxes to the left of the page.
It is also possible to search via the pre organized categories. eBay house all products for sale in categories and sub-categories, meaning it is not necessary to know the exact product being looked for.
On top of this, it is possible to undertake an advance search for a specific product right at the start. Simply click on the function, which is located to the right of the search bar on every page, and follow the prompts.
Once a product is chosen, take the time to look into the description and photograph provided by the seller. This will give a good overview on the product including quality, condition and reason for selling. These tools will enable you to ascertain if the product is in fact the desired item being looked for. If there are outstanding questions, simply ask the seller for more information.
When it comes time to buying an item, look to see how the seller is selling it. This will either be Bid, Buy It Now or Best Offer. PayPal offers a safe and secure platform to transfer the funds, or you can use your credit or debit card.
It is possible to read eBay's Buyer Protection Programme at any time on the eBay site.
If there are any outstanding questions regarding the site, simply look at the Buying Guide for answers.
Conclusion
The key choice for a sleeping bag isn't so much in the shape or size, but the decision between synthetic or down. Whilst the other factors do come into consideration, the fabric used is the most important choice. Always take time to look after and care for your sleeping bag. Instructions will be available with the bag or from the seller. By following these factors and a suitable care routine the sleeping bag purchased will offer years of comfort and warm nights when away from home.
Buying a sleeping bag has never been easier with eBay. Simply by following the outlined suggestions on factors, and taking them into consideration, it is possible to know the exact product that is required. Take time to research properly to ensure it is exactly what you want.