Without the keyboard, some computers are useless. Keyboards make it possible to enter data and send commands to the computer. Unlike the days when keyboards were boxy with huge keys, there are now many types of keyboards to consider.
Flexible keyboards
in particular roll up or fold up to make traveling more convenient. Most people use flexible keyboards with devices such as tablets that do not have an attached keyboard or with notebooks that have compact keyboards, which can be uncomfortable to use at times. There are many models of flexible keyboards on the market so take time to learn about the various options before shopping for one because some are best for certain applications.
| | |
| --- | --- |
| 1 | Tripp Lite Noteables Wireless Multimedia Flexible Keyboard |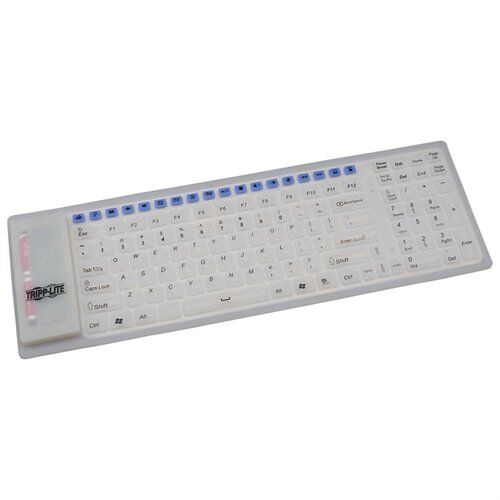 The Tripp Lite Noteables Wireless Multimedia Flexible keyboard is the best choice for those looking for a flexible keyboard that has it all. The fact that it is wireless alone makes it extremely easy to use and carry around. There are no cords for people to bother with unless they prefer a wired connection. In which case, they are in luck because the Tripp Lite also has a USB port as well as a PS/2 port. When connected wirelessly, the keyboard still operates up to 30 feet away. It is also lightweight and people can simply roll it up and stuff it in a bag when they need to take it somewhere. Because of its silicone material, it is very easy to clean. No matter what gets on it, users do not have to disassemble it in order to clean the keyboard. Simply put the keyboard portion under running water and wash it. The second benefit of silicone is that it is quiet. There is no traditional tapping noise when typing.
---
| | |
| --- | --- |
| 2 | Tomtop Flexible Mini Keyboard |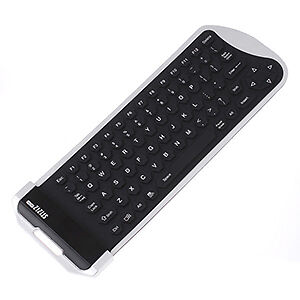 The Tomtop flexible mini keyboard is completely waterproof and sealed so that no dust or dirt gets into the working components of the device. It is also silicone so washing it is a cinch if it ends up dirty. This mini keyboard is not full-size so it is lighter weight as well as easier to keep on hand while travelling. It rolls up into a compact size and when laid flat measures at 340 cm long, 120 cm wide, and 1.2 cm high. It is only compatible with USB enabled devices which means that some tablets may not work with it.
---
| | |
| --- | --- |
| 3 | Manhattan Wired Full Key Rollup Up Keyboard |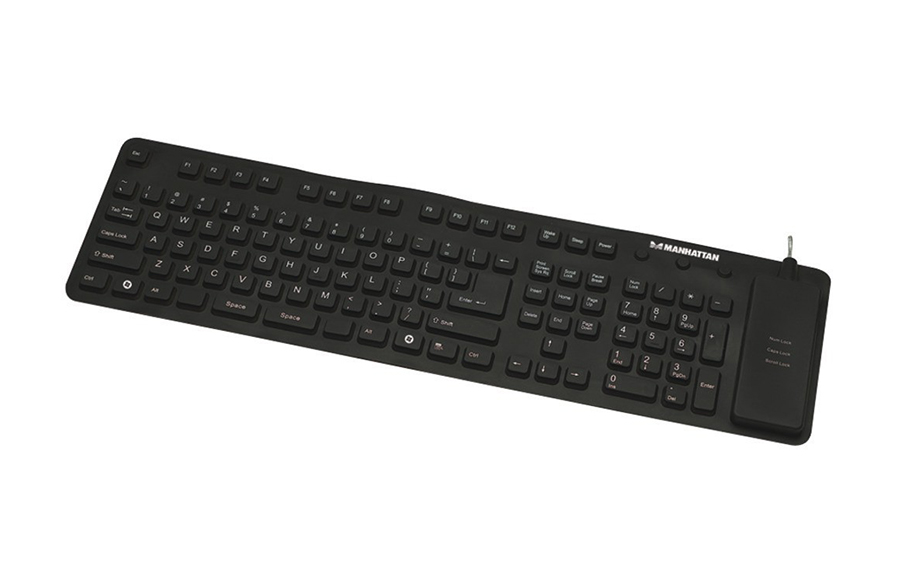 The Manhattan Wired Full Key Rollup Up keyboard is a full-sized device with a completely sealed casing to protect it from moisture, debris, and anything acidic. It rolls up the same way that most other silicone keyboards do and is easy to wash. However, people must use gentle cleaning agents. It is completely safe with no sharp parts or screws. Overall it is ideal for harsh environments when safety or the risk of damage is a concern. The Manhattan keys are soft to the touch, responsive, and the keyboard is very easy to install and use. All buyers have to do is plug it in with the USB cord and it is ready to use.
---
| | |
| --- | --- |
| 4 | Grandtec FLX-2000 Virtually Indestructible Keyboard |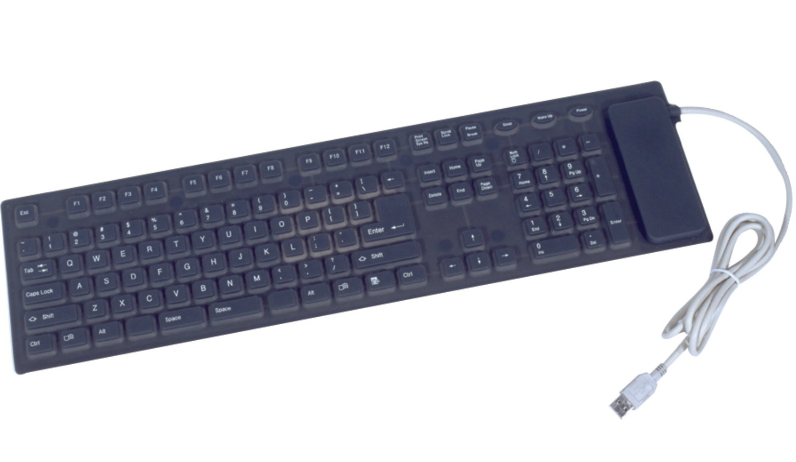 The manufacturer claims that the Grandtec FLX-2000 is virtually indestructible. It has a very durable construction that is comfortable to use, is washable, and has silent keys. Since the keyboard is flat, it prevents wrist discomfort caused by awkward hand positions. It has a USB cable as well as a PS/2 connection port for those who still use computers with that technology. There are 109 keys on the Grandtec including the Windows 98 power management hotkeys for those who still use that operating system.
---
| | |
| --- | --- |
| 5 | Adesso AKB-220 Compact Waterproof Flexible Keyboard |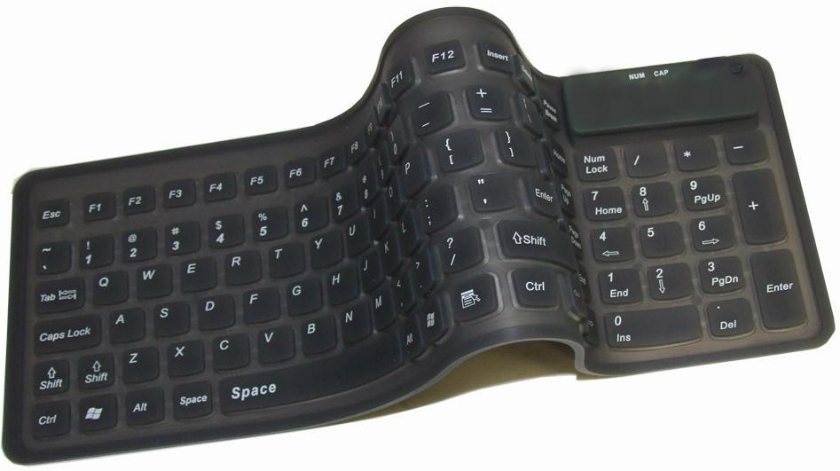 The Adesso AKB-220 Compact Waterproof flexible keyboard that is ultra-compact and full-size. Like many of the other keyboards on the market, this one is fully sealed so damaging it is very unlikely. It is completely waterproof and uses a USB 1.1 connection. The price is about average for a flexible keyboard and it works with all Windows operating systems from XP through 7. This means that it is not compatible with tablet devices that use an android operating system.
---
How to Buy a Flexible Keyboard on eBay
Owning a flexible keyboard can make typing on a computer at any location so much easier. Most are waterproof and nearly indestructible so users do not have to worry about protecting a delicate electronic device all of the time. You can find a large variety of them on
eBay
by using the search bar to pull up a list of the products for sale. All you have to do is enter a phrase like "flexible keyboard" into the bar and then click on the search button. You can then look through item pictures and product descriptions until you find the perfect one for you. Be sure to take the cost of postage and packaging into account as well when choosing the best prices.