With DVD players, Blu-ray players, game consoles,
Apple TV
and HDTVs featuring HDMI outputs, HDMI has become a very popular audio and video connection. HDMI comes in several versions, such as HDMI 1.2 and HDMI 1.3. Among the advantages of HDMI connectors is delivering maximum video and audio quality to the end users. When buying HDMI connectors, it is important to consider the formats and specifications they support, the length of the cable, and the space requirements of the connections. There are several types of HDMI connectors on the market, and it is important to look into their product details to know which are the best. Knowing the top HDMI connectors saves users time and leads to a better buying decision.
| | |
| --- | --- |
| 1 | HDMI Right-Angle Adapter |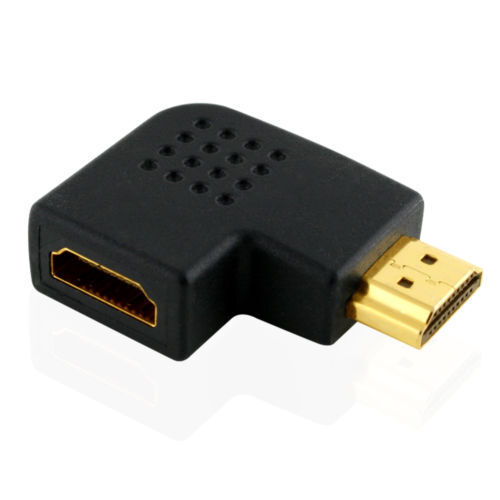 Installation in tight spaces is possible and easy with an HDMI right-angle adapter. This adapter ships either as a 90-degree male-to-female adapter or a 270-degree female-to-male adapter. A 90-degree HDMI right-angle adapter must comply with Full HDMI or 1080p standards, the type compatible with most HDMI devices. The standard size for such adapter is Type A 19-pin port and plug, and both the flat and bevelled sides have gold-plated connectors to achieve optimal signal quality. A 270-degree female-to-male HDMI right-angle adapter, on the other hand, has the bevelled side pointing to the left when connected into a horizontally-mounted HDMI port. A female-to-male adapter allows users to link HDMI cables behind projectors, flat screen TVs, or monitors. HDMI right-angle adapters remove stress from heavy-duty plugs, connectors, and cables. Also, they avoid wear and tear on the HDMI port of the equipment because of constant plugging and unplugging.
---
| | |
| --- | --- |
| 2 | Premium 6-Foot HDMI Blu-ray Cable |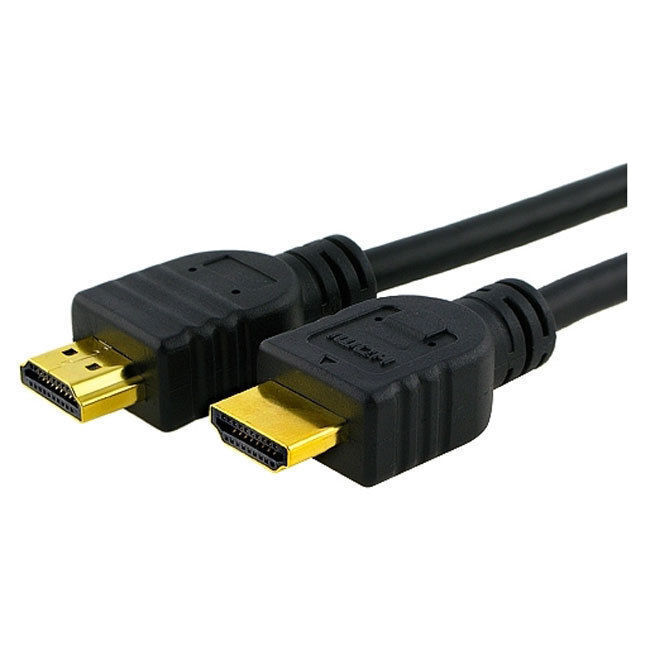 To enable resolutions beyond 1080p, users need a premium 6-foot HDMI Blu-ray cable. The cable offers 4K by 2K video support such as in next-generation displays that competes, in terms of resolution, with digital cinema systems of commercial movie theatres. This cable allows users to take pleasure in watching movies or playing games with up to 1920p resolutions. HDMI Blu-ray cables of this type can support video 1.3b resolutions of 1080p, 1440p, 1600p, and 1920p. The HDMI Blu-ray cable also provides users excellent audio via the Dolby Digital 7.1 Surround Sound output. This HDMI cable can eliminate the need for a separate audio cable by allowing an HDMI-connected TV with a built-in tuner to send audio data 'upstream' to a surround audio system. Users who want to fully experience cutting-edge audio and video quality find the 6-foot HDMI Blu-ray cable a necessity.
---
| | |
| --- | --- |
| 3 | Belkin HDMI 12-Foot Connector |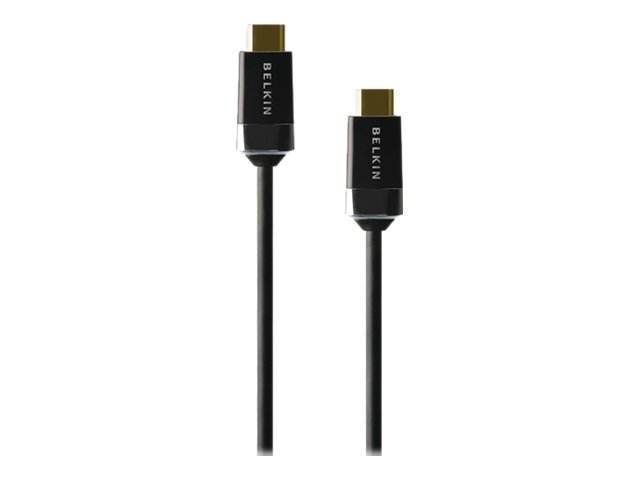 Maximising the audio and video quality of an HDTV is the specialty of the Belkin HDMI 12-foot connector. Users can bring in vibrant and colourful images and digital surround sound with just a single Belkin connector of this type, and its length gives the user more freedom in connecting the HDTV. A Belkin standard HDMI A-A cable supports 5.1 Digital Surround Sound and offers 24k gold-plated connectors. Such cable features a refresh rate of 120 Hz and a speed rate of 6.68 Gbps. There are Belkin HDMI 12-foot connectors, however, that sport silver connectors instead of gold. The Belkin HDMI 12-foot connector provides excellent picture and sound quality and convenient connection to users.
---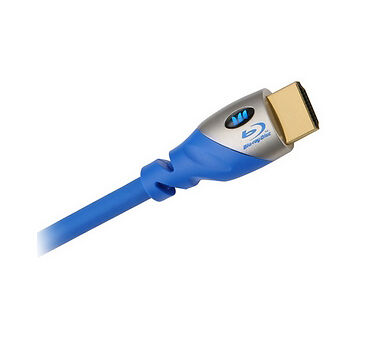 Users can view photos and videos and play games on an HDTV screen via the computer with the HDMI Monster Cable, as well as experiencing the real deal in high-definition video and digital surround sound. This cable usually features a data transfer rate of up to 2.23 Gbps, while its heavy-duty shielding with triple layers eliminate electrical noise. And for optimal signal strength even during long periods of use, the low-loss nitrogen gas-injected dielectric cable takes care of that. It is possible for users to easily route and install the cable in tight spaces due to its flexible Duraflex jacket. For ultimate HDTV and digital surround audio experience, HDMI Monster Cable is a top choice.
---
| | |
| --- | --- |
| 5 | HDMI to HDMI Gold Connector |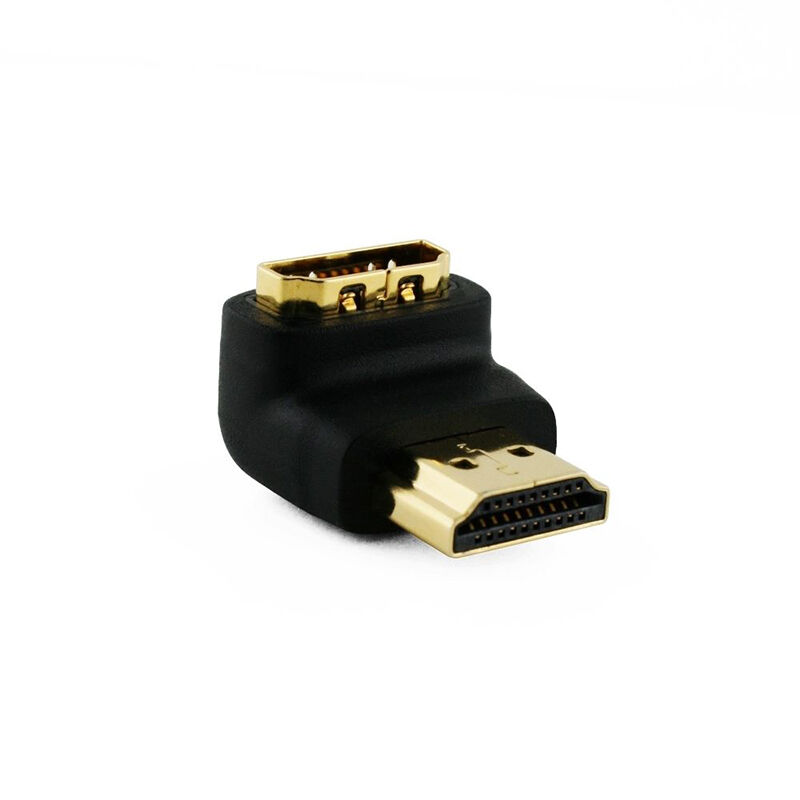 For broadcast quality digital audio and video, an HDMI to HDMI gold connector is a great choice. The connector supports uncompressed audio and video signals and works extremely well with both HD video and standard video formats. When buying HDMI to HDMI gold connector, look for one that complies with HDCP to ensure optimal signal quality as well as with HDMI specifications such as Dolby TrueHD and 3DTV. Another reminder is to choose HDMI to HDMI gold connectors with ferrite cores, as the cores can lessen interference when near other cables in the entertainment system.
---
How to Buy HDMI Connectors
eBay
houses a wide variety of
HDMI connectors
, and buyers can find the top brands or types on the site. The category system on the site allows users to find an HDMI connector suitable for a particular purpose, such as for TV and home audio or for DJ equipment. Listings with free shipping exist on the site, and buying from top-rated sellers allows users to transact with proven, trustworthy sellers. eBay also has the Deals page for buyers to view more discounted items, and the Talk page for members to post a question and get answers from other members. Knowing more about different types of HDMI connectors allows users to make the best buying choice.