A full-size
metal detector
is great for initially finding targets but a smaller handheld probe is useful for zeroing in on the exact location. This eliminates the work of digging large holes and saves time. It is especially useful when searching for small or delicate objects like gold nuggets, coins, jewellery, or relics, which are vulnerable to damage from shovels and picks. There is quite a difference between high-end probes and entry-level models. Learning about the features of five popular
handheld metal detectors
enables shoppers to choose models that fit their budgets and needs. Buyers can find handheld metal detectors online on eBay where sellers in the UK and abroad list new and used devices.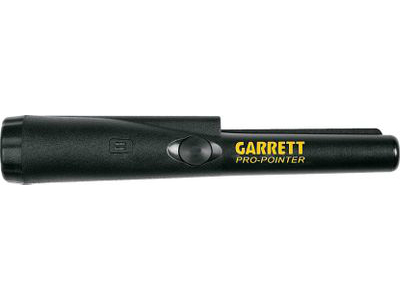 The Garrett Pro-Pointer uses Very Low Frequency (VLF) technology at 12 kHz to show exactly where the target is. It is capable of finding a single coin 8 cm below the surface. It uses both an auditory signal and a vibrating signal that increase in intensity as the target gets closer. One-button operation means the unit is as easy as possible to use, while maintaining tip sensitivity and side-scanning capabilities. It is water-resistant and has LED lights and a scraper blade to help with tough conditions. The Garrett Pro-Pointer is more expensive than other probes but is also a high-quality probe that works when cheaper ones fail.
---
| | |
| --- | --- |
| 2 | Bounty Hunter Pinpointer |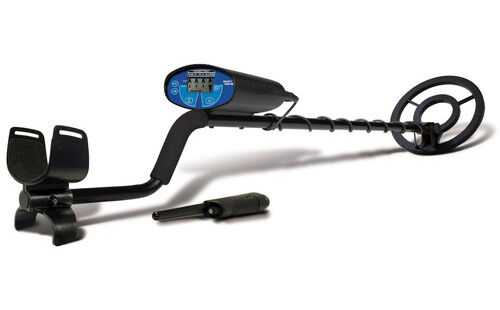 The Bounty Hunter Pinpointer probe is a handy device at a more accessible price than the Garrett. It has both auditory and vibrating signals and is water-resistant. Unlike the Garrett Pro-pointer, the Bounty Hunter version has a knob to set sensitivity rather than an on-off button. Without lights, a scraper, or a case, the Bounty Hunter is a no-frills device that beginners may find useful. It is also good for applications that do not require great depth, like finding studs in drywall. Bounty Hunter recommends pairing the Pinpointer with one of their larger metal detectors.
---
| | |
| --- | --- |
| 3 | White's Bullseye II Pinpointer Metal Detector |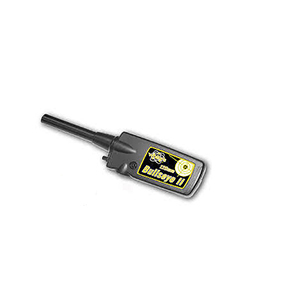 The Bullseye II probe vibrates or beeps depending on the setting, and has a bright white LED light and adjustable sensitivity. Its shallow detection depth justifies the modest price of the probe. Operation is simple and no tuning is necessary, making this a good choice for novices. A 9 volt battery lasts up to 20 hours according to the manufacturer and it works at a 36 kHz frequency that does not interfere with other detectors. However, it is not water-resistant, so rain and other adverse conditions can damage the probe.
---
| | |
| --- | --- |
| 4 | Vibra Probe 580 Pinpointer |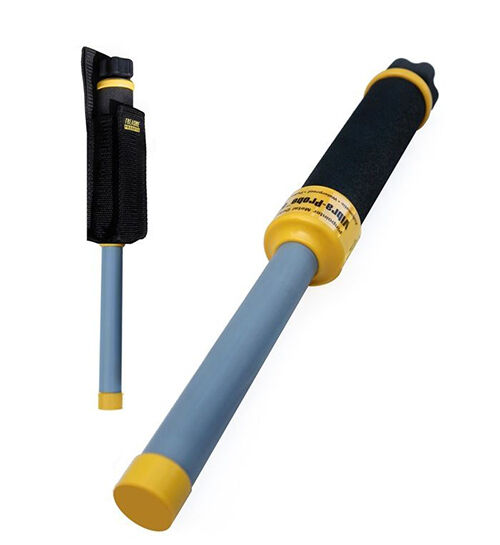 The Vibra-Probe 580 is an underwater probe, which makes it ideal for those who treasure hunt in lakes or at the beach, or in rainy and muddy conditions. Unlike The Pro-Pointer and the Bullseye, the Vibra-Probe 580 works with pulse induction technology. This makes it ideal for highly mineralised soil, for example when looking for gold nuggets. The Vibra-Probe 580 is a high-quality device that calibrates automatically and offers tip-only detection for those who prefer not to use side-scanning. It automatically shuts off after a minute to save power. It is waterproof to 30 metres and, as the name suggests, communicates only by vibration.
---
| | |
| --- | --- |
| 5 | DetectorPro Pocket Uniprobe |
The DetectorPro Pocket Uniprobe is one of the probes with the deepest detection range, so it can find coins up to 15 cm deep. The probe itself is 20 cm long and waterproof, although the unit, which attaches by cable, is not waterproof. The Pocket Uniprobe is like the revolutionary original Uniprobe in that it converts to a complete metal detector with the addition of rods and a pulse induction search coil. The Pocket Uniprobe also has a gradient audio approach, which makes the signal louder and stronger as it gets closer to the target. The ideal applications for this probe include coin, relic, and jewellery hunting.
---
How to Buy Handheld Metal Detectors on eBay
You can use eBay to find a handheld detector from a reputable seller and at a competitive price. To find a probe on eBay, enter the term 'handheld metal detector' in the search box on any eBay page, along with the brand or model name if you already know what you want. If you are not sure which brand or model interests you, refine the search by price to see the models within your budget. You also want to evaluate a product's value according to its features rather than price. In general, an inexpensive probe makes a good addition to the toolbox while a high-end model takes treasure hunting to the next level.