A
home surveillance system
allows consumers to rest easy in the knowledge that their home is safe and secure, particularly when paired with additional security measures such as intercom systems and intruder alarm systems. While there are a huge range of surveillance systems available, consumers must purchase a high-quality system to achieve the best results. Therefore, purchasing a home surveillance system from one of the top manufacturers, known for their system quality, is the best option, ensuring consumers get the level of reliable surveillance they require to keep their home and garden safe.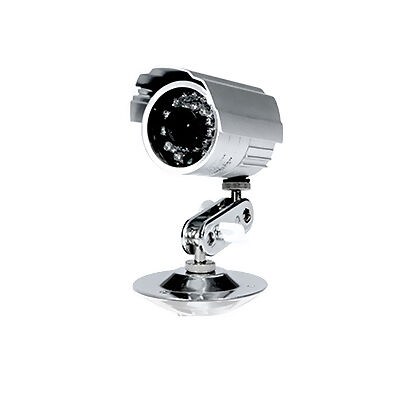 Sony home surveillance systems are very popular as they are renowned for their superior quality. There are many Sony surveillance systems available, and they cater to every home and garden security need. Among their most popular offerings are the PTZ cameras. PTZ cameras are pan, tilt, and zoom cameras that allow users to remotely operate them, panning left, right, up, and down, as well as zooming in and out at the touch of a button. This provides consumers with superior control and allows them to get a closer look at anything within the increased range of their cameras. One popular example of a Sony PTZ system is the SNC-EP521, offering an impressive 12 times digital zoom and a 36 times optical zoom, boasting a total zoom ratio of 432 times for superior video surveillance quality. For increased versatility, this system also has day and night vision functions, allowing consumers to keep their property monitored all day and night.
---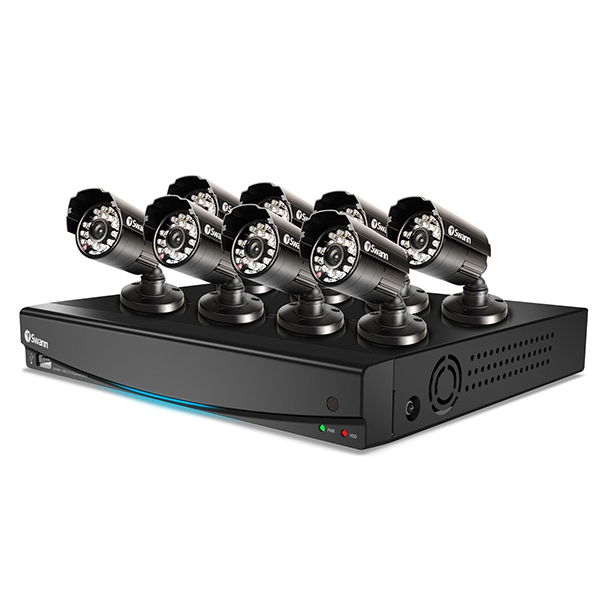 Swann offer well-known plug and play home surveillance systems that are exceptionally easy to install, even for those with few DIY skills. One example is the Pro-530 Multipurpose Day and Night Security Camera. The unit has weather-proof, enclosed cabling to protect exterior cabling from the elements. The exterior cameras also have weather-proof shielding and a good quality night vision at up to 20 metres. This system plugs into a DVR or television set for easy and convenient live viewing or stored video playback. Swann also offer home surveillance and security accessories in the form of video and audio intercom systems as well as home and door alarms, providing a complete home security package. Consumers can choose from single cameras or multipacks of up to eight cameras, as well as a Swann DVD recorder that works seamlessly with the cameras to record and store data.
---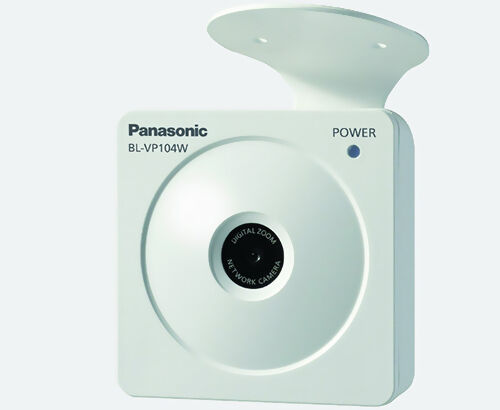 Panasonic are another popular surveillance system producer in the UK. Panasonic surveillance system choices include static cameras for inexpensive, simple, no-frills surveillance, dome cameras to protect the camera against vandalism, weather, and nature, and PTZ cameras with 360 degree vision to limit the number of cameras a consumer requires to give full property coverage. Panasonic digital video recorders complement the security cameras, allowing consumers to record and store captured data. One popular model, the WJ-HD76 Digital Disk Recorder, a security DDR, offers video motion detection, superior quality video playback, and prevents users accidentally recording over previous footage. It also uses compressed data, reducing the required storage space by an impressive 40 per cent. This system also has a camera control stick on top of the unit so users can operate their cameras remotely.
---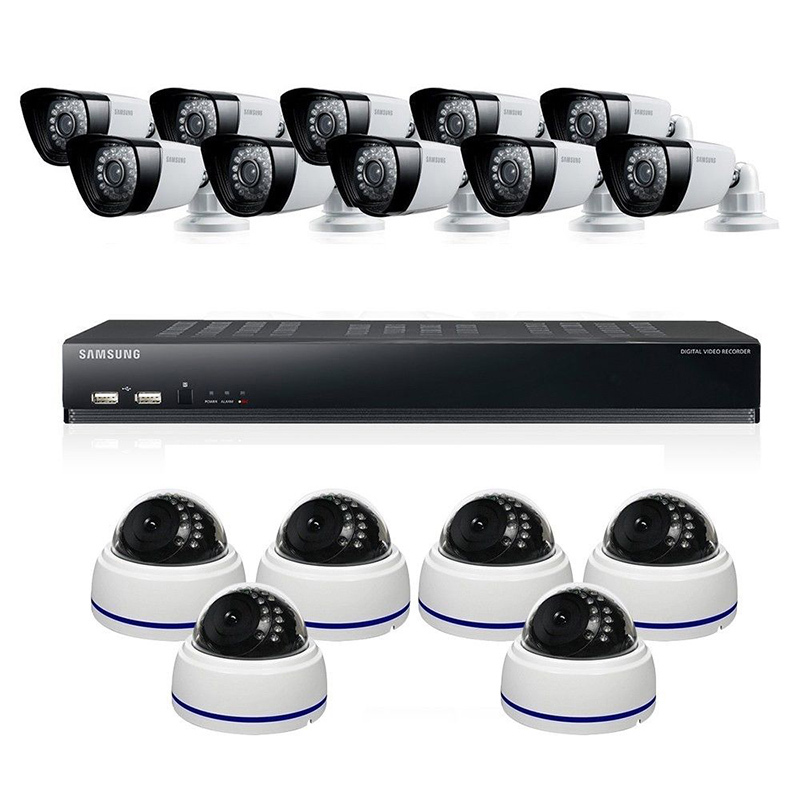 Samsung produce a range of high quality cameras and other home surveillance and security devices. This company boasts indoor and outdoor cameras, offering total home surveillance solutions. A popular model of indoor camera is the SNB-7001. This indoor camera is a 3-megapixel full HD indoor camera offering multiple streaming to integrate with other cameras. It also offers colour and black and white modes as well as a tampering alarm, alerting users if their camera has been tampered with by unauthorised individuals and, for energy saving, it has a motion detector. The SCB-9051 Outdoor Thermal Camera has a built-in 50mm fixed lens offering quality video at a static distance with manual focus control, allowing users to fine-tune the lens to get crystal clear video. The exterior camera unit and cables are weather-proof for durability and stability.
---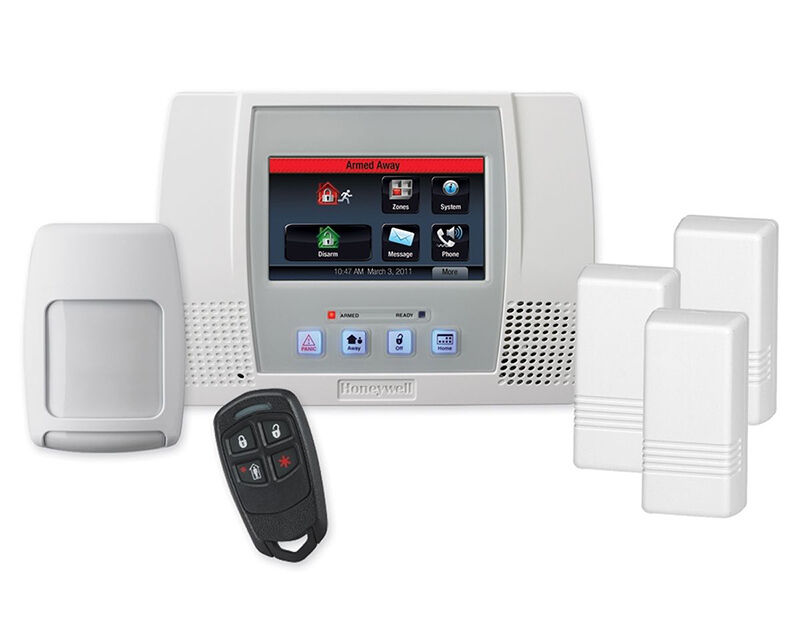 Honeywell Security are one of the best-known security and surveillance specialists in the UK. They offer a wide range of surveillance and intruder detection systems for total property security and surveillance solutions. They also offer both digital and analogue surveillance systems, catering to every consumer. The HD45IPX is a high resolution day and night fixed indoor mini dome surveillance camera. This camera uses minimal bandwidth but still manages to deliver crystal clear images. This PZT mini dome camera offers up to 360 degrees of surveillance coverage as it pans and rotates.
---
How to Buy a Home Surveillance System
Buying a home surveillance system on eBay is easy. Perform a simple search to get a whole host of relevant results and make your choice. When purchasing a home surveillance system or any other heavy or costly item, ensure your seller offers insured or guaranteed delivery. Choose from top quality offerings from manufacturers such as Sony, Swann, Panasonic, Samsung, or Honeywell to protect your home. Consider adding further security measures in the form of intruder alarms or two-way intercom systems to keep your home and garden safe.