Home theatre receivers
with digital tuner combine multiple components, a preamplifier, amplifier, and tuner, into a single unit to provide convenience and ensure device compatibility. This results in the ability to choose between multiple sources such as radio broadcasts, cable, or satellite programming, as well as DVD players, Blu-ray players, and other connected audio and video components. Whether the device comes from a local electronics warehouse or online at eBay, a brief look into the features and benefits of the top home theatre receivers with digital tuner allows customers to make informed purchasing decisions for their entertainment systems.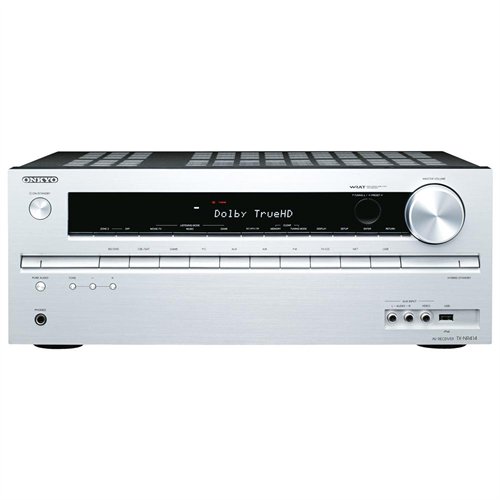 Flexible as well as stylish, the Onkyo TX-NR414 home theatre receiver with digital tuner features six inputs. This 5.1-channel system includes theatre-quality surround sound as well as drivers for Dolby TrueHD, Dolby Digital Plus, and Dolby Pro Logix. Additions such as built-in streaming support allows for effortless broadcasting of subscription-based services such as Spotify, Pandora, and Rhapsody with a wired connection and the addition of Wi-Fi with a simple module attachment. The unit operates with the aid of a remote, but tech-savvy owners have the ability to use an all-in-one device that controls the receiver as well as the television and other added components for convenience.
---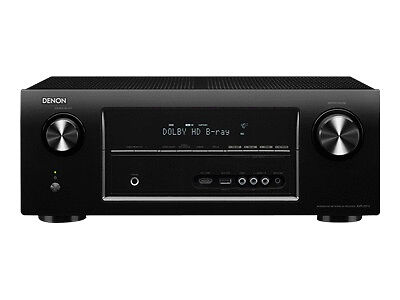 A 7.2-channel home theatre audio video receiver with digital tuner, the Denon AVR-2313CI connects to favourite components via inputs as well as Airplay to support iPods, iPhones, and other Apple devices. When connected to the Internet with an Ethernet connection, users have the option to stream music of all genres from personal playlists as well as subscription services like Spotify and Pandora. The intuitive graphical user interface allows for easy switching between components and the built-in amplifier produces a 105-watt output with 6- or 8-ohm frequency at 10 to 100,000 Hz.
---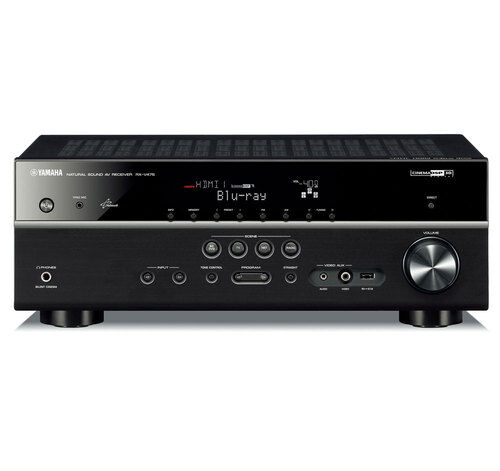 Lightweight and streamlined, the Yamaha RX-V475 features 5 HDMI connection ports, basic Ethernet connectivity, and AirPlay compatibility for interfacing with iPods and iPhones of multiple generations. This 5.1-channel receiver enables quick connection to streaming music from on-air stations as well as streaming services and even allows for streaming integration when paired with an extra adapter such as the Roku stick.. The device features an on-screen graphical interface that walks owners through the connection and calibration process for other components. In addition, the cinema-quality surround sound functionality includes media compatibility such as Dolby Digital, Dolby TrueHD, DTS-HD, and DTS 96/24 to enhance recorded media as well as on-air broadcasts.
---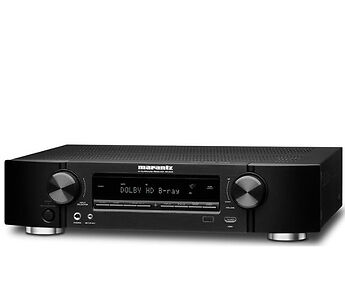 The 5.1-channel Marantz NR1403 features a slimline design that allows for easy placement on a television stand or nearby shelf as well as stacking with other connected components to reduce clutter and have all units within easy reach. Extras such as the Audyssey MultEQ speaker calibration adjust connected surround sound speakers to peak performance levels, and the online display provides quick adjustments for good tonal quality whether the owner listens to music or watches the latest DVD or Blu-ray film. The fluorescent onboard display clearly shows the current mode and a response bandwidth of 10 to 100,000 Hz ensures pleasing sounds across all components.
---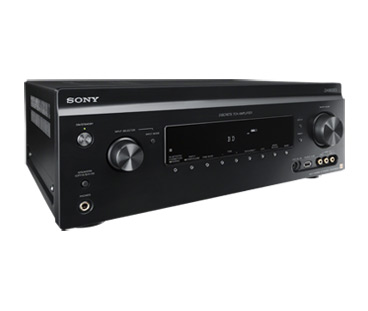 The 7.2-channel Sony STR-DA1800ES home theatre receiver comes out of the box ready to integrate with multiple components via input, Ethernet, Wi-Fi, and Apple AirPlay. The amplifier features dual large-block capacitors for continuous power and sound whether operating in audio or video mode, a feature sure to impress guests and regular listeners alike. Since this unit requires no extra dongle to stream online media, services such as Pandora and Rhapsody as well as video streaming pose no problem and enhance home movie night. In addition, a 20 Hz to 20 kHz frequency range and DCAC calibration ensure good sound across all genres.
---
How to Buy Home Theater Receivers With Digital Tuner on eBay
From top-of-the-line devices to basic models, find virtually any home theatre receiver with digital tuner you desire on eBay in either new or used condition. To make the buying process smoother and easier, use a precise set of keywords when querying the eBay Search bar to help you find the right device to meet your needs quickly. For example, instead of using the term "home theatre receiver", a choice that returns thousands of listings, choose "
Yamaha RX-V475 receiver and tuner
", "
Marantz home theatre receiver tuner combination
", or "Sony STR-DA1800ES theatre receiver" for the most targeted results. Afterwards, complete the purchase with a few clicks of the mouse and enjoy delivery straight to your door.