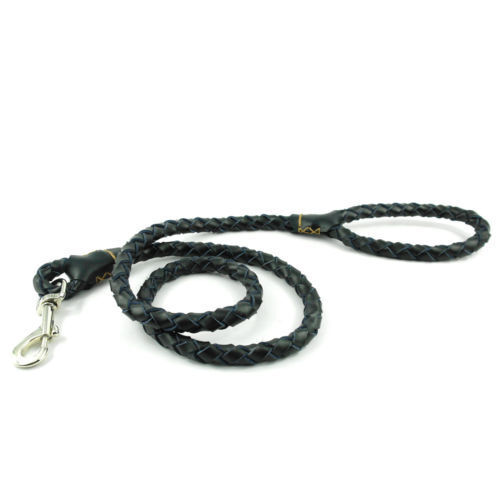 Dog training is the attempt to cultivate a dog's behaviour in certain situations. Training is undertaken for a number of different reasons. It could be so the dog behaves peacefully in domestic environments, but could also be specific training for work.
Reward-based training is one technique used to train a dog. It works by identifying 'good' behaviour and rewarding it immediately. Over time, the dog will identify the reward with the good behaviour making it second nature to it.
There are several items that are useful for reward-based training. This guide will highlight the 5 must-have reward-based training items required such as Dog Leads. All of these items can be purchased in a number of different places including eBay, general pet shops and specialist's dog stores.
Different Types of Dog Training
Reward-based training is just one method used to train a dog or puppy. There are other types of training available including:
* Koehler method
* Clicker training
* Dominance-based training
* Relationship-based training
Each of these training principles has both adherents and critics. Reward-based training is viewed as a safe and positive training programme that dogs respond well to and offers fast results. This reward-based training is very similar to the concept of classical conditioning, whereby certain actions are carried out in return for a specific reaction.
How Does a Dog Learn?
It is important to know how dogs learn when embarking on a new training regime. Dogs tend to learn in a similar way to humans. Certain behaviours can be broken down into different categories.
For example:
* Some behaviour is instinctual, like knowing where to find food and who their mother is.
* Some behaviour is environment based, like drinking when it is hot.
* Some behaviour is learning based, like lessons being taught via reward-based training.
Reinforcement Training
It is important to acknowledge that there are two types of reinforcement training. The first being reward-based training or positive reinforcement training, the second being negative reinforcement. Just as reward-based training works by rewarding the animal when a desired action is undertaken, negative reinforcement applies an aversive stimulus like a choker chain to stop a dog from doing an unwanted activity. This can be seen by using a choker chain collar to stop a dog from approaching a table with food on it. When the dog advances, the collar is tightened, and when the dog retreats, the collar loosens.
Positive reinforcement reward-based training does not usually result in unwelcome side behaviours, which is often found in other training methods. This makes it an excellent choice for the training for any dog.
When to Train Your Dog
Preventing bad behaviour is easier to manage than modifying existing behaviour. As a result, the best time to affect the dog's training is when they are puppies. Another positive outcome from puppy training is social interaction. Without this, puppies may develop anti-social behaviours around other dogs in their later years. It is within the first 16 weeks of the dog's life that their behaviours start to develop, and because of this, these years are viewed as the most important time of the dog's life. Therefore it is imperative for any dog owner to spend time with your puppy to ensure that they learn the basics and you get control from an early age.
Things to Do Before Undertaking Reward-based Training
Before advancing on reward-based training schedule, it is important to prepare yourself and the dog. This preparation is as easy as following the 4 simple steps outlined below.
1. Make sure the dog is fully vaccinated and checked by a vet. This will mean the dog will be ready to interact safely with other animals.
2. Read literature or watch videos about reward-based training. The more knowledge you have, the easier the training will be.
3. Research possible classes to find the best place to take your dog. Ask a professional or other dog owner for advice.
4. Make sure you have all the required equipment for the training.
5 Items Required for Rewards Based Training
Before training can commence, it is important to have the required items to assist you in this process.
| | |
| --- | --- |
| Books and Videos | It is important to equip yourself with as much knowledge as possible before purchasing a puppy and undertaking training. It is after all a long-term investment. The easiest way to do this is by reading reward-based trainingDog Books and watching reward-based Training Dog Videos. |
| Collar | There are lots of different types of Dog Collars available. Depending on the personality of the dog will determine the right collar for the animal. As a general rule puppies cope better with Puppy Collars which are made out of a softer material. It is worth noting that if specific puppy items are bought for a dog, they will need to be replaced as the dog grows. |
| Lead | Again, there are a variety of different choices of Dog Leads available on the current market. The most popular materials being nylon, chain and leather. The easiest way to choose a lead is to address the and personality of the dog. For example, for training, a Training Dog Lead may be the best option. If the dog likes to chew, a chain lead will be the best option. Adequate research should be undertaken before a purchase. |
| Travel Harness | A travel Dog Safety Harness is a vital piece of equipment if you are transporting your dog between classes in the car. It is important that a dog is securely fastened in a dog harness when traveling to minimise distractions for the driver, and keep the dog and fellow passengers safe in the unlikely case of an accident. Travel harnesses are available in a variety of different shapes and sizes. It is possible to purchase a multi-purpose harness that can act as both a safety harness in a car journey, and then as a lead when out walking. |
| Edible Treats | Reward-based training relies on offering positive encouragement and rewards every time the correct command is performed. As a result it is vital to have delicious edible Dog Treats to offer your dog when they achieve a command. This is one of the most favourable options for dog owners as it is based on reward for the dog. |
How to Buy Reward-based Training Items on eBay
There are many different shops and online sites to purchase rewards based training items. However few offer the ease of use and choice that eBay does. The site is not only easy to use with excellent functionality; it also has a wide selection of products and brands.
It is easy to search for a specific product, as well as for a boarder term if the exact item is not known. This can be done by using the search function conveniently located on each page that will lead the searcher through to a list of all the items to browse or by using advanced search (located next to the general search function). If a general search is undertaken, it is also possible to search via category.
When buying products on eBay it is important to make sure the product is exactly what you are looking for before making the purchase. Luckily this is easy to do. The seller will provide a detailed overview of the product and a photo. By reviewing the photo and the overview it is possible to cross check the item for suitability and condition. If more information about the seller is required, it is possible to read reviews from previous buyers who have dealt with the seller.
Paying for an item on eBay is safe and secure. It is possible to transfer funds for an item via debit or credit card as well as viaPayPal. The Payment Protection Programme policy protects all shoppers who purchase goods by using eBay.
A helpful feature provided by eBay is the Buying Tips page. This will highlight ways to use the site to its fullest capacity, and also answer any questions about functionality.
Another great option is to look for advice from the seller on the product that is being purchased. If there isn't enough information in the product listing, all buyers are encouraged to request the additional data.
Conclusion
It is important that a new dog owner understands the responsibility of caring for an animal. Training a puppy or dog is a part of this responsibility. The use of reward-based training is a great way to achieve results whilst maintaining the animal's wealth fare. By applying these techniques when training, it is easy to maintain the duty of care to the dog expected of all animal owners. Not only this, but it means the dog will live harmoniously in the same environment as its family.
By equipping yourself with the 5 reward-based dog training items outlined in this guide, it will mean you are not only ready to embark on training for your dog, but also ready to have a dog in your home.
eBay ' s variety of choice and items makes it a great starting point for any shopper.