MIDI cables
connect digital devices, allowing the transfer of electronic data. MIDI cables have a core coated with insulation to maintain signal quality. Commonly used to carry video and audio signals from one device to another for playback, MIDI cables are essential in most homes. There are an array of MIDI cables available. However, the quality of a MIDI cable has a huge impact on the performance of the digital devices. High quality cables with better shielding carry the signal better, with less interference and signal loss. Consumers should consider some of the most popular MIDI cables and make an informed purchasing decision. eBay has an array of MIDI cables at very competitive prices to suit any digital requirement.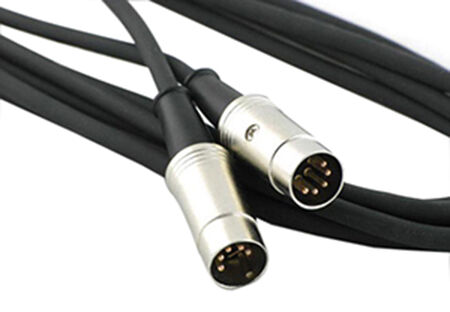 Known for its ability to eliminate background noise, the Mogami MIDI Synchro offers the ultimate in professionalism to musicians. Unlike many other cable manufacturers, Mogami have chosen not to rely on signal input alterations when designing the MIDI Synchro. This allows for signalling that is near pristine, giving musicians the chance to get more from their natural sounds. The Mogami MIDI Synchro cables have a long life due to the low profile moulding. They have a PVC jacket that makes them durable and attractive. Consumers using Mogami MIDI Synchro cable have interchangeable colour rings that makes them easily identifiable. The cable is available in a range of different lengths including 50 metres and 100 metres.
---
| | |
| --- | --- |
| 2 | TecNec Professional Studio Grade Canare MIDI Cable |
The TecNec Professional Studio Grade Canare MIDI cable allows musicians to achieve professional sounds regardless of where they are playing or recording. Reaching up to 15 metres in length, the design of these cables allows for manoeuvrability while on stage. This means even the most vigorously performing musicians do not have to worry about compromising their sounds for performance. With freedom on stage using great cable lengths, it is possible to create a vigorous atmosphere without disconnecting from the amplifiers. The designers further achieve this by using aluminium shielding, which minimises unnecessary feedback during sound transmission. These cables typically come in sepia, allowing them to blend into most stage sets effortlessly.
---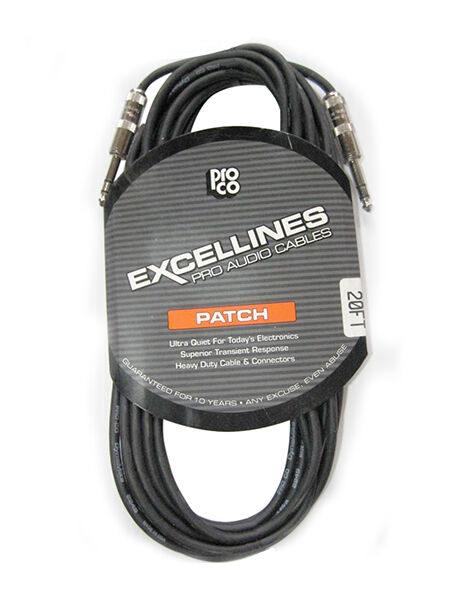 The Pro Co Excellines is exceedingly popular among musicians. Users have a choice between different heads, allowing them to purchase their cable according to the amps and instruments they own. Using a blend of male and female plugs, Pro Co makes the cable buying process simple. The use of dual shielding throughout the cable allows for a wider parameter in terms of transmission, which also translates to diversity in sound. When purchasing a guitar, this means a wider range of pitches are open to musicians while on stage. For musicians with a variety of instruments and performers, this allows for smaller kits that still meet the needs of everyone in a band. Like many good cables, a low profile jacket is in use, allowing for good stage blending.
---
| | |
| --- | --- |
| 4 | Monster MIDI Digilink Cable |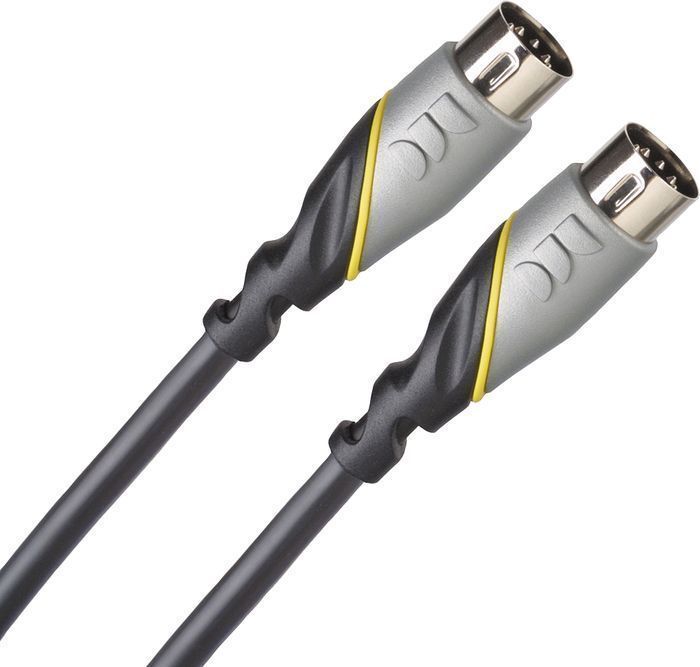 The Monster MIDI Digilink cable is ideal for anyone who wants alterable transmission. It is possible to control current and voltage transients, which in turn reduces jitter and distortion. For those who play instruments during heavy metal or punk sets, such control is often invaluable. Additionally, controlling the transition allows for reduced delay. When keeping a crowd busy and avoiding embarrassing mess-ups, this too is invaluable. It is also essential during studio recordings, as delays often translate badly onto MP3s and CDs. As one of the few cables that is ideal for both studios and live performances, this cable is a great money saver. Through the use of gold plated contacts, the designers have made it possible for signal transfer to remain ultra-smooth. The connectors are also dual moulded, reducing the likelihood of breakages when setting up and packing away.
---
Available in sizes of up to 60 metres, the Mogami 2948 MIDI Cable is incredibly flexible. This premium cable features a five pin connector, which makes it exceptionally versatile for musicians using a variety of instruments. Usually custom made, this cable comes in a variety of colours, allowing users to choose sleeves according to their tastes. With both single and dual cables on the market, the Mogami 2948 MIDI Cable comes in variations that allow musicians to prevent connection errors regardless of which instruments they use. These cables feature two stage moulding, which makes them easy to handle and it also increases reliability. Further to this, two stage moulding makes these cables very durable. With fast transmission, the Mogami 2948 MIDI Cable also reduces electromagnetic noise interference, allowing for smooth recording and performance.
---
Buying MIDI Cables on eBay
Find MIDI cables on eBay in new or used condition in a variety of lengths. Take advantage of the competitive prices offered by reputable eBay sellers by using the search function to identify the most appropriate MIDI cable to meet your needs. Before you commit to the purchase, check the feedback of the seller to ensure you receive a top quality product and first class customer service. When purchasing a MIDI cable, consider some of the most popular types, ensuring you get a high quality cable that maintains the signal quality with ease. Do not compromise on cable quality as the MIDI cable greatly impacts the performance of your digital devices.