Computer monitors
accept either digital or analogue signals.
Monitor cables
must therefore be selected for the correct signal type. Analogue monitors, which are often older, use VGA cables or SVGA cables. Digital signals feed LCD and HD monitors, as well as HD televisions. These use DVI cables, HD cables, or HDMI cables. Because many people have acquired technology over time, a mix of devices may require more than one kind of cable. The shortest monitor cables are less than 0.5 m while the longest are more than 33 m. The longest cables are useful in conference rooms or home cinemas. Review the characteristics of monitors and other system elements to select the best monitor cabling to meet system needs.
| | |
| --- | --- |
| 1 | Male to Male 25 FT VGA SVGA Extension Cable |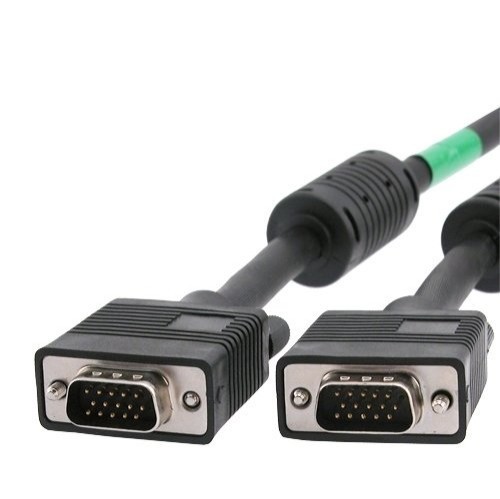 Most computer monitors use the video graphics array, or VGA, analogue data format and therefore use VGA cables or SVGA cables. SVGA, or Super VGA, refers to higher graphics standards that followed VGA and typically includes XGA, SXGA, UXGA, and QXGA. Any of these acronyms may appear in descriptions. VGA cables end in 15-pin plugs, which fasten with two screws that twist into place without a tool. Cables longer than 33m lose some visual quality due to signal degradation. The male to male 25-foot VGA SVGA extension cable is a relatively short cable that should limit signal degradation while providing enough distance for most uses. Look for cables that have shielding on the wires or pins if maximum image quality is important.
---
| | |
| --- | --- |
| 2 | DVI to VGA Splitter Cable for Monitor |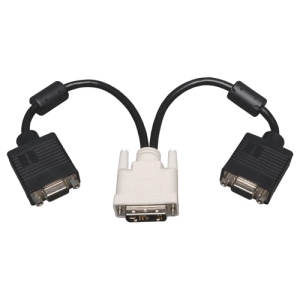 A DVI to VGA monitor splitter cable mmakes it possible to extend a single DVI signal to a pair of VGA displays. Both devices receive the same signal so each monitor shows the same image. The DVI, or digital video interface, standard typically supports LCD and other digital formats. This DVI cable splitter makes it possible to connect a digital device to analogue monitors. DVI cables are characterised with several designations related to their throughput capabilities. A DVI-A cable receives a digital signal and transmits it to an analogue, or A, device. A DVI to VGA cable should be a DVI-A monitor cable iif it is specified. The DVI-D cable accepts and outputs only digital, or D, signals. A DVI-I cable can transmit digital-to-digital or analogue-to-analogue but does not do any signal conversion. DVI-DL cables provide additional data "pipeline", which is useful in serving monitors larger than 19 inches.
---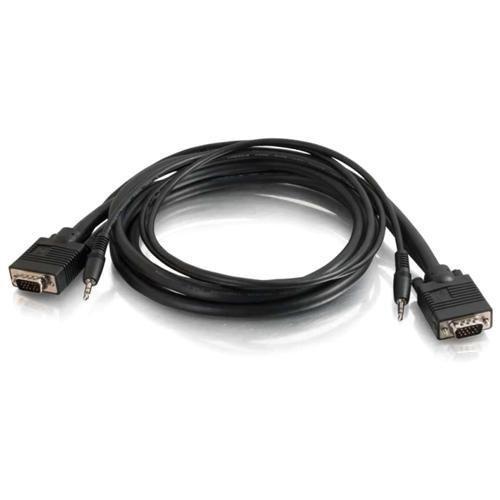 An HD 15 monitor cable typically connects a PC to a VGA or SVGA monitor or connects a computer to an HDTV. It allows users to obtain high-resolution video for viewing of movies and for gaming. This cable often links devices in a classroom or conference room, where the viewing screen is at some distance from the laptop running the presentation. Cable lengths vary from 0.5 m to more than 30 m. Longer cables most often help to organise a work area where the monitor cannot be placed close to the CPU. Select among several cable types, including adapter, converter, and splitter, depending on the essential application. Consider what kind of connector is necessary: male-to-male, often abbreviated M/M, or male-to-female, M/F. Also, if image quality is important for viewing of moving images, remember that well-shielded cables prevent image ghosting and that the longer the cable, the more likely the signal is to degrade.
---
| | |
| --- | --- |
| 4 | HDMI to VGA Monitor Cable |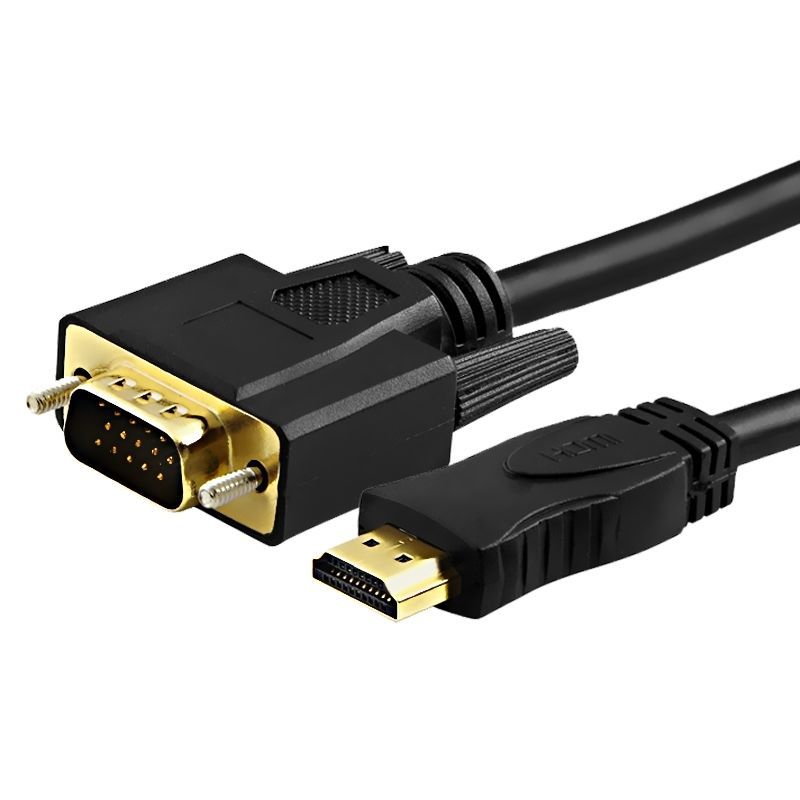 An HDMI to VGA cable is a cable and signal converter in a single device. HDMI signals are digital whereas the VGA monitor uses analogue information. A common use is connecting a school child's Raspberry Pi, which produces digital signals, to a VGA monitor or an analogue television set. The Raspberry Pi was developped to encourage computer education so it is perhaps appropriate that the connection of an HDMI to VGA monitor cable is not always straightforward. A student or parent may need to dig around in online forums to discover the exact code required to make a successful connection to the specific gear.
---
| | |
| --- | --- |
| 5 | Monitor Extension Cable |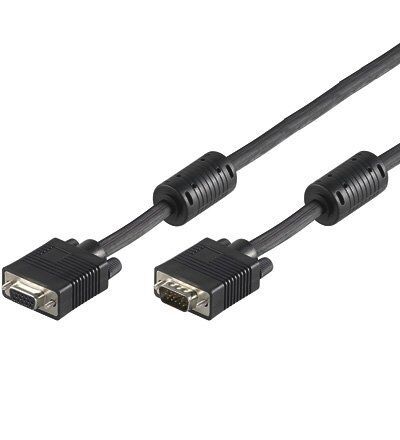 A monitor extension cable is helpful in setups where the monitor is most conveniently located at some distance from the power or signal. This is especially common in home theatre setups or when a monitor is set up for a small group to view. Monitor extension cables of 3m to 8m are common. Monitor extension cables may support VGA, SVGA, the various flavours of DVI, and the assorted HD standards. Some also connect a computer monitor to a plasma screen for large format viewing.
---
Finding Monitor Cables on eBay
Look for monitor cables for every flavour of computing on eBay. A simple Search for "monitor cables" yields so many that it helps to refine the Search by such categories as cable length, whether it should be a 1:1 or split cable, and what flavour of signal each end should send or receive. Many eBay Sellers offer other useful items for computer and home cinema operation. Sellers usually display other items they have on offer on the same page as they provide product details. Purchasing more than one item from the same Seller is a smart way to save on shipping costs. Buying from eBay Sellers is a good way to get exactly the monitor cables you need.