A
multidisc duplicator
allows users to create more than one copy of a master disc simultaneously. Training companies and any group that produces its own music, video, images, marketing, and promotional media on CD or DVD can benefit from this device because it makes copying data stored on optical drives quick, easy, and cost-effective. Users do not require computers when using stand-alone multidisc duplicators. Buyers can find multidisc CD and DVD duplicators at computer and electronics shops, as well as online from marketplaces such as
eBay
. Before shopping, buyers should learn about the top five multidisc duplicators on offer.
| | |
| --- | --- |
| 1 | ProDuplicator DVD Duplicator with Built-in Sony Burner |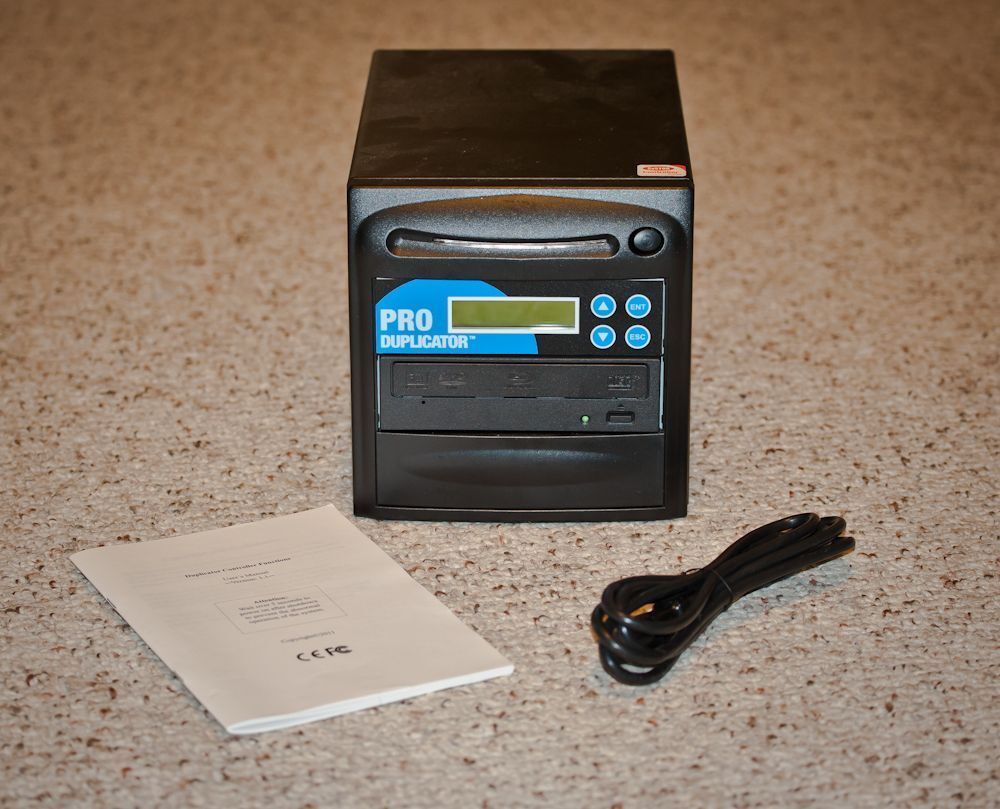 The ProDuplicator DVD Duplicator has built-in Sony burner features and a user-friendly LCD interface that provides a simple copy function to burn data onto blank discs. The device comes with adjustable burning speeds and a range of menu features for advanced users. This stand-alone duplicator is suitable for use in the home, office, and studio. The DVD reader and controller support high-speed duplication, with burning speeds of up to 18x on DVD R and DVD-R. The ProDuplicator supports a wide range of media and comes in one to seven target copy models. This device does not burn copy protected discs.
---
| | |
| --- | --- |
| 2 | CopyStars Dual Layer DVD Duplicator Burner 1 to 3 Target |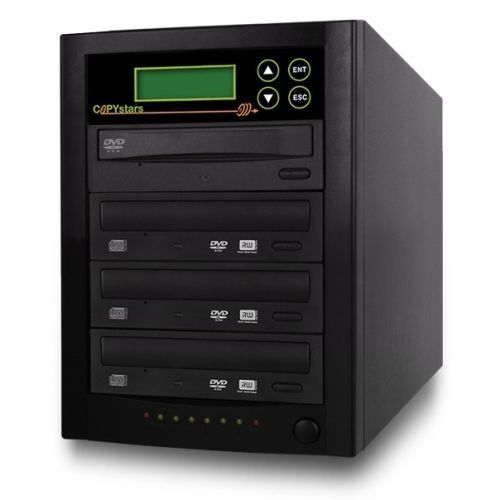 The CopyStars Dual Layer DVD Duplicator Burner 1 to 3 target is a stand-alone system that offers high-speed performance. It supports most media formats including DVD /-R, dual layer DVD /-R, DVD /-RW, CD-R, and CD-RW. The system automatically detects the source disc format and users can update it via firmware. It features password protection mode to prevent unauthorised use. The controls are easy to use and the device features intelligent hard drive partition management to avoid waste of hard drive space. Users can edit images and hard drive partition file names without requiring access to a computer. Duplicators in this series also come with target copy ranges from 1 to 17.
---
| | |
| --- | --- |
| 3 | BestDuplicator 1 to 11 Target DVD Duplicator Tower |
Users who need to copy numerous DVDs and CDs quickly should consider the BestDuplicator 1 to 11 Target DVD Duplicator Tower.. It is a stand-alone unit that can copy 165 CDs in an hour. It works without a computer or any additional software and comes with a user-friendly interface, easy to use menus, and optimised write speeds. Users can also set burn speeds. Its password protection mode prevents unauthorised use. The enhanced vented air circulation design prevents overheating. Some units come with 160GB internal hard drives that allow users to store numerous master discs on the device.
---
| | |
| --- | --- |
| 4 | CopyStars Copy Protected CD/DVD Duplicator |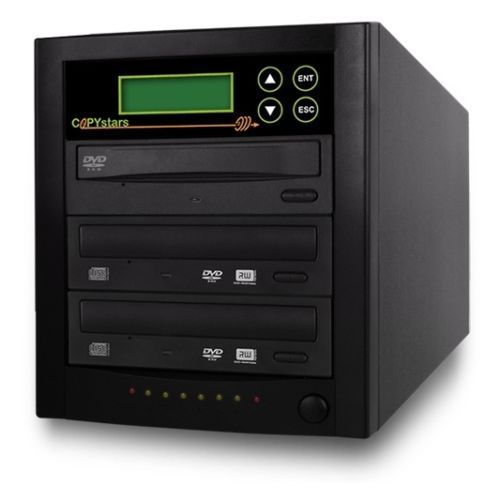 The CopyStars Copy Protected CD/DVD Duplicator range offers hardware-based copy protection of the disc author's copyright. The device embeds copy protection within each target disc, which normally plays on DVD players and drives. The CopyStars UnFab feature does not work on data files and is applicable only on DVD-R video discs and when users copy from DVD to DVD. The system supports most blank media standards and users can update it via firmware. These economically priced units feature high-speed performance, intelligent hard drive partitioning, and master error proof technology for effortless use.
---
| | |
| --- | --- |
| 5 | ProDuplicator LightScribe CD/DVD Duplicator Series |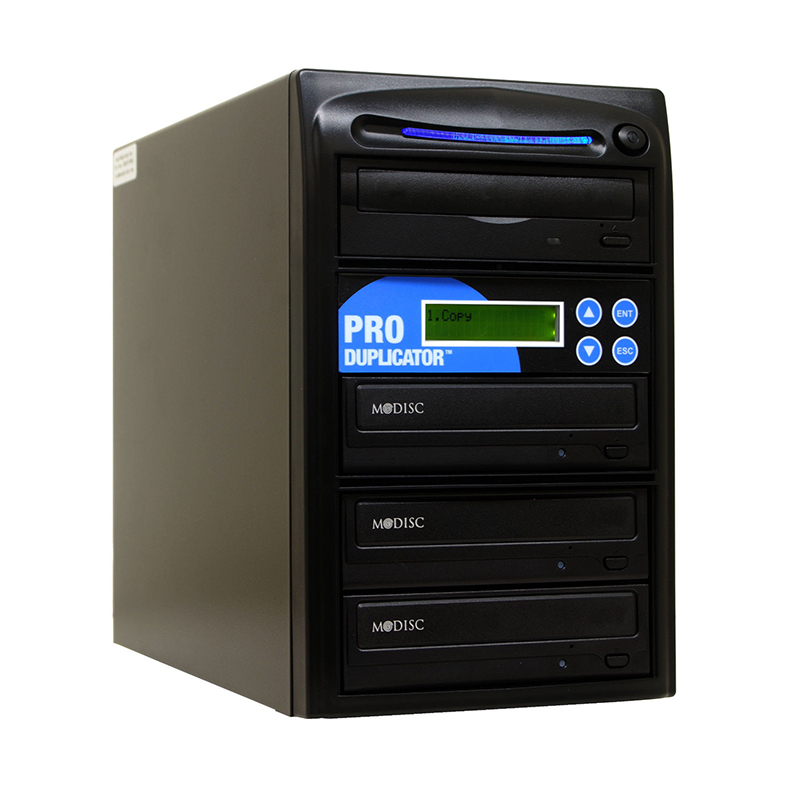 The ProDuplicator LightScribe CD/DVD Duplicator series features LightScribe direct disc labelling technology. This system burns customised, one-off designs for text and graphics onto the surface of a disc using the drive's laser and a special LightScribe disc.. The disc features a non-toxic chemical coating that reacts with the laser to produce an etched effect. The duplicator includes software that allows users to create disc artwork featuring text and graphics before starting the burning process. The stand-alone system has a user-friendly LCD display for easy operation. It is suitable for continuous burning and does not require cool down time. The device does not burn copy protected discs, but supports a range of common writing formats. The output ranges from 1 to 15 discs.
---
Finding a Multidisc Duplicator on eBay
eBay
is the perfect place to find a competitively priced multidisc duplicator. Browse the selection available or use the search function to find a specific product. To search, simply type a phrase, such as "
DVD multidisc duplicator
", into the search bar that you can access from every page. Refine your results by choosing from the given category filters. A multidisc duplicator allows you to copy CDs and DVDs to numerous target discs. Most systems are stand-alone and do not require additional hardware or software to function. Some come with advanced features, such as copy protection and LightScribe labelling capabilities.