For consumers waiting to welcome a new little one, preparing the nursery is crucial. Though babies are small, they require many items for a comfortable life. One of those is
nappies
, and since new parents need a large supply of nappies, it is nice to keep them stacked, organised, and easy to access. That is where
nappy stackers
come in. Some nappy stackers simply hold nappies and make them easy to get to. Other nappy stackers include an organising system to hold wipes, nappy rash cream, powder, or other necessities of nappy changing. Consumers look at the price, style, brand, and features of each nappy stacker before purchasing the right one.
| | |
| --- | --- |
| 1 | Munchkin Nappy Change Organiser |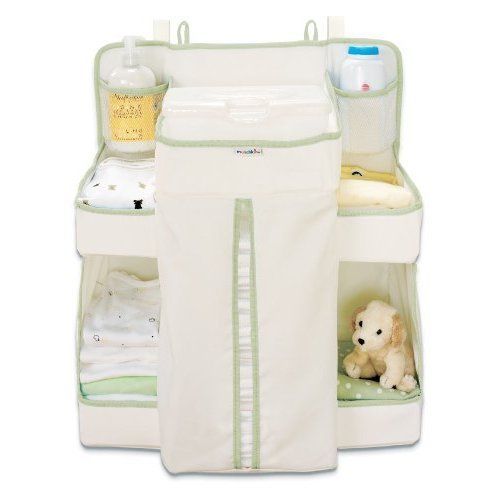 Well-known baby brand Munchkin offers consumers a convenient all-in-one organiser that is affordable and filled with handy features, such as spots for wipes and other accessories. The Munchkin Nappy Change Organiser saves space by offering consumers eight separate compartments for nappies, nappy rash cream, nappy bags, and pacifiers or toys. The organiser secures to the baby's cot or changing table with Velcro closures so consumers keep it within arm's reach. The Munchkin organiser is also made of soft cloth and machine washable, collapsible for easy storage or travel, and comes in a soft, neutral colour to fit into every nursery's colour scheme. Small pockets hold creams and lotions upright, and the centre nappy holder fits a large number of nappies.
---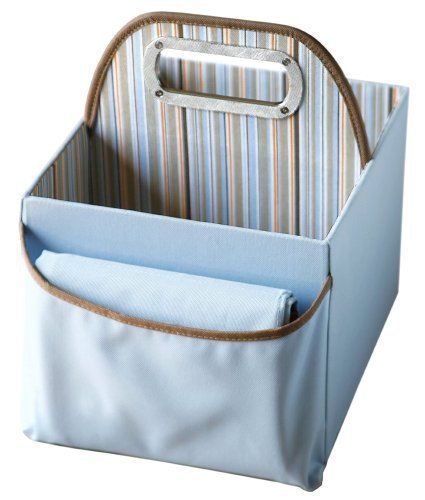 Stylish, cute, and convenient, the JJ Cole Diapers Caddy offers parents a portable nappy caddy with a handle for easy travelling. The caddy functions well for on-the-go purposes or makes going from room to room easy. The roomy caddy holds nappies, a full-sized wipes container, nappy cream, lotions, and powder. The durable caddy includes a drawer to keep small necessities from getting lost, and the caddy includes rubber stoppers on the bottom for floor protection. The JJ Cole Diapers Caddy offers a feature not all caddies have, which is an included matching changing pad. Everything parents need fits into the lightweight, durable nappy caddy. The caddy comes in many fashionable colours, including brown, green, and pink, with attractive stripes on the interior lining.
---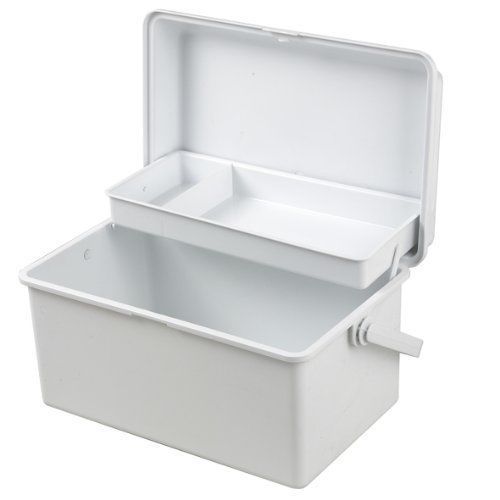 Made of heavy-duty plastic, the Tippitoes Changing Box has a unique tray design so parents easily store and grab what they need to change their baby. The top tray offers smaller compartments for creams and powders or other baby accessories, and the open bottom area holds nappies and larger items. The box closes securely and includes a large handle for carrying. The Tippitoes Changing Box comes in a simple, sleek, white design, and the sturdy plastic box has a vast amount of room for carrying nappies as well as toys, bath supplies, lotions, or other items baby needs. The changing box fits into any room scheme, including the nursery, bathroom, or family room. It is also essential for travelling and keeps nappies from damage, a risk with softer travel bags.
---
---
How to Buy Nappy Stackers on eBay
Babies are costly, so it is wise to cut costs where you can, and shopping for baby necessities, such as nappy stackers, on eBay is one way to save cash. Search for nappy stackers by brand, such as "Munchkin". Check the seller's number of successful transactions completed before purchasing, and discuss bundling items with the seller for a combined shipping price, if the seller has any other baby items you need. Nappy stackers are an item which most people take for granted, but they make changing a squirming baby simple, especially when you keep them within reach of the changing table or cot. Nappy stackers come in many price ranges and many styles to suit each buyer.