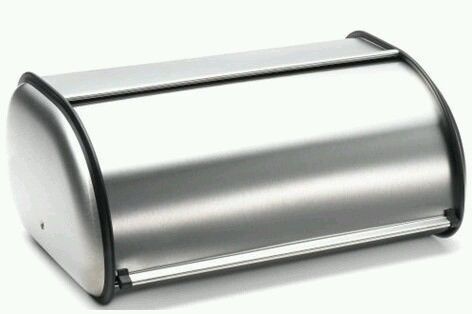 eBay is a great place to buy a bread bin. Bread bins are designed to keep bread fresh, dry, away from insects and bugs and out of sight when in the kitchen. They have been used to store bread and other baked goods in for centuries.
There are many reasons to buy a bread bin. However, the purpose of this guide is to explain the five best reasons.
These are: bread bins keep your bread bug-free; bread bins prolong the life of bread; bread bins keep the kitchen counters tidy; bread bins are fashionable and bread bins can be easily collected when bought online.
Besides discussing the top five reasons to buy a bread bin, this guide will also describe how to purchase one from the renowned auction website, eBay.
Bread Bins
Bread bins (also referred to as 'breadboxes ' ) are essentially containers used for storing bread and baked goods to keep them fresh, dry and uneaten by unwanted pests, like insects. Many bread bins that were used centuries ago were made from wood or pottery (known as ' bread crocks') and are collected by enthusiasts, as they are considered to be collectible antiques. These days, bread bins are made from a wide range of materials including plastic,metal, stoneware,ceramic and wood.
Bread bins were once an essential kitchen item until bread was made commercially with food preservatives, and was packaged in plastic. These storage containers are still popular with those people who bake bread and make baked goods.
Bread bins are generally large enough to store one or two average-sized loaves of bread. Typical dimensions are 12 inches wide by 6 inches deep and high (so 30cm x 15c x 15cm).
Retro-gradation
Bread goes stale through the process of retro-gradation, by where the starch transposes to a crystalline form in the presence of the water contained within the bread itself. The process of retro-gradation is increased at cooler temperatures, which is why it is recommended that bread should not be kept in the fridge (refrigerated) and that it should be stored at room temperature, so that it stays fresher for longer periods. Frozen bread on the other hand, traps the moisture as ice so retro-gradation does not occur.
Due to retro-gradation, bread bins are designed to:
* Keep their contents at room temperature
* Have a lid loose enough that it allows airflow to reduce condensation (which prevents mould forming)
* Have a lid that is tight enough to protect its contents from insects, bugs, flies and rodents.
The Top 5 Reasons to Purchase a Bread Bin Explained
Bread Bins Keep Your Bread Bug-Free
The most important reason to buy a bread bin is because a buyer wants to keep their bread free from bugs, insects and rodents. Although the way we buy bread has changed (we now receive it in wrapped plastic rather than loose or in a paper bag), the way that insects and rodents consume hasn't changed, and bread that is wrapped in plastic or in a plastic bag can still be ruined by creatures chewing through it. Bread bins are also sealed to keep flies away and to keep out tiny creatures such as ants.
Bread Bins Prolong the Life of Bread
Another incredibly important reason to buy a bread bin is because they prolong the life of bread. Bread bins keep bread in a sealed container out of direct sunlight and away from heat. All of these factors contribute to turning bread stale.
Please note: all bread bins have 'sealed' containers, but a good bread bin (although sealed) will allow some airflow through, which helps prevent mould by reducing condensation.
Bread Bins Keep the Kitchen Counters Tidy
Another reason as to why people buy breadbins is because they keep their kitchen counters and sides tidy. For people with very little storage space in their kitchen, they may have to keep loaves of bread out on the side, which can look, untidy and messy. Buying a bread bin solves this problem, as well as protecting the bread and prolonging its short life span at the same time.
Bread Bins Are Fashionable
Bread bins are also making a comeback because they are fashionable and trendy. Today, there are so many different bread bins for sale, and they come in many different shapes, styles and designs, which really add character or an element of style to your kitchen.
Wooden bread bins offer a more traditional look and feel, whereas astainless steel bread bin may present a clean and modern looking design. If you already have a matching kettle and toaster set, why don't you see if there's a matching bread bin to complete the collection and give your kitchen a classy look?
Bread Bins Can be Easily Collected
The last but by no means least important reason to purchase a bread bin is for collecting purposes. Just like the way that stamps or playing cards are collected, bread bins are also a collector's item. Old traditional bread bins often made from wood or pottery are considered collectible antiques and are popular with pottery and baking enthusiasts.
Bread Bin Buying Advice
Before purchasing a bread bin, it is advisable to consider the following and to take it into account when shopping for these baked good containers:
* If you're short on cupboard or counter space, it is worth choosing a bread bin with a flat top so that you can put things on top of it.
* For those that live in warm climates (or climates where the temperature fluctuates on a daily basis) it is strongly advised that you opt for a non-metallic bread bin as fluctuating heating conditions are one of the leading factors that turn bread stale. In this case, wooden or plastic bread bins are often the best option.
* If storage space really is an issue in your kitchen, then opt for a large bread bin that has room for several loaves of bread. This means that you can also store other foods like biscuits and sweets inside - bread bins are multifunctional regardless of their name.
And remember: you don't want a bread bin with a loose or a vacuum seal. It must be loose enough that it lets air through, but tight enough that it stops flies, insects and tiny creatures.
How to buy a Bread Bin on eBay
eBay is a great place to purchase a bread bin for the kitchen and home. No matter the size, shape or style desired or required by the shopper, eBay stocks an extensive range of bread bins to suit everyone and every home.
Finding the desired item on eBay has never been easier thanks to its search functions. Using the search toolbar, eBay customers simply need to enter the shape or style of the bread bin they desire to be met with pages of suitable search results. Once the customer has looked through the search results, customers can click on the most relevant one to be taken to its individual product listings page.
Each product on sale on eBay has its own listings page. This page contains a wealth of information about the product including (but not limited to): a detailed specification, a product analysis and comments about the items condition, and of course some photographs of the item.
As such, an authoritative name in the world of Internet shopping, eBay also presents its customers with information about each product's seller. This often includes the seller's eBay rating, selling history and feedback, as well as their location.
By disclosing the location of the seller, the customer can decide whether it's best to pick up the item, or to have it delivered to their door (and pay the necessary postage fee).
Should any customer feel that they still require further information about a product or that they have a question they would like answered, they can do so by contacting the seller.
Once the customer has found their desired bread bin, they can begin purchasing. On eBay, purchasing products can be done in one of two ways: to purchase the item immediately ( ' Buy It Now ' ) or to bid on the item ( ' Bid Now ' ) in an auction, in an attempt to seek out the best price available for that product.
All transactions made on eBay are safe and secure thanks to the third party payment authority, PayPal, which provides all eBay customers with complete peace of mind when purchasing from the renowned shopping website.
Conclusion
There are many factors to consider and issues to take into account when purchasing a bread bin. However with the important information and crucial considerations outlined in this guide, coupled with eBay's incredibly detailed product listing pages and easy to use website, buying a bread bin is quick and easy.
A decent bread bin to suit the owner's wants and needs will not only keep their bread fresher for longer; it will keep it away from insects and thus safe to eat.
This guide has provided some important information, advice, tips and hints about bread bins and what to look out for when purchasing these household products.