No matter where a person lives or works, the ever-present concern of invasion motivates many consumers to install
surveillance security systems
and components in and around their homes and businesses. For some, a simple camera is all they need to identify persons coming to their door, while others require a larger and more complex security system due to a more expansive area of concern. Each type of security surveillance component has a specific purpose that when used in combination with others provides complete property coverage. Some systems are even programmable to notify the residents via email and text alerts if the system triggers. When the time comes to install security surveillance components, consumers can find many of the top-rated brands at specialty stores or online at affordable prices on eBay.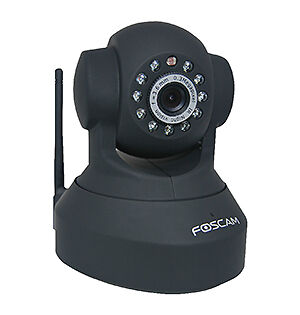 The Foscam FI8918W is a freestanding wireless security camera that offers a large field of view that covers 67 degrees when still; it also pans 300 degrees and tilts 120 degrees. The camera also has a two-way speaker, as well as a motion-detection feature that focuses in on the movement, snaps a picture of the scene, and emails a copy of the picture as an alert. Consumers can control most aspects of the camera to suit their needs, including the zoom and adjusting brightness and contrast. Users can also expand their surveillance system by linking a series of connected Foscam FI8918W cameras.
---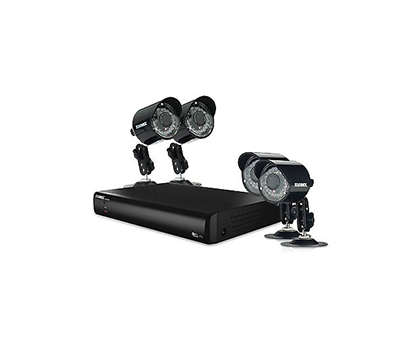 The Lorex Vantage security system is a user-friendly home and office system with a design that allows consumers to install components themselves. The system's cameras are waterproof, resistant to inclement weather, and have an automatic night-vision function for 24-hour wireless surveillance. Once the system is in place, consumers can monitor and control it from a desktop PC or laptop. By downloading the available app, the system is accessible from both Apple and Android tablets, as well as from smartphones.
---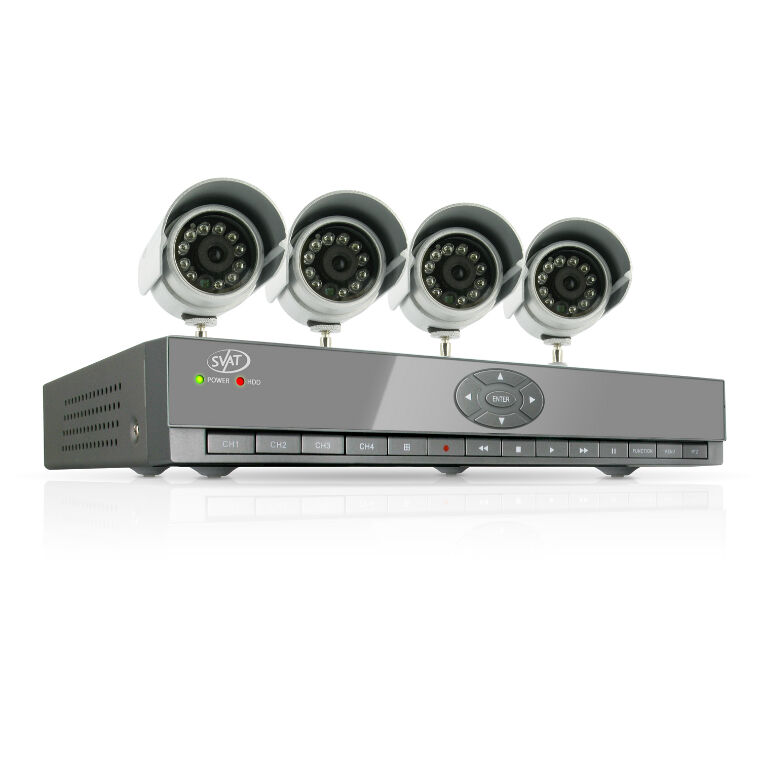 The SVAT CV502-4CH-002 is a four-channel (four-camera) DVR security system with a built-in 500 GB hard drive that records more than a month of security footage. The system comes with everything the consumer needs to install and operate the system. Once installed, users can control the system from PCs, laptops, smartphones, and tablets. Additionally, the system can connect to a television for on-the-spot monitoring. The cameras are weather and water-resistant and can operate day or night with automatic night-vision capabilities that cover 4.5 m. Because the system is fully functional, it includes mouse and remote-control options, file backup via USB drive access, 24-hour record scheduling, and password protection.
---
| | |
| --- | --- |
| 4 | Logitech Alert 750n Indoor Master System with Nightvision |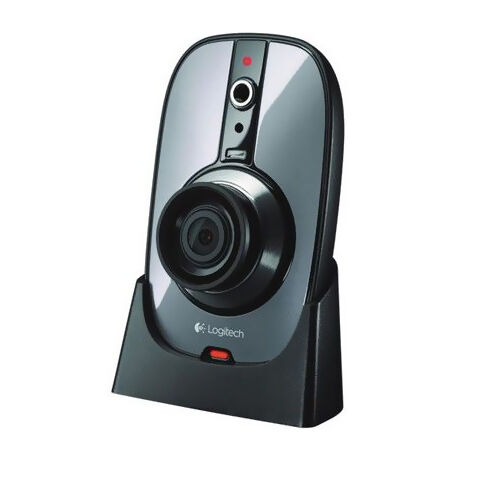 The Logitech Alert 750n Indoor Master System with Nightvision is an indoor master security system that includes a wide-angle night vision-capable camera and patented HomePlug Powerline technology. The camera's powerful night vision extends 130 degrees for up to 15.24 m. Once users active this wireless system, they can control it via high-speed Internet connection with both Windows and Mac software systems.
---
| | |
| --- | --- |
| 5 | ZMODO KDS4-BARBZ4ZN CCTV H.264 |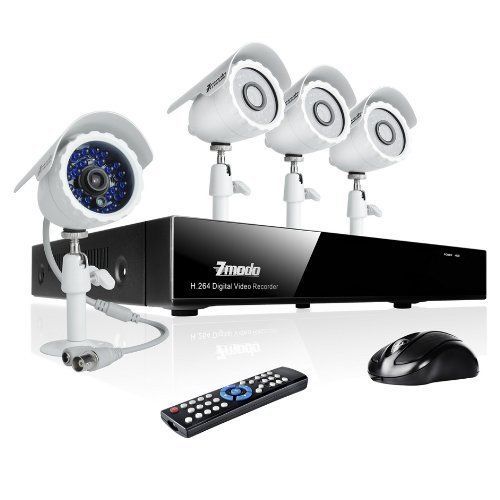 The ZMODO KDS4-BARBZ4ZN CCTV H.264 is a four-channel security system featuring an H.264 compression digital video recorder, which includes video and audio in and output options, as well as motion-detection record options. The ZMODO KDS4-BARBZ4ZN CCTV H.264 security system is compatible with most smart handheld devices, including iPhone, iPad, and Android phones and tablets, with live viewing remotely accessible over any 3G network connection. In addition, available USB ports allow for back-up transfers, and the camera unit operates in both indoor and outdoor settings. Consumers can control the 3.6-mm cameras with pan and tilt controls, and they offer a night-vision range of 19.8 m.
---
How to Buy Surveillance Security Systems on eBay
Regardless of whether you are looking to set up a
home security system
or one for a small business, having the correct
surveillance security system
is vital. Knowledge of the top systems on the market is a great place to start. Before buying a system, check your property and decide what features you need. Once you determine this, visit eBay to conduct a search for the system you want. To find the security systems and system components available, conduct a keyword search from any eBay page. You can enter the name of the security system you desire, such as " Logitech Alert 750n Indoor Master System with Night Vision", into the search bar. You can also use a more generic term, such as "home security system" or "four-channel security system", to receive broader results. Using eBay to locate your surveillance security system allows you to quickly find the product you need at an affordable price.