For tiny tots who love splashing about in the pool or at the beach, swim nappies are a must. Regular nappies absorb a huge amount of water and get heavy and uncomfortable. They also allow accidents to escape into the water, which is unpleasant for other swimmers. Some swim nappies allow urine to pass through but are designed to keep messy accidents inside. Alternatively, other swim nappies have a waterproof outer layer, preventing liquid and solids passing either way. These nappies are soft and comfortable, with a snug fit, including elasticated leg cuffs. Choose from among the most popular swim nappies to get a comfortable, practical, cute swim nappy that keeps accidents safely inside but doesn't absorb too much water from the pool or beach.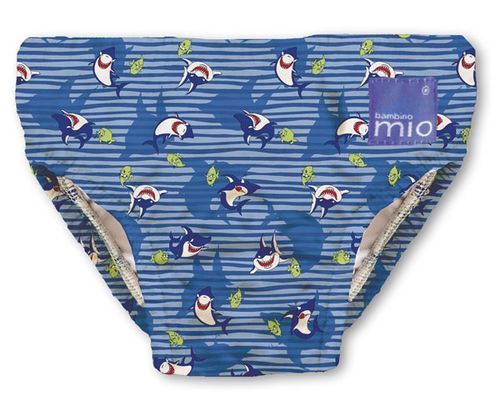 This swim nappy from Bambino Mio is perfect for little boys. Featuring a handful of sharks, it offers the perfect seaside theme for babies hitting the beach. Thanks to the design, it is great for local pools and the seaside. As there are leg cuffs, parents do not need to worry about little accidents escaping and disturbing other swimmers. This containment also feels cosier for little ones, as it provides a snug feeling. Further to this, there is no need for parents to add an additional nappy, which often leads to unnecessary bulk under water. This swim nappy makes the most of a cotton lining, which prevents shrinking and helps babies feel comfortable. Thanks to this nappy being machine washable, it is both eco and economy-friendly. This nappy fits babies that are five to seven kilogrammes in weight.
---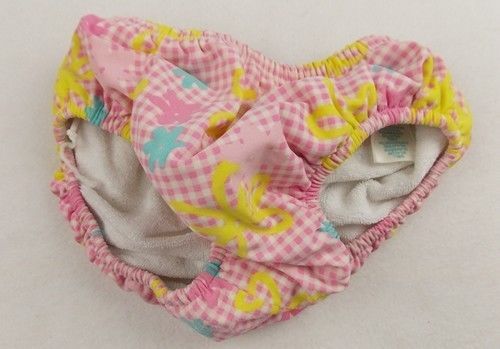 As a nappy that is complete with polka dots and a bow, this item is great for little girls. The bow rests at the side, providing a cute look. Each hole that is in place for the baby's legs features elastic. This makes the swim nappy easy to put on, as well as preventing little leaks. Inside is a terry towelling, which is a decades-old way of nestling little bottoms and keeping them comfy. This same towelling also means there is no need for an additional nappy, which helps parents take an environmentally-friendly approach to their babies' swim nappies. This machine washable item comes in a variety of sizes. This includes three to six months, six to 12 months, and 12-18 months.
---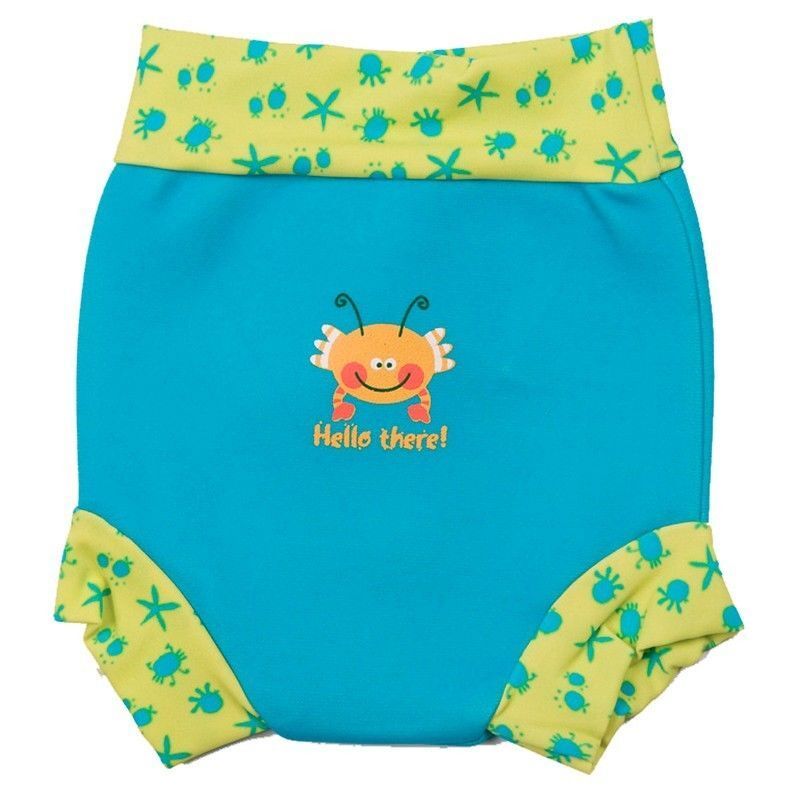 The Splash About Happy Nappy is an award winning item that prevents embarrassing leaks with elasticated legs that extend further down than most brands. This swim nappy is so fool-proof that many swim schools recommend it for public pool use. As well as coming in a red sailor-like design, it also comes in mango and pink. At the top of the nappy is a cute elasticated waistline, which rests gently below the baby's belly button for comfortable wearing. As a reusable swim nappy, it removes the need to use disposable items. It is washing machine suitable and comes in up to 24-months, making it versatile in terms of size.
---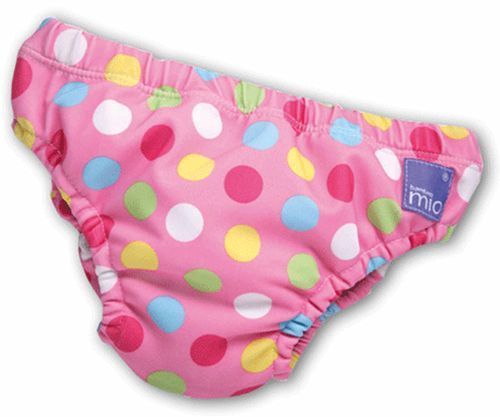 Bambino Mio have a great reputation for producing fantastic reusable nappies. This item is no different. Like all great nappies, both the legs and waistband are leak-proof, which prevents embarrassing little accidents. This is useful for parents who are taking their babies for swimming lessons, where pool hygiene is especially important. According to Bambino Mio, most swimming pools require babies to wear nappies that offer this protection. Standard swimsuits and re-usable nappies do not achieve this, making the Bambino Mio Swim Nappy a great option. Parents can wash this nappy using temperatures of up to 40 degrees Celsius. While the outside material is waterproof, the inner lining is cotton towelling. This ensures babies stay comfortable when swimming. Babies can begin wearing this nappy at around five to seven kilogrammes.
---
| | |
| --- | --- |
| 5 | Konfidence One Size Swim Nappy |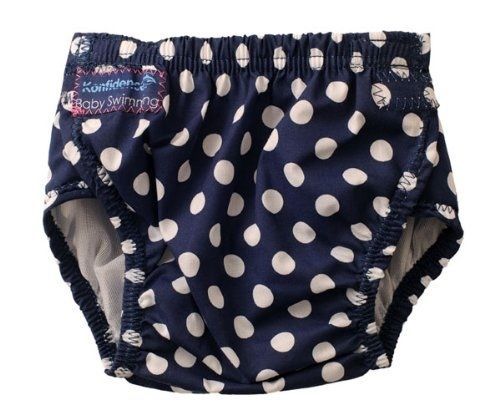 This Konfidence Nappy comfortable for babies by preventing it from digging into their skin. At the side is a Velcro fastening sash, which makes putting it on and taking it off cleaner and easier than brands that simply pull up and down. This nappy fits babies from three months to two-years old.
---
How to Buy Swim Nappies on eBay
eBay sellers offer an array of swim nappies to choose from for baby girls and baby boys of all ages and sizes. When buying swim nappies, make sure you purchase the right size for your little one. Identify your swim nappies with a simple search from the search bars located on every eBay page, then be sure to check seller feedback before confirming your purchase and checking out. Choose swim nappies for babies from birth to two years old in reusable or disposable form. Choose from among the top models available to ensure you get comfortable, high quality swim nappies.