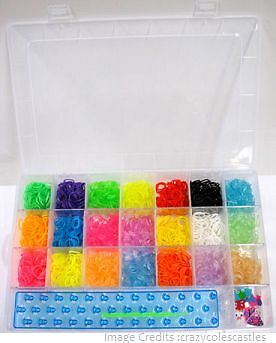 Invented in 2011 by Cheong Choon Ng in Novi, rainbow loom bands are the latest schoolyard craze which extends from school kids to adults making DIY projects. There are many loom bands available at cheap rate but finding the genuine ones among the fakes for making loom band projects is the key thing to produce high quality and non-toxic Do-It-Yourself creations.
These plastic looms are used to weave a number of interesting creations and the top 5 best ones that I personally feel worth sharing are the below,
Bracelets : Bracelets especially friendship bracelets made of looms are a hit among young ones. Just like a normal friendship bracelets, rainbow loom bracelets too involves tying a series of small knots using a special board called plastic pegboard and multi-coloured plastic elastic bands. Using a peg board and a crochet hook for weaving the looms, you can build different varieties of looms models ranging from single, fishtail, double fishtail, bonbon and triple single bracelets. Imagination has no bounds and these bracelets are often experimented with different colours as well. Also, the bracelets can vary both in size and shape depending upon the number of looms used, thickness and the style with which they had been weaved. The more the number of threads and thickness, the more strenuous is the process of making them. Although the process of making a rainbow loom is easy, it is time consuming.
Earrings : Fashion items are always a hit among women and girls. If you can make an earring with beads, threads and Hama beads, then why not with looms. Yes after bracelets, earrings made with loom bands are pretty sought after DIY projects. Some of the creations are
Pendant Charms : Charms are almost the same as earrings in making but instead of the ears, it is worn around the neck. The charms made with loom bands are attractive and colourful. They can be made into many types like butterfly charm, heart charm, panda charm, duck charm, cupcakes charms, strawberries charms, and more. It serves as a perfect fashion item which can be used for various occasions and gifting purposes.
Sleeves for Mobiles and Tablets : From making bracelets to charm, the loom bands moved to another step higher in making cases for mobile phones and tablets. Again, making one such sleeve requires lot of time and genuine looms to keep your looms safe from breaking.
Loom Dresses : Can you recall the time when a dress made of rainbow looms was bid as high as £170,000 on eBay about months ago? It has attracted a huge of amount of attention at home and around the world. Helen Wright and Kathryn Burnand, the creator of the dress had made the world realise that even dresses can be made out of loom bands when creativity takes a high. Following it, now there are number of options and people even started trying out different items using looms ranging from bikinis, ties, Barbie's clothes and beanies sold on eBay. All said, it is very much agreeable when stuffs like dresses, trousers and bikinis are made just for fashion dolls like Barbie than real human.
Note: I am a buzzagent and I have created this guide as part of a promotion from the brand.