The constantly evolving technology triggers changes in media format over time. Finding modern media such as CDs, DVDs, and Blu-ray discs, as well as flash drives and memory cards, is easy with so many options on the market. But finding vintage blank media, such as reel-to-reel magnetic tapes or audio cassettes, can be a challenge, because these are products most companies no longer produce. To find vintage
drives and blank media
, buyers can look on eBay where UK and international sellers list new and used items. To make an informed purchase, buyers should consider aspects like nostalgic value, cost, quality, compatibility, and maintenance of vintage players.
| | |
| --- | --- |
| 1 | Vintage Blank Media Cost |

The cost of vintage blank media can vary considerably depending on what a buyer is looking for and how the seller in question estimates the value of his or her products. There are no set pricing parameters for vintage blank media and sellers usually price their products according to their rarity. The cost of vintage blank media also varies from media type to media type. For example, an audio cassette generally sells for less than a VHS video tape,, and a 90 minute audio cassette is likely to be more expensive than a 60 minute audio cassette. Buyers looking for vintage blank media can benefit by looking for bundles, because buying bundles tends to be cheaper than buying individual items.
---
| | |
| --- | --- |
| 2 | Nostalgic Value of Vintage Blank Media |

Pricing depends on the nostalgic value of vintage blank media, and this is not just from the sellers' perspective. After all, while sellers may feel like pricing items higher because of the nostalgic value they associate with those items, buyers looking for the items in question could also pay more, primarily because of vintage media's nostalgic appeal. Anyone who grew up with something like the reel-to-reel format popular in the 1950s and 1960s could end up paying a handful just to get a feel of the old reel-to-reel charm. IT enthusiasts also attach nostalgic value to vintage blank media for computers, and this includes 200 mm, 133 mm, and 90 mm floppy disks that came into being in the 1970s and found their place in computers till not so long ago.
---
| | |
| --- | --- |
| 3 | Maintaining a Vintage Player for Blank Media |

Vintage players, irrespective of the kind of media they use, require periodical maintenance to remain in ideal working condition. For example, parts of a cassette player, like its tape head, capstan, and spindles require regular cleaning. While tape heads are prone to accumulating build-ups of iron oxide, capstans and spindles attract dislodged particles of iron oxide from the tape heads. When it comes to maintaining audio cassette players, owners usually need cotton buds and isopropyl alcohol or special head cleaning solutions. Similarly, video cassette players and recorders also require periodical head cleaning. Cleaning floppy drives is necessary because dust and dirt accumulates on read and write heads, and this can result in read-write error messages. To clean floppy drives, owners can use floppy disk cleaners or just cotton swabs and pure alcohol, although the latter requires opening the CPU and then the drive's top cover.
---
| | |
| --- | --- |
| 4 | Vintage Blank Media Sound Quality |

Reel-to-reel magnetic tapes date back to the 1930s, and while the cost factor helped in their popularity, size was a drawback, as was poor sound quality when compared to modern media formats. Audio cassettes, when compared to modern digital formats, do not rate as well on the sound quality front either. Vinyl records, on the other hand, rate highly when it comes to sound quality, although they only come in pre-recorded formats and not as blank media.
---
| | |
| --- | --- |
| 5 | Vintage Blank Media Compatibility |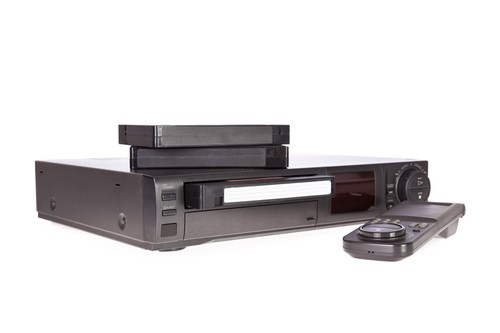 Compatibility with the player is crucial when buying vintage blank media, although this is less of a concern when buying audio cassettes or reel-to-reel tapes. With video cassettes, buyers get to choose from formats like VHS, VHS-C, S-VHS, Betacam SP,, DV, DVCPRO, DVCAM, and Mini-DV, and this requires paying attention to compatibility with the video-player-supported format. With floppy drives, size matters, and buyers should check the compatibility with their floppy disk reader before buying 90 mm, 133 mm, or 200 mm floppy disks.
---
How to Buy Vintage Blank Media on eBay
Visit eBay to choose from a wide range of vintage blank media products, like audio and video cassettes, reel-to-reel tapes, camera film, and computer floppy disks. Looking for vintage blank media on eBay is easy. Simply enter what you are looking for in the search box on every eBay page. For example, when looking for audio cassettes, type 'audio cassettes' in the search box and click on 'Search'. This populates the page with relevant results, which you can then browse through or refine until you find a product you want to purchase.