The day a woman marries is one of the most exciting days in her life, but the day her daughter marries could be a close second. Naturally, the mother of the bride should feel free to dress up a bit, and figuring out what she should wear can become almost as complicated as dressing the bride herself. Fortunately, modern women have many options. Finally, it is fine for women to wear trouser suits, even to very formal weddings. Many people think of trouser suits exclusively as business wear, but there are actually a lot of possibilities. The top five types of trouser suits obviously overlap somewhat but offer so much variety that there is a suit for everybody who might want one.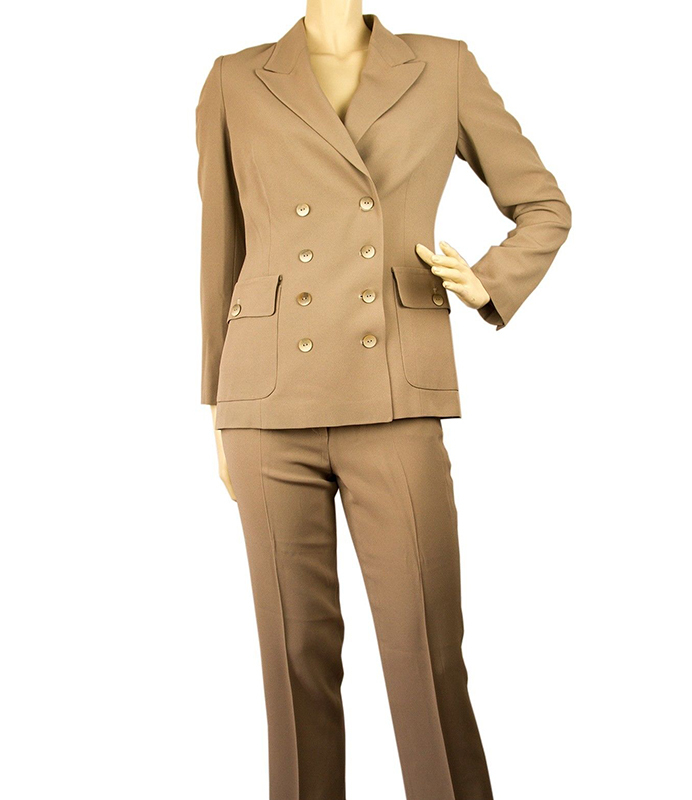 Trouser suits do not have to be the boxy, businesslike outfits some women remember. Modern, feminine trouser suits do not have to look businesslike at all. The fabric is loose and flowy in bright, rich colours. Trousers are straight-legged and generously wide or else flared. Jackets feature asymmetrical or kimono-like cuts. Blouses are daring, with low scoop-necks or sleeveless designs. What all this adds up to is an outfit with the elegance of a dress but the convenience and comfort of trousers.
---
| | |
| --- | --- |
| 2 | Traditional Trouser Suits |
Of course, some women wear trouser suits precisely because they do not wish to look feminine. A traditional men's three-piece suit can look very chic on a woman, as long as the suit is the right size and fit. The difficult part is finding such a suit for the size and build of a woman. Some companies specialise in custom-making traditional suits for female clients, but if this service is too expensive and the buyer cannot find the right ready-made suit, there is another option. Customers can buy a high-quality suit for a man or boy and then take the suit to a tailor for alterations.
---
| | |
| --- | --- |
| 3 | Trouser Suits for Summer Weddings |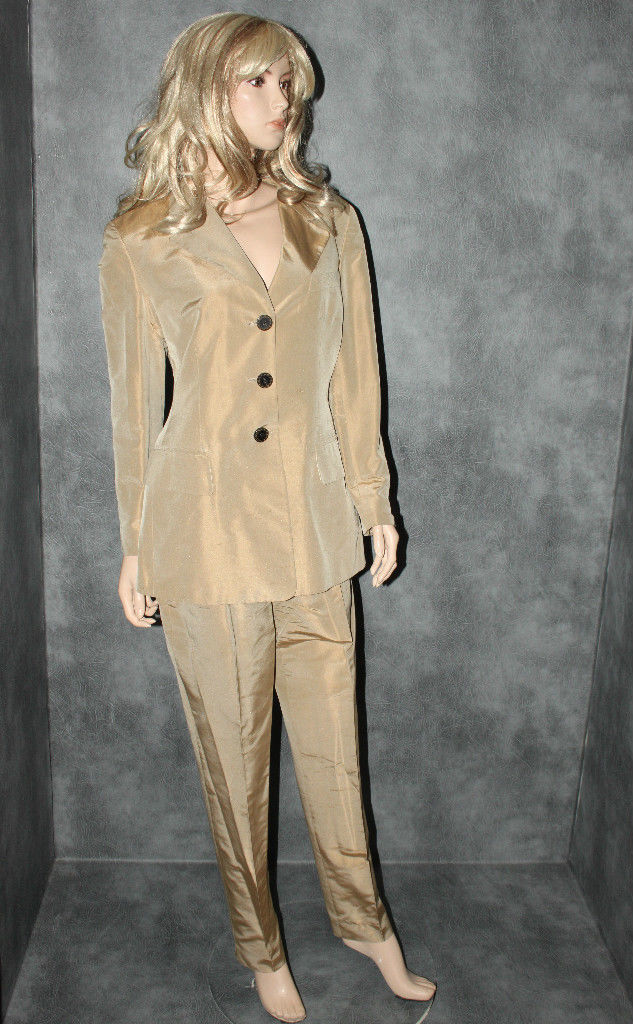 Summer is a popular time for weddings, and that means finding some way to stay cool in a summer trouser suit. While some people immediately assume a linen suit is the answer, linen unavoidably wrinkles, a look that does not work for more formal weddings. Actually, the fibre-type and even the weight of the material do not matter as much as the weave. Buyers should look for something with a very open weave, so that the fabric is slightly transparent if someone holds it up to the light. They should choose something with a bit of a pattern, not a solid colour, to make sure it is not actually transparent. Pale colours reflect light and heat better and look more seasonal. Even if the graceful gown-like suits are not the mother of the bride's style, she should go with something a bit delicate and flowy.
---
| | |
| --- | --- |
| 4 | Trouser Suits for Winter Weddings |
Winter weddings are typically indoor affairs, so braving the elements is less of a concern. Aside from going with a warmer, denser weave and choosing something that does not rumple under a coat on the way to the wedding, the main thing is to choose trouser suits that look seasonal. Choosing darker colours, perhaps with a jacquard weave for more visual interest, is a good bet.
---
| | |
| --- | --- |
| 5 | Plus-Size Trouser Suits |
It is a sad fact that finding stylish, attractive clothes gets harder as women get larger. Some designers offer only shapeless tent-like things in plus sizes, while others pretend that larger women do not exist. Fortunately, some designers are more reasonable. A great plus-size suit is the same as a great suit in any other size. Buyers should look for high-quality fabrics and up-to-date styles. Some women try to choose clothing to hide their size, but that is always a mistake. Instead, they should wear clothing that fits correctly, nothing too baggy and nothing too small. The key is not to look thin but to look good.
---
How to Buy Trouser Suits for the Mother of the Bride
eBay has a good selection of trouser suits, often at good prices. A quick way to start looking is to just type '
trouser suit mother of the bride
' into the search box and then browse through the results. To look for something more specific, either use the menu options to narrow the results as much as possible or use the Advanced Search feature. Buying clothing online is tricky, since there is no way to try anything on. Use the contact link on the seller's profile page to ask any questions and to look for the details of his or her return policy, just in case. A high-quality trouser suit is an investment than can last years and works for many occasions.