A
stylus
is a small but absolutely crucial part of a record turntable. For high quality audio and to prevent damage to the vinyl records, a good quality stylus is essential. A stylus sits in the cartridge at the end of the tonearm and is commonly referred to as the needle. It sits in the grooves on the vinyl as the record spins and is the point of initial data transfer. Therefore, a high quality model is essential. Consumers should consider purchasing one of the more popular, good quality models to ensure they get great audio playback with a rich tone and that the stylus is gentle with the vinyl, without the risk of skipping or scratching. eBay sellers offer a range of turntable styluses at affordable, competitive prices.
| | |
| --- | --- |
| 1 | N97XE Replacement Stylus |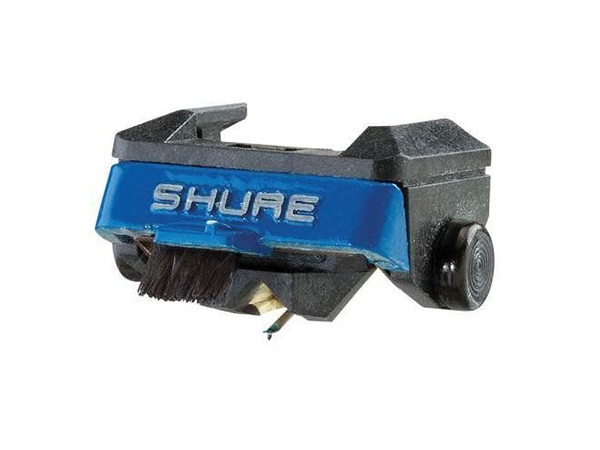 The N97XE replacement stylus produces smooth sounds. Using a magnetic cartridge, it is able to track the needle delicately across the grooves of the record. This in turn minimises distortion, making it possible to enjoy hours of seamless playback. The stylus tip is made of polished natural gemstone, which reduces the risk of damaging precious records. By using a stereo channel balance within 2 decibels, producers ensure that they further reduce distortion over the speakers. There is a large frequency response range of 20 to 22,000 Hz. By keeping the range large, the manufacturers ensure that audio is not trembly when it exits the speakers, making the listening experience that much more pleasant.
---
| | |
| --- | --- |
| 2 | Shure Stylus for N44-7 Cartridge |
The Shure Stylus for N44-7 cartridges can handle weights of up to three grammes. This ensures it works well with long-range monophonic records. This traditional stylus features a diamond tip. When it comes to producing smooth sounds, diamonds are the gold standard material. Not only are they durable, they deliver excellence for 33 1/3 and 45 rpm records. This stylus works best when the amplifier is set to 'Monaural' which ensures that there is minimum distortion during playback. The frequency response is 20 to 20,000 CPS, which avoids wobbly sounds during playback. The tip size of this stylus is 0.08mm.
---
| | |
| --- | --- |
| 3 | Audio Technica AT95E Dual Magnet Phono Cartridge |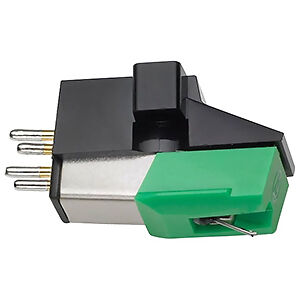 Complete with a diamond stylus, this Audio-Technica AT95E Dual Magnet Phono Cartridge is a half-inch in size. Like any stylus using diamond as the primary material, this one is extra durable. Audio performance is generally high, producing sounds with minimal feedback interference and maximum enjoyment. As the stylus itself is elliptical, it tracks the grooves of records easily. With smooth tracking comes a lesser risk of record damage, which is good news for those who like to collect and play rare items. This same elliptical shape makes audio reproduction close to seamless, and old and new records alike gentle on the ears. Buying the cartridge ensures that a stylus guard is in place, which further ensures the item's longevity.
---
| | |
| --- | --- |
| 4 | Crosley NP4 Replacement Record Needle |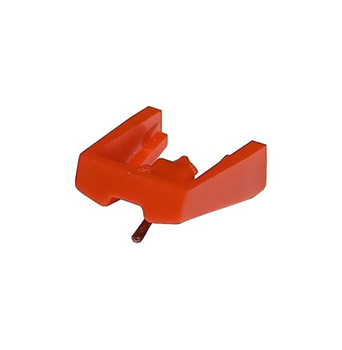 The Crosley NP4 Replacement Record Needle is a turntable stylus that makes the most of plastic casing alongside a diamond needle component. The plastic casing protects the diamond stylus. By using a diamond, the manufacturers ensure that users get thousands of turns and many hours of playback. As a versatile item, it plays at three different speeds across Crosley turntables. This is good news for those who have a wide variety of records, reducing the need to move between styluses. This needle works well with 78 RPM records. As a result, it is particularly well suited to older vinyls, which can benefit from the overall tone it produces. While this is a budget item for turntable users, it in no way compromises on quality of sound.
---
With a 0.7mm head, the Audio Technica AT92E produces an impressively high frequency response. This response runs between 15 and 27,000 Hz. As a result, it reduces the chance of wobbling and distortion more than most other styluses. In addition to this, the Audio Technica AT92E is a universal mount stylus. This is ideal for those who are new to turntable stylus selection and want to make sure they get it right the first time around. The shape of the tip is elliptical. Because of this, users can ensure the stylus moves smoothly between record grooves, making the music they listen to as beautiful as the artists intend. This item fits both half-inch and p-mount turntables, adding to its versatility. Thanks to the high output voltage, users can look forward to a pleasant signal to noise ratio, which in turn reduces distortion.
---
How to Buy a Turntable Stylus on eBay
You can search from any eBay page to quickly and easily find the ideal turntable stylus that suits your cartridge and tonearm. Refine your search using filters for minimum and maximum price, condition, and location. Make sure the stylus you choose fits your tonearm and cartridge for best results. Purchasing a good quality turntable is vital as it protects your vinyl against skipping and scratching and helps extend the life of your records. Choose from among the most popular models to get a high quality turntable stylus that helps achieve a rich, pure acoustic sound experience.