Although a vanity or bathroom worktop does not endure the same type of treatment as a kitchen worktop, the process for choosing the right material is similar. The worktop must suit the bathroom's interior design and be robust enough to withstand heat and moisture. The material chosen can affect the atmosphere of a room. Wood creates a cosy feel, while marble is stately and elegant. In addition, buyers should consider their budgets and learn about the advantages and disadvantages of the top five vanity worktop materials. Shoppers can buy these worktops from DIY and bathroom shops, as well as online from eBay.

Laminate materials are the most popular choice for bathroom worktops. They are relatively inexpensive and are available from numerous manufacturers. Laminate materials consist of layers of thin plastic bonded together under heat and pressure. These synthetic materials come in many colours and designs. Textures vary from smooth, high gloss to matte. Laminate worktops are easy to clean, resistant to water, and do not stain easily. However, they can burn and tend to wear thin and become dull over time. If users drop heavy or sharp objects on the surface, it may dent and chip. Laminate vanity worktops cannot be repaired, but are is easy to install and come in pre-cut sizes.
---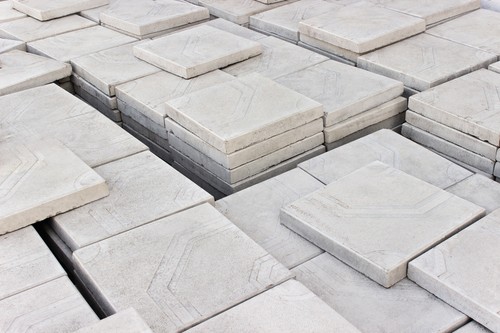 Granite vanity worktops come in various thicknesses, with 30 millimetres being the standard size. These elegant bathroom worktops are available in high gloss and matte finishes. They are hard, durable, easy to clean, and difficult to scratch. Medium and lighter granite tends to have colour and grain variations, whereas dark granite usually has a consistent colour. Granite is one of the heaviest materials for worktops available. Users should ensure that the substructure of the vanity unit is strong enough to carry the worktop. In addition, it may be difficult to manoeuvre a granite worktop into a bathroom that is difficult to access or upstairs. This material is expensive, but worth the investment.
---

Marble vanity worktops are beautiful, elegant, and luxurious. Natural marble comes in a variety of colours, from light blushes to deep blacks. Although this is an aesthetically pleasing option, marble is heavy, expensive, and softer than granite. It also scratches and stains relatively easily. Cultured marble, made from chips of natural marble embedded in resin is a cheaper alternative. It comes in sheet form and may have a basin moulded into it. Buyers should also consider marble tiles if their budgets do not stretch to solid marble.
---

Wood worktops are attractive, warm and pleasant to touch, versatile, and easy to install. This material is durable and available in finishes that suit almost any interior design. Popular types of wood bathroom worktops include pine, oak, cherry, maple, and walnut. Users can also choose painted pine or softwood stained in a hardwood finish. These worktops are easy to repair; if they are stained or scratched, users can sand and refinish them. However, wood is vulnerable to water damage and difficult to keep clean if unsealed. When used for bathroom worktops, wood should have a polyurethane or marine varnish coating, especially around the edges of plumbing fixtures.
---

Ceramic tile vanity worktops are a popular choice due to their cost-effectiveness and versatility. Buyers can choose their own colours and designs, allowing them to create unique worktops. Tiles come in a range of sizes, so buyers can use small mosaic tiles for colourful motifs and accents or large floor tiles for a seamless finish. One of the biggest disadvantages to this type of worktop is that grout lines trap dirt and encourage mildew. Buyers should look for grouts and sealers that alleviate these problems. Some tiles demand precise cutting and installation can be challenging for most DIY enthusiasts. Buyers should consider having a professional install this type of worktop.
---
How to Buy a Vanity Worktop on eBay
With the wide selection of vanity worktop materials listed on eBay, you can find exactly what you need easily. Simply type a phrase, such as " quartz vanity worktop", into the bar that appears on every page. You can browse the available listings or refine your results by choosing the most suitable product features. Read the item listing to check the size of the worktop. A vanity worktop should match the bathroom's interior design. The material chosen should be durable enough to withstand heat, moisture, and daily use.