Consumers have several factors to consider before they decide upon which
VoIP conference phone
to purchase. They must consider the manufacturer, the number of Ethernet ports, and the number of lines that support their teleconferencing needs. Consumers may choose a VoIP conference phone that matches the protocols established by their service providers. Organisation budget also plays a role in settling on the right VoIP conference phone. Consumers can find a wide variety of high-quality VoIP conference phones on eBay, where some sellers bundle products with IP conference phones to sweeten the transaction. Before going online to eBay, consumer should review the top five VoIP conference phones and decide whether one or more of the phones satisfy their buying criteria.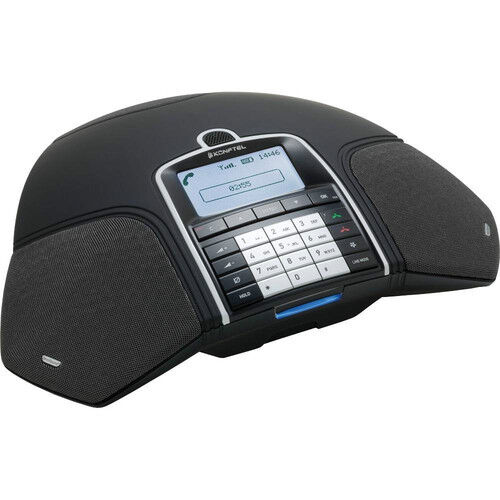 The licorice black 300IP from Konftel possesses an ICD display at 128x64 pixels. Users manipulate on, off, mute, hold, volume up, and volume down buttons to enhance the quality of their videoconferencing calls. Konftel also provides users with five menu navigation buttons to match user preferences. The 300IP manufactured by Konftel supports SD memory card recording for 2 GB of memory. Up to three users can participate in a video conference call without worrying about one of the callers inexplicably dropping from one of the lines. The 300IP conference phone includes a call log, phone number directory, and an AC power supply. Languages that the Konftel 300IP support include English, French, German, and Russian.
---
| | |
| --- | --- |
| 2 | Polycom SoundStation Direct Connect |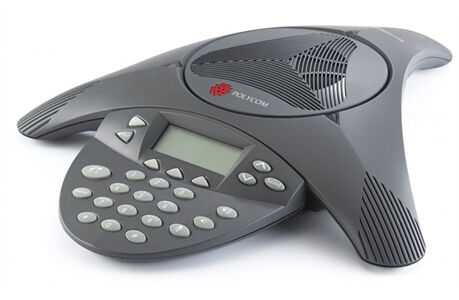 Polycom offers users pristine sound quality without users having to operate an analogue port, analogue adapter, or other complex connections. The SoundStation Direct Connect works as the ideal conference phone for the Nortel Meridian digital PBX user's benefit with remarkable voice quality that a microphone detects from 3 m away. Polycom has constructed one of the top five VoIP conference phones for small- and medium-sized conference rooms. Easy to install, the SoundStation Direct Connect provides a large LCD display that projects caller ID and other caller information. As with other Polycom video conference phones, the SoundStation Direct Connect possesses the patented Polycom Acoustic Clarity technology, which offers users the ability to conduct uninterrupted conversations that enhance video conference meetings.
---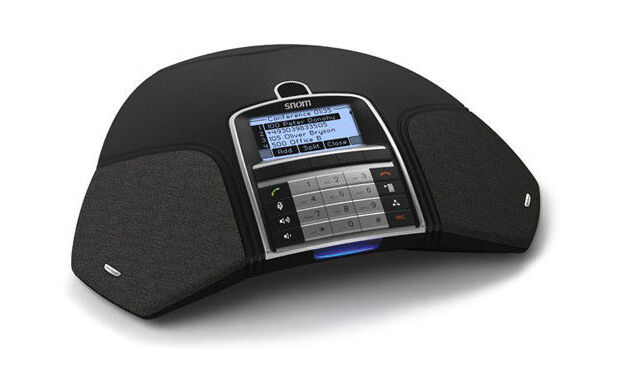 As an alternative to VoIP conference phones that work best in smaller rooms, Snom as created a VoIP conference phone that works well in larger conference rooms. Snom utilises technology that suppresses background noise, which allows the phone to perform well for groups as large as 10 people. Three speakers that Snom manufactures with full duplex broadband audio provide users with acoustic balance and rich audio. Snom's specially-integrated microphones make it seem that callers conduct conference calls in nearby rooms, as opposed to conducting the calls from the other side of the world. Users have simultaneous access to internal and external telephone books and the capability to implement industry leading security features. The MeetingPoint IP includes multiple SIP registrations, broadband quality of G.722, and ergonomic-friendly handset construction
---
| | |
| --- | --- |
| 4 | Polycom SoundStation IP6 5000 |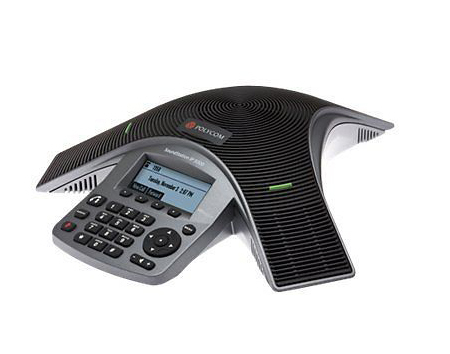 Perfect for small-sized conference rooms and executive offices, Polycom's SoundStation IP6 5000 provides up to 2.5 m. Polycom constructs the IP6 5000 for use by six video conferencing participants. The VoIP conference phone utilises full duplex technology that prevents dropped calls and distracting sound reverberations. Polycom produces the SoundStation IP6 5000 to operate with a wide variety of PBX IP and hosted platforms, providing users with tremendous flexibility. High-resolution backlighting allows users to dim the lights during a video presentation without lowering the quality of the conference call. The SoundStation IP6 includes an integrated PoE, optional power adapter, and corporate directory access. Users benefit from high-definition voice quality up to 7 kHz and the availability of multiple languages.
---
| | |
| --- | --- |
| 5 | Polycom SoundStation IP 7000 PoE |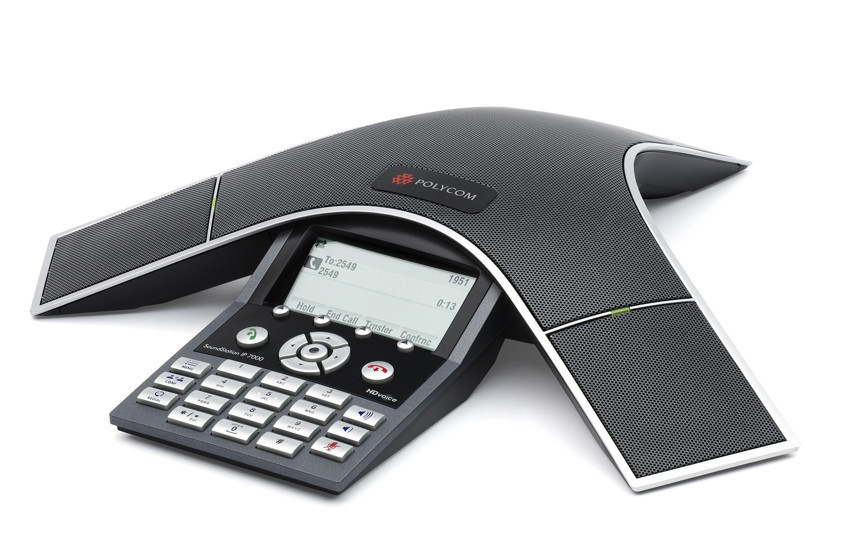 As Polycom's third contribution to the top five VoIP conference phones, the SoundStation IP 7000 PoE provides users with the flexibility to conduct conference calls in small executive offices and large corporate auditoriums. Users can connect two SoundStation IP 7000s to expand room coverage, an especially appealing feature for conferences that adjoin two large meeting rooms. Polycom manufactures the IP 7000 to work with a large number of different SIP call platforms, which maximises sound quality and simplifies phone system management. Users have configuration options that include expansion microphones that detect the minutest voices while blocking out background noise. The in-built Power over Ethernet (PoE) comes with an optional A/C power kit. Polycom leverages its proprietary Acoustic Clarity Technology with a high-resolution XHTML microbrowser display that enables the integration of the latest video conference call applications.
---
How to Buy a VoIP Conference Phone on eBay
eBay provides you with a powerful search engine to find the right VoIP conference phone. Simply type some targeted keywords into the search engine to reduce the number candidates. Your criteria can include narrowing your search by the number of lines you want for video conference calls, such as two or four. You can employ a broader search strategy by typing " corded" or " cordless" into eBay's powerful search engine. Regardless of your search strategy, you can expect to find a few sellers who share common strengths, such as accepting your preferred payment method and delivering the VoIP conference phone within your acceptable delivery period.