Power inverters
are useful accessories for vehicles such as cars, boats, or campers that run on
12-volt DC battery
circuits. Most consumer electronics in the home likely require 220-240 volt AC to operate. Power inverters can offer such conveniences as powering up a
laptop computer
while in the car, playing a
portable stereo
just by clipping onto the battery terminals under the bonnet, or running a small electrical tool. Busy consumers can take advantage of the ease and convenience of shopping on
eBay
by purchasing the inverter that meets their needs and having it shipped right to their doorstep.
| | |
| --- | --- |
| 1 | Tripp Lite PowerVerter 375W |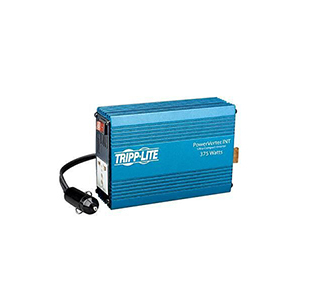 The Tripp Lite PowerVerter mmodel number PVINT375 provides 375 watts of continuous AC power for 220-240 volt/50Hz electrical components. The Tripp Lite unit has a universal outlet that accepts European standard French, German, and UK connections. The PowerVerter comes with a cigarette lighter plug for connection to your vehicle's electrical system and can be run from any 12-volt DC battery source. Features of the Tripp Lite inverter include a low battery alarm with automatic shutoff to prevent the inverter from draining the power source, an externally mounted fuse that users can easily replace should they exceed 600-watt start up surge protection, and a lighted power switch for positive identification of current activation.
---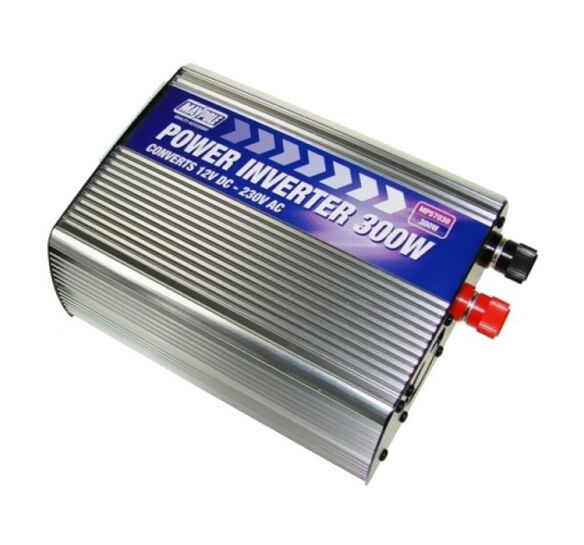 The Maypole 57030 is a 300-watt unit for 12-volt DC to 230-volt AC conversion. Rated at an output frequency of 50-60Hz, equipped with a low voltage alarm to protect the battery and excess voltage circuit protection, the 57030 inverter comes with battery clips for easy hook up and use. At 300 watts, the inverter can run a small television or refrigerator during camping and can power small electric power tools. A high performance fan cools the attractive aluminium case of the Maypole 57030 to prevent power failure due to overheating.
---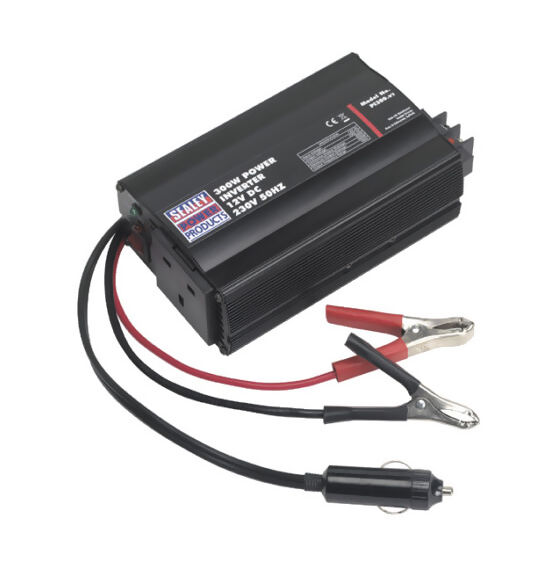 With the flexibility of two different types of power connections, the Sealey PI300 power inverter provides consumers with the flexibility to use the device in the manner most convenient for their needs. Alligator style battery clips allow the PI300 to connect under the bonnet or to the cigarette lighter plug. The inverter comes with a USB port that can recharge cell phones,, digital cameras,, music players, and other personal electronic items. The Sealey unit provides more than enough current to power a laptop computer, small stereo, or television. The anodised aluminium case dissipates heat quickly and holds an automatic overload shutdown to protect circuitry.
---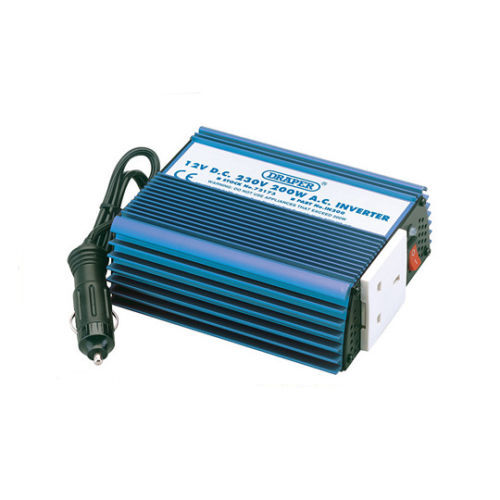 Buyers looking for a moderately priced inverter unit should consider the <Draper 72173,, 12 volt to 230 volt inverter unit. Straight forward construction with a cigarette lighter plug, on/off switch, and LED power indicator, this 200-watt box powers small appliances and personal electronics for occasional in-car use. The compact design of the Draper 72173 stores neatly in the vehicle boot.
---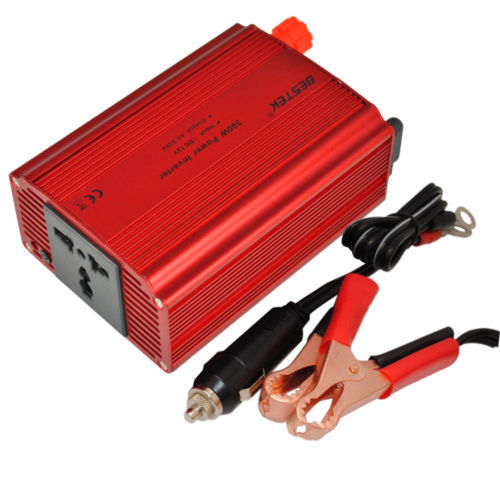 Equipped with a universal outlet to accommodate most European style plug-in adapters, the <Bestek 300W power inverter has loads of extra features. Removable, interchangeable leads provide battery clip attachment or cigarette lighter plug-in options to choose from. There is no need to deal with extra cords dangling from the unit when not in use. The 300-watt Bestek inverter has automatic shutdowns for over voltage, low voltage, over temperature, short circuit, and circuit overload. A USB charging port also provides extra convenience.
---
Power Bright ooffers a number of high watt power inverters; the ERP400-12 provides a continuous 400 watts of AC power from a 12-volt battery by way of a cigarette lighter plug-in adapter. Safety features include an audible alarm when the device detects low battery voltage, as well as shut down power interruption for voltage overload, short circuit, and unit overheating. One important consideration for consumers to be aware of is the AC receptacle on the Power Bright is a European 2-prong type, so depending on the appliance wiring the user may need an adapter.
---
How to Buy 220V Power Inverters
Sellers on eBay offer all the popular brands and various configurations of power inverters. Search listings by entering "
12v to 220v inverter
" into any eBay search bar to see a complete listing of all inverter products that match the keyword description or search for specific product brands or models. Buy with confidence by reviewing seller
feedback
ratings to see how previous buyers rate their purchase experience with a specific seller. Complete the eBay purchase using PayPal to know that funds are safe and secure. Power inverters allow you to take some of the convenience of home on the road without worrying where to get electricity from.