Setting up a home office provides an opportunity to create a pleasant style and optimise efficiency without having to answer to an employer. By selecting the best
bookcases
for a particular space, buyers create useful storage space while also filling the room with attractive wooden furniture. Small, minimalist offices may enjoy the simplicity of a small bookcase with drawers, while those with more space to fill can consider large
library wall bookcases
with antique finishes. Shopping on
eBay
allows users to efficiently search a variety of vendors to assess the fair market value of a particular shelf. By doing this, shoppers find valuable deals and plentiful options so they can get the perfect piece and the perfect price.
| | |
| --- | --- |
| 1 | Five-Shelf Quarter Round Bookcase |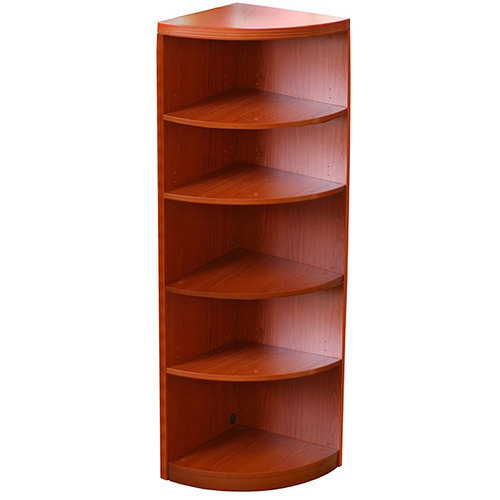 Not sure what to do with those pesky corners? Quarter-round bookcases have a gentle curvature and small footprint that turns dead space into useful storage. Mayline offers five-shelf quarter-round bookcases with a variety of hardwood veneers, including mahogany, sierra cherry, and golden cherry. Measuring at 173 cm high by 48 cm wide and 48 cm deep, these cases provide maximum vertical storage without taking up much space. For buyers on a budget, laminate versions of these shelves offer a more affordable option.
---
| | |
| --- | --- |
| 2 | Ethan Allen Bookcase with Drawers |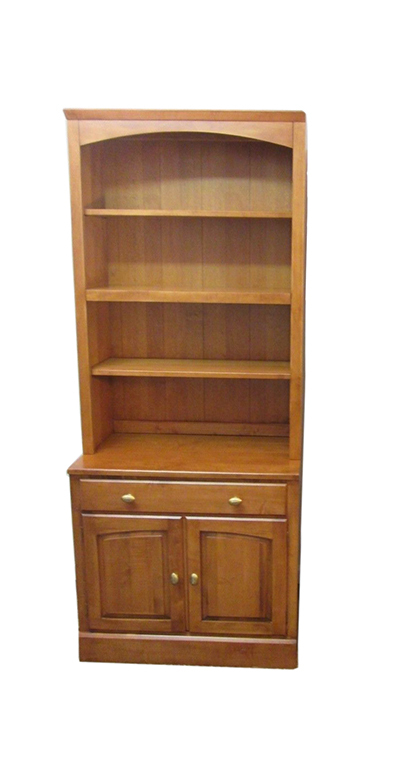 For buyers interested in a bookcase with a greater variety of storage options than shelves alone can offer, Ethan Allen bookcases with drawers provide a useful multi-purpose solution. Usually featuring four shelves and three drawers of varying sizes, these solidly constructed and beautifully finished pieces allow home office users to store a variety of supplies in one location. Ethan Allen offers a variety of sizes and finishes in their high-quality line of bookcases with drawers.
---
| | |
| --- | --- |
| 3 | Governor's Series Open Bookcase |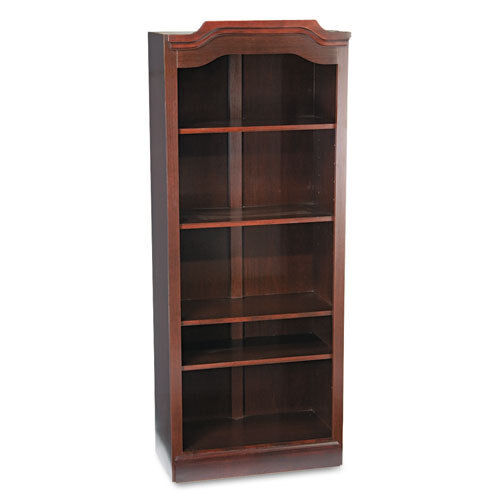 Manufactured by DMI Furniture, the Governor's Series Open Bookcase offers buyers a mix of beauty and utility well-suited for use in home offices. The rich engraved mahogany finish on solid hardwood emits a warmth matched by its simple sophisticated style. Measuring 188 cm high by 76 cm wide and 36 cm deep, this bookcase features five shelves, three of which are adjustable, and traditional accent wood moulding. A tough laminate coating keeps this piece looking new even against heavy use.
---
| | |
| --- | --- |
| 4 | Library Wall Bookcase with Glass Cabinets |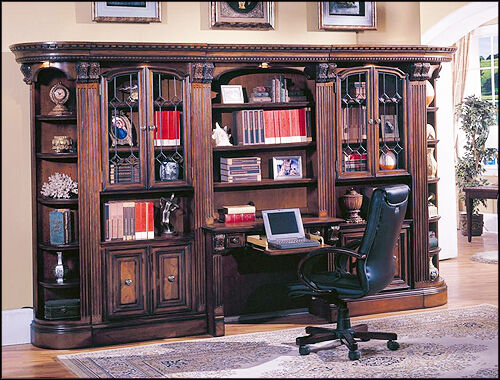 Home office users with space to spare may consider the addition of a library wall bookcase as an eye-catching and quite accommodating piece of furniture. Library wall bookcases with glass cabinets add not only style and class to a room, but also create a suitable storage option for delicate items such as antique or collectable books. Parker House manufactures a stunning library-style bookcase featuring classic English design with poplar solids, maple veneer, and chestnut finish. Each of the three segments of this bookcase has four shelves and additional cabinet space on the bottom layer. Two of the units feature stunning glass doors. Altogether, the piece measures 204 cm high by 246 cm wide, with 45 cm of depth
---
| | |
| --- | --- |
| 5 | Marbella Library Wall Bookcase with Ladder |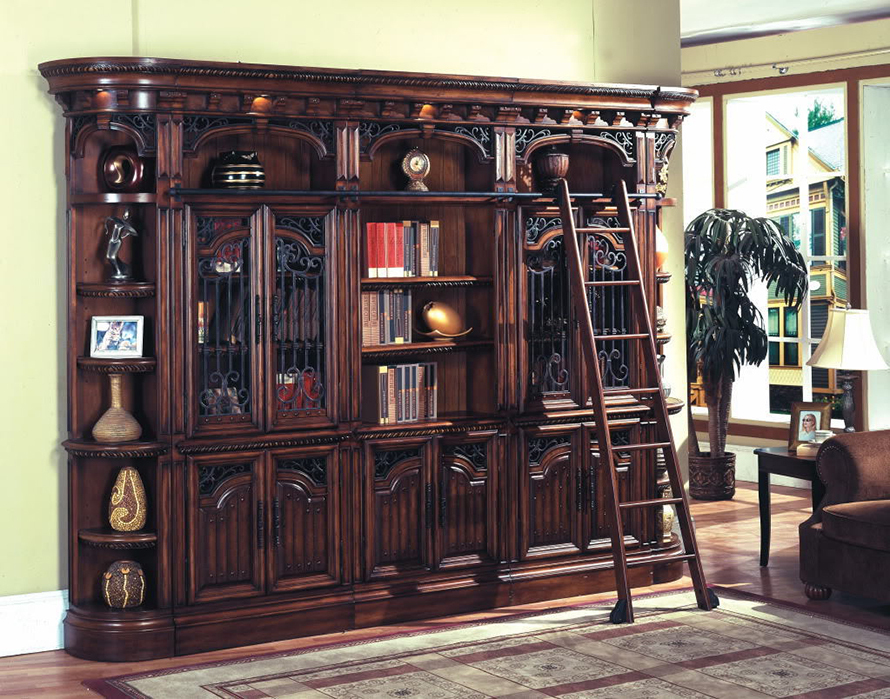 For a dramatic effect with traditional style, Marabella's library wall bookcase with included ladder transforms an ordinary home office into a stunning space with Spanish Revival flair. The intricate decorative features of this bookcase set it apart from the rest, including rustic cast-metal grills and accents as well as ornate moulding. Even the ladder itself stands as a functional work of art. The Antique Vintage Walnut glaze provides appropriate colouring and excellent protection for the wood of this piece. The three assembled segments of this bookcase measure 239 cm high by 244 cm wide and 45 cm deep.
---
How to Buy Bookcases for a Home Office
Different home offices have vastly different needs and aesthetics, so buyers must carefully consider what their space allows and how much storage they need. By taking careful measurements and taking time to envision a piece in a particular location, assessing the space needed to open doors and any potential conflicts, shoppers can make sure they get the right
bookcases
for their individual needs.
eBay
allows users to browse a great number of vendors in one, easy-to-organise list. Making comparisons across such a range of options helps give shoppers a realistic picture of the marketplace as a whole. eBayers can save money on expensive freight shipping costs by shopping for local vendors who would not have to transport the bookcase a great distance.