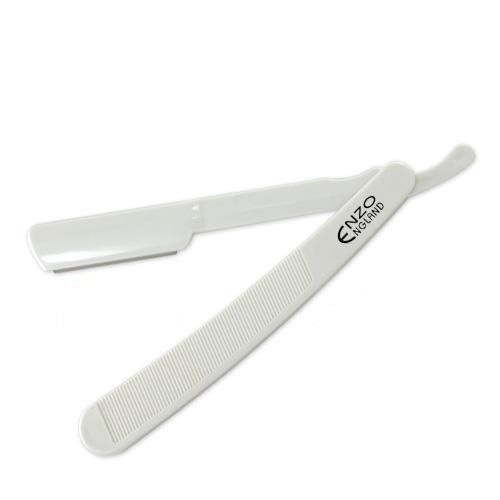 The straight cut razor, also known as an open or cutthroat razor, is a type of razor with a blade that can be folded into the handle when not in use. Although not currently as popular as safety or electronic razors, the straight cut razor still has a large market and many claim that it provides a better and closer shave than other types. Antique straight cut razors are also sought after as collector's items, and large amounts of money can be made from trading with them.
Using a website like eBay to search for straight cut razors is a good idea as the site's database results in a large collection of razors, including antique ones, at lower prices than those found in stores. The following guide shall examine the aspects of straight cut razors, and how to find a suitable model on eBay.
History of the Straight Razor
The first razors using a narrow blade that could be stored within the handle arrived onto the market in England in the late 17th century. The blades were manufactured from cast steel and the handles were usually made from decorative wood. By the 19th century many of the blades were made from silver steel, which is considered by many to be a superior form of steel. Silver steel produces a sharper edge when sharpened, and takes longer to dull.
Straight cut razors were the principal tool used for shaving right until the 20th century. Up until this point there were many companies around the world manufacturing this type of razor, but the arrival of the safety razor in the 1950's saw a rapid decline in sales. However, the straight cut razor still remains popular with men all across the world, and is still used by barbers for hot towel shaves.
Straight Razor Blade Types
Straight cut blades are categorised by their point, and there are three main point groups.
| | |
| --- | --- |
| Round Point | Round point razors have a soft semicircle end point instead of a sharp point. This makes the blade slightly easier to use than the others, but it lacks the accuracy found with sharp points. Round point blades are ideal for people new to straight cut shaving. |
| Square/Sharp Point | The end point in these razors is straight and very sharp, and these types of blades are the most common. Using a square or sharp point blade requires experience, but it will result in a more accurate shave. |
| French Point | As the name suggests these razors originated in France, and the end point is in the shape of a quarter circle. French point blades are good for precision and good at reaching difficult to shave areas, such as the upper lip. |
Reasons to Purchase a Straight Cut Razor
Below you will find the top 6 reasons for purchasing and using a straight cut razor.
1. A Better Shave
* Although it can take some time to master, using a straight cut razor will provide a closer and more comfortable shave than any other type of razor on the market today.
* A straight cut razor allows the user to choose the best angle and stroke to shave their face with. As the blades in safety razors are set they do not have the same freedom. Electric razors avoid this problem but cannot shave as closely as straight cut blades.
* The blade will hold more lather than a safety razor, requiring less rinsing and reduces the time that is spent shaving.
* A straight cut razor shave will last longer than an electric or safety razor shave because of the closeness of the shave. This means shaving less often.
2. A Cheaper Shave
* Using a straight cut razor will save a lot of money, as unlike safety razors there is no need to buy replacement blades. Safety razor blades will usually dull or rust after one week, and will need to be replaced to achieve a decent shave.
* Using a traditional shaving soap and brush, instead of canned shaving foam, can also save money. The soap will last one to three years as opposed to the three to four weeks a can of shaving foam lasts.
* Buying a straight cut razor can be seen as an investment because of the long lifetime these types of razors have. Although they do need to be serviced and occasionally the blade may need to be replaced, in the long run, buyers can expect to save a considerable amount of money by switching to a straight cut razor.
3. It's Better for the Skin
* Using a straight cut razor will not irritate the skin because of the closeness of the shave and the way the blade can be angled to suit the contours of the face.
* Straight cut blades are far sharper than other razor blades, and cut through the hair quite easily instead of pulling and then cutting. People who suffer from ingrown hairs have reported that using a straight cut blade greatly reduces the rate at which these hairs grow. Straight cut razor blades with silver and steel alloys are beneficial to people with very sensitive skin and will cause zero irritation.
* Traditional shaving soap is generally made from natural ingredients and is a lot easier on the skin than the synthetic chemicals found in shaving foam and gel.
* Straight cut shaving is also the best way to exfoliate and remove dead skin cells from the face. Exfoliating will keep pours from clogging, and can also keep acne under control.
4. It's Better for the Environment
* Using a straight cut razor and traditional soap will greatly reduce the environmental impact that comes with modern shaving.
* Old straight cut blades can be recycled.
* Disposable safety razors are made from non-recyclable materials, creating landfill waste.
* Cans of aerosolized shaving foam and gel create CFC emissions.
5. Craftsmanship
* Many consider straight cut shaving to be a lost art of craftsmanship, and it offers a luxurious and highly meditative experience. Many compare it to the Zen-shaving of Buddhist monks.
* A high level of skill and attention is put into the creation of every straight cut blade, giving these razors a much more personal feel when compared to safety and electric razors.
* Shaving with a straight cut blade requires practice and patience to master, but it instils a relaxed state and can have a calming effect.
6. Collecting Antique Straight Cut Razors
* Many people collect and trade antiques straight cut razors. The handles on these razors can be made from a variety of materials including wood, horn, ivory, tortoise shell and bone. Many handles have decorations carved into them, and these can be finely detailed pictures of people, animals or flora.
* Very old and rare straight cut razors are highly sought after by collectors and can sell for hundreds of pounds. Because straight cut razor collecting is not as well documented as other forms of collecting, people often find rare and valuable razors at flea markets and second hand shops.
* Buyers who are considering purchasing antique straight cut razors should look out for blades made in Solingen, Sheffield and by companies such as Thiers Issard of France.
Searching for Straight Cut Razors
There are plenty of specialist sites selling new razors, and antique stores and flea markets will most likely stock older models. However, it is advised that all buyers search for straight cut razors on eBay, as the site's worldwide database of users results in a greater selection at better value. The following steps will help buyers navigate the site to find straight cut razors.
* Log on to eBay.co.uk and click the 'Shop By' tab followed by the See All Categories link.
* Scroll down to the 'Health & Beauty' heading and click on the Hair Removal title.
* On the Hair Removal listings page, click on the Razors and Blades heading found in the 'Categories' table on the left of the page.
* Type Straight Cut Razor into the search bar and press enter. Alternatively, click on the Cut Throat Razors link found under the Type Filter heading.
Search Tips
* If looking for a specific make or model, then enter as much detail into the search bar as possible e.g. blade point, manufacturer, handle material. This will speed up and refine the search. Also, use the filters found on the left of the listings page. Buyers can choose to list razors from specific brands or new or used razors.
* Click on the title of a straight cut razor listing to be brought to the individual item page. This page contains important information regarding the price and current bid, location and information e.g. condition. Buyers can request photographs or additional information by using the 'Ask A Question' feature found below the description box.
* Always review the seller's past transactions before placing a bid. The seller's history box on the item page is a quick and easy way to do this, and it shows how other eBay users have rated that seller. Avoid sellers with high percentages of negative feedback.
* The 'Want It Now' feature can be used to alert other eBay users about a specific straight cut razor that may not be listed on the site. Also, try searching eBay's Shops as they have lots of items and are managed by experienced eBay users.
* Contact the Resolution Centre if any difficulty is experienced in dealing with a seller, and Customer Support can help with problems encountered while navigating the site.
Conclusion
Although one of the oldest forms of shaving, many believe that straight cut razors offer the best way to shave and are beneficial to skin, wallet and environment. Straight cut shaving can take some time to master, but it will result in a better shave and a relaxed body and soul. Collecting antique straight cut razors can be a rewarding pastime, and some of the older razors can generate an impressive sum of money.
Buyers should use eBay to search for straight cut razors, as the site has a better selection at better prices. Spend some time researching the different brands available, and become familiar with factors that determine a blade's worth.