Many people's computer is an entertainment hub, and many users find that they need a good set of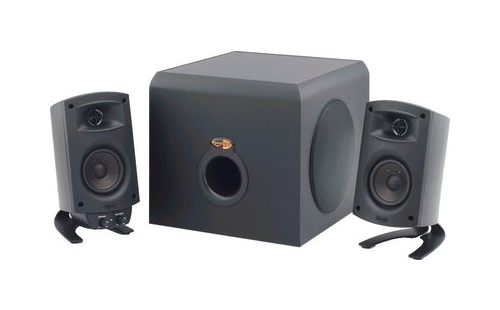 With great audio at a reasonable price, the Klipsch ProMedia 2.1 is one of the best computer speakers available even though it lacks a remote control. This speaker set has a 3.5 mm auxiliary input and a headphone jack on its right speaker. Users can also connect the ProMedia 2.1 to their computers wirelessly via the included USB dongle. The speaker set delivers well-defined, distortion-free sound, and has a fuse to protect the subwoofer from exploding at extreme volumes.
---
| | |
| --- | --- |
| 2 | Harman Kardon SoundSticks II |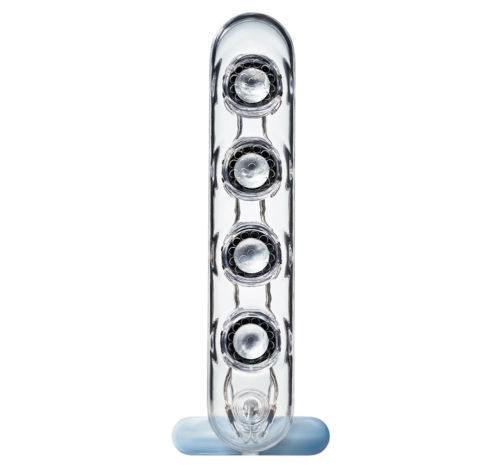 The Harman Kardon Soundsticks II speakers are hard to beat in terms of sound. With a unique transparent design, this speaker set looks like a device from a mad scientist's laboratory. The bass is more than sufficient, yet never too much. The set, however, lacks a remote control, headphone jack, and auxiliary input.
---
| | |
| --- | --- |
| 3 | Logitech Surround Sound Speakers Z906 |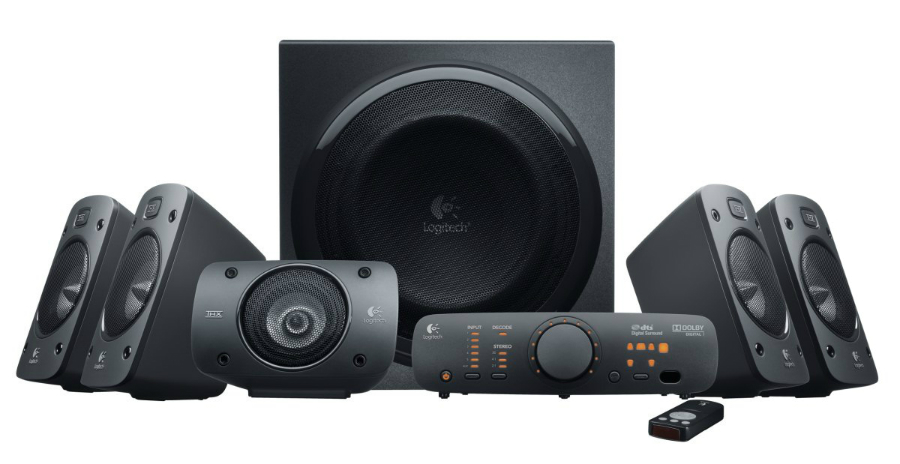 For the ultimate audio experience on the computer, users can get the Logitech Z906 Surround Sound Speakers. With a 5.1-channel setup, this speaker set can function as a home theatre system as well. All the speakers have excellent build quality, and the features include Dolby Digital and DTS decoding, a desktop control console, and three digital audio inputs. With the multiple inputs, the speakers connect simultaneously to a computer, DVD player, and game console.
---
| | |
| --- | --- |
| 4 | Corsair Gaming Audio Series SP2500 |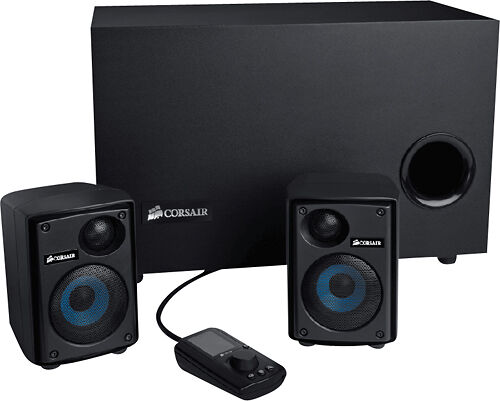 The Corsair SP2500 has a lot of power for a 2.1-channel speaker system. With 232 W of power, this speaker set is very loud, and may not be suitable for all consumers. However, for bass buffs and serious gamers, the SP2500 can deliver a truly earth-shaking listening experience. This speaker set also has a remote control with an LCD screen. Users can use the controller to set the volume, bass level, and EQ mode.
---
---
| | |
| --- | --- |
| 6 | Logitech Speaker System Z623 |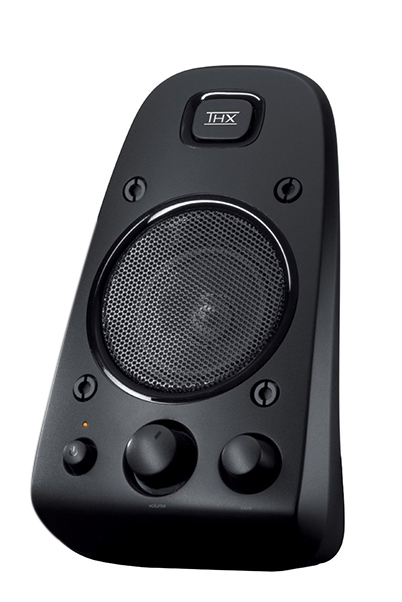 Logitech produces superb computer speakers, and the Logitech Z623 is no exception. It is an affordable 2.1-channel system, with excellent audio quality and power. Plus, it has THX certification for cinema quality sounds. The right speaker has a power button, as well as volume and bass level knobs. Users can also find an auxiliary input and a headphone jack. The huge subwoofer produces deep, rumbling bass, while the satellites produce crisp audio.
---
Wired Computer Speaker Accessories
To save space and improve the acoustics of their computer speakers, consumers can buy a number of accessories. For instance, users can place the speakers on
speaker stands
and
wall mounts
to save desk space and improve the acoustics in their room. For speakers with HDMI inputs, users can get a high-quality aftermarket
HDMI cable
to enjoy clear, high-definition sound. Users can also purchase extra
speaker cables
and plugs in case their existing ones malfunction after long use.
Finding Wired Computer Speakers on eBay
eBay has many high-quality computer speakers. To find the speakers you want, use the eBay search feature to look up ' wired computer speakers'. Read all the available details, including price, delivery fee, and description of a product before selecting it. After you choose a set of speakers, you can read its full specifications on the product page, and also correspond with the seller before making a purchase. Many modern wired computer speakers have powerful audio. However, if you want well balanced speakers that produce crisp and accurate sounds, you have to choose carefully. Pick from the many high-quality computer speakers on eBay, and enjoy the audio experience from your computer.