Whether at the kitchen counter or at the home mini bar, an adjustable bar stool needs to be attractive and practical to use. There are plenty of adjustable bar stools on the market, from wooden to synthetic leather ones. Some have backrests and armrests, while others only have a minimalist style seat. Users looking for stylish stools should consider the theme of their kitchen or bar, the features they want, and their budget. The top seven adjustable bar stools range in price from the very affordable mass-produced bar stools to expensive designer ones.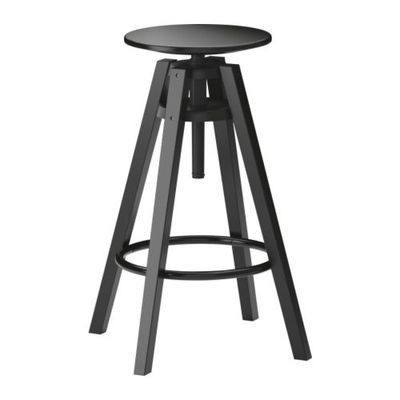 For an industrial look at the counter, buyers should go for the Dalfred stool by IKEA. This wooden stool has a very simple design and a high-quality solid birch frame. The seat attaches to the legs by a large screw shaft. To adjust the height of the Dalfred, users twist the seat like a bottle cap. Although this IKEA bar stool can be difficult to adjust, it is among the least expensive options.
---
| | |
| --- | --- |
| 2 | Chic Modern Adjustable Synthetic Leather Swivel Bar Stools |
A Chic Modern Adjustable Synthetic Leather Swivel Bar Stool offers comfort, style, and practicality. With a cushioned synthetic leather seat and high backrest, this stool supports the back very well. The striking leather seat and metal leg of this stool fits in any modern kitchen. It swivels around 360 degrees and has a simple switch that adjusts the height. Whether red, black, white, or camel, this stool exudes luxury and style.
---
| | |
| --- | --- |
| 3 | Lem High Stool by Lapalma |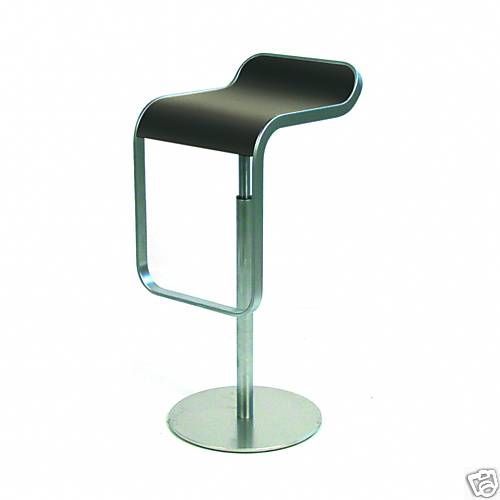 Lapalma produces some of the most attractive and modern furniture. The Lem High Stool has a simple design, with a single metal piston leg. The seat comes in a variety of materials including wood, leather, and stainless steel. It has a full swivel seat and gas pump to adjust the height. Being a designer bar stool, it is costly for many buyers. However, it truly looks and feels premium.
---
The Zenith Bar Stool has a contemporary design with a synthetic leather seat atop a chrome stand and footrest. Like many modern adjustable bar stools, it comes with a gas pump and full 360-degree swivel. The backrest and footrest offer improved comfort. Even with its modern, luxurious look, the Zenith is an affordable stool suitable for any kitchen or bar.
---
| | |
| --- | --- |
| 5 | Bombo High Back Bar Stool |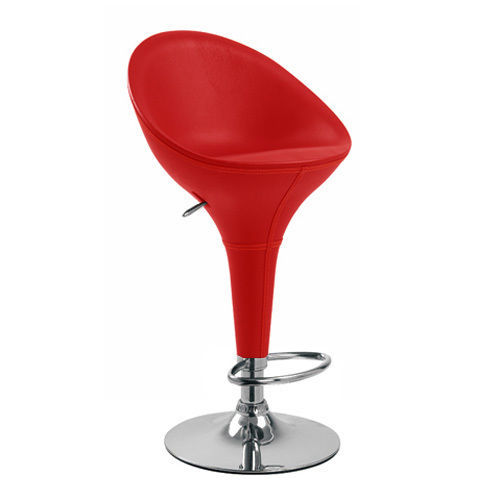 Bombo may sound like the name of tropical wooden furniture, but the Bombo High-back Bar Stool is actually a retro, minimalist stool. Available in moulded plastic and chromed metal, this item is an attention-grabber. This stool is comfortable and comes either with or without a high backrest.
---
| | |
| --- | --- |
| 6 | Baceno Bar Stool by Lamboro |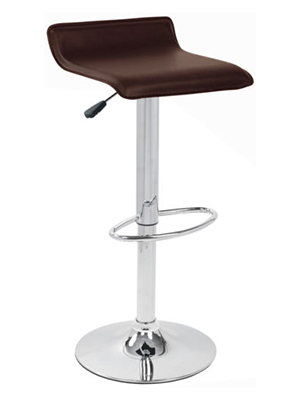 Lamboro designs simple yet elegant furniture. Its Baceno Bar Stool is a compact stool with a full chrome stand and single piece curvy seat. The Baceno design combines smooth curves and straight lines to give the stool a professional look. Buyers who have a clean and modern-themed kitchen should definitely consider the Baceno. With its faux leather upholstery, this bar stool is also a very affordable item. In addition, assembling it is simple and straightforward.
---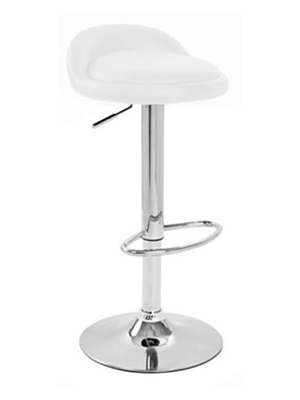 The Sofia Bar Stool comes in a number of colours and, depending on a buyer's preference, it can be anything from cute, to conservative, to masculine. The circular seat looks organic and fits in any kind of bar or kitchen. It has ample padding on the seat, and the low backrest supports a user's back without the stool obstructing the counter. Some colours for this stool are black, cream, and blue.
---
Best Bar Stool Materials
The best and most popular materials furniture makers use for bar stools include wood, metal, plastic, and upholstery. Some stools only have one material, but most of them have a combination such as metal and upholstery, or plastic and metal.
Wooden stools
look warm and traditional, whereas
metal stools
look contemporary. Upholstery gives a stool class and makes it comfortable. Plastic stools are very versatile as plastic can adapt to any seat design.
Buying Adjustable Bar Stools on eBay
Buying the right adjustable bar stool is easy if you consider the stool's design, material, size, and your budget. By shopping on eBay, you can find the exact stool that you want, or choose from many other high-quality stools from top furniture brands. Using the eBay search bar is simple, as you only need to key in the appropriate search terms, and browse the available items. You can also refine the results by price, brand, condition, and more. To find out the details of a particular item, read the entire product description or contact the seller.