Once a traditional dress of German origin worn by women throughout much of Eastern Europe, the
dirndl
has seen a comeback. Many women now wear dirndls as costumes for special holidays and folk weeks in their countries, while others wear these figure-flattering dresses for everyday wear. Dirndls come made from all shades and materials and mainly feature an A-line that gathers at the waist and falls just below the knee. The dress has a jumper-like quality and a white blouse gets worn underneath. Several top European designers have their own take on this traditional outfit, with many found on eBay in both new and used condition. For costume parties or cultural events, dirndls offer a twist on an old tradition.
This designer created a dirndl with a distinctly modern look to coincide with the opening of Munich Lagerfeld store. Rather than the folk feel of many dirndls, those from Karl Lagerfeld have a rock and roll vibe. The traditional pinafore dress and white peasant blouse remain, but the trim has black leather edging no 19th century farm girl would have imagined when first wearing dirndls all those years ago.
---
Designer Marc Cain created a traditional dirndl with modern shades of grey for Oktoberfest celebrations. This dirndl features a grey dress with a sip up bodice, rather than the common lace-up bodice found on most dirndls. A white apron made from silk with a white, black, and grey floral print and side tie closure finish off the look.
---
Spieth & Wensky make a variety of traditional German and Bavarian dirndls featuring colourful shades and various lengths. While some of their dirndls fall below the knee like they did in the 19th century, other designs find the dirndl revealing a bit more leg while falling just above the knee. Many Spieth & Wensky dirndls come with checkered dresses and solid-coloured aprons. Some common shades include hot pink, royal blue, deep red, magenta, and lavender.
---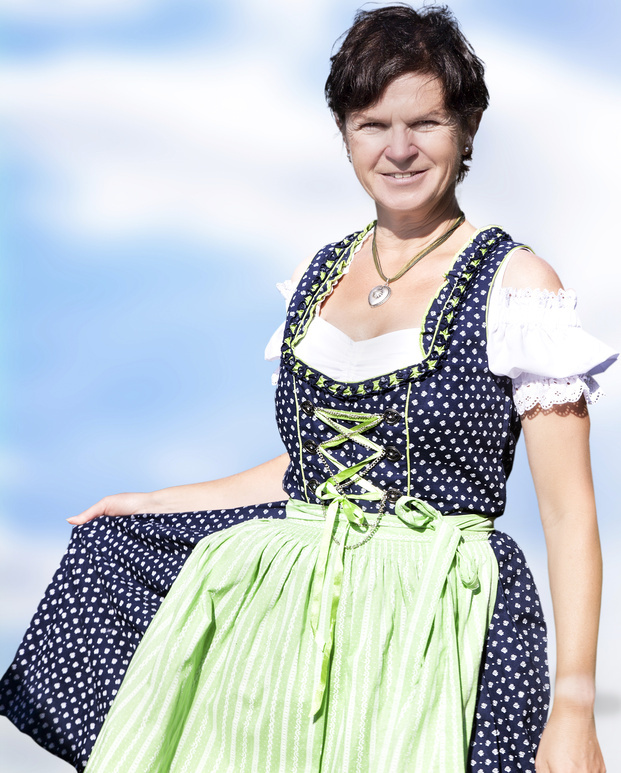 This maker of trendy clothing found a way to put trend into dirndls. Esprit dirndls fall to the lower thigh and do not feature traditional fuller skirts. While checkered dresses with solid-coloured aprons are common with Esprit dirndls, they also feature cardigan sweaters as part of the ensemble for an updated look. Some common colours for Esprit dirndls include purple, green, red, and pink.
---
Dirndls by Loden Frey act as dress wear for more formal occasions. These dirndls fall below the knee to the lower calf and come made from both silk and satin materials for a dressy look. While some Loden Frey dirndls feature the traditional laced bodice, most bodices do not come with closures in the front at all, but instead zip inconspicuously in the back. Silk and satin aprons tie on the side and feature rich colours like pink, blue, and tan. Other Loden Frey dirndls come made from traditional cotton and have matching print aprons.
---
Hammerschmid dirndls also put a new twist on an old tradition. These form-fitting dresses with cleavage-revealing tops often feature off the shoulder blouses that women did not commonly wear in the 19th century. However, traditional still reigns with a majority of the look. Full skirts fall just below the knee, but wild prints offer that 21st century look. Most come with lace bodices made of silk materials, while satin aprons finish the ensemble. Some popular colours for Hammerschmid dirndls include green pink, yellow, brown, gold, and blue.
---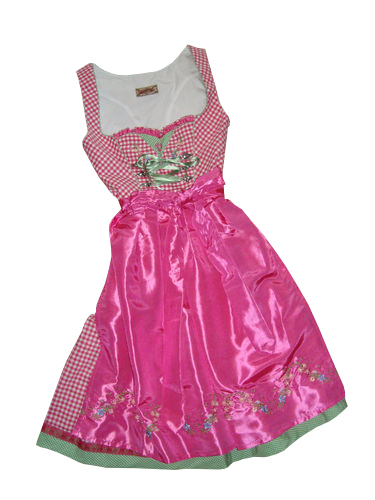 Stockerpoint combine the traditional with the modern in fun and flirty ways. Many dirndls from this brand come with full skirts that fall to mid thigh and low, revealing blouses. Black dirndls with red trim and traditional lace bodices come with these dresses, while others add a modern twist on the folk look with pastel colours of purple, blue, yellow, and pink. Some women choose to wear these dirndls with no blouses under the dress at all.
---
How to Buy Dirndls on eBay
eBay makes shopping for dirndls simple with the Search bar found on any page. Just type what kind of dirndl you desire into the Search bar and watch the results generate. For a more refined search with fewer results, specify brand, size, and new or used condition. Look to trusted sellers with high feedback ratings and never hesitate to ask the seller a question if the listing is missing information you need. Browsing through eBay Deals is another way to find dirndls at affordable prices. Deals feature special pricing for a limited amount of time on various items like electronics and apparel. Searching through daily deals saves you cash, while offering a top-quality and fashionable dirndl of your choice.