Following increased use of
computers
in day-to-day activities during the 1990s, many individuals began to develop pain and discomfort in the hand, wrist, and arm. A growing number of patients started to display signs of carpal tunnel syndrome, a condition related to repetitive motions of the hands and wrist, as well as similarly related conditions. Manufacturers hoping to reduce incidence of this created the
ergonomic keypad
. There are several different types of ergonomic keypad, all of which are designed to help reduce muscular strain on the hands and wrist. Manufacturers also claim that the design helps some individuals to improve typing speed. Several well known companies carry ergonomic keypads, which have become quite popular amongst those who spent a great deal of time at the computer each day.
| | |
| --- | --- |
| 1 | Adesso Tru-Form Pro Ergonomic Keypad |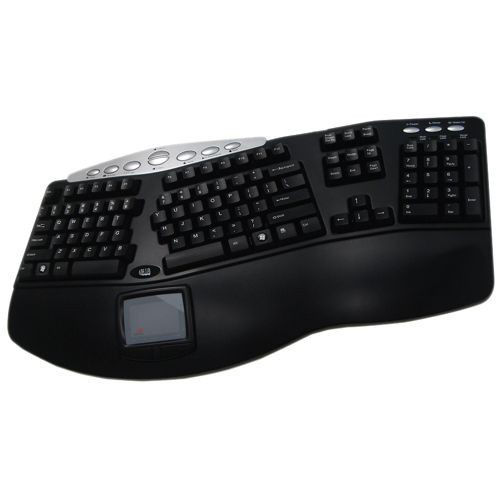 The Adesso Tru-Form Pro Ergonomic Keyboard with Built-in Touchpad features an effectively streamlined, gently-sloped design intended to decrease stress to the wrist, hands, and shoulders. The deluxe keypad also conveniently includes a space-saving touchpad that provides navigation in place of a traditional mouse and pad setup. The combination of keyboard and mouse, similar to that of a laptop, also provides for better affordability, a plus for many consumers. Further increasing productivity and speed, the top portion of this Adesso keypad includes hot keys for one-touch access to several Windows and multimedia applications.
---
| | |
| --- | --- |
| 2 | SteelSeries Shift Gaming Ergonomic Keypad |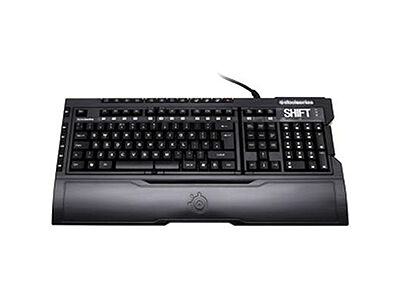 Designed specifically with computer game enthusiasts in mind, the SteelSeries Shift Gaming keypad features a pad that can be set to three customised height options for the ultimate in comfort. Keys are good for up to 15 million presses. To enhance gaming experience, every key on the pad can be set to a specific action. The addition of multiple layer options add up to near-infinite customisation options. Gamers spend hours on the computer rapidly typing and clicking away. As a result, having an ergonomic keypad designed specifically for the gamer is a must. The SteelSeries Shift Gaming Ergonomic keypad offers an excellent option.
---
| | |
| --- | --- |
| 3 | Lenovo Preferred Pro Keypad |
The highly-advanced, lightweight Lenovo Prefered Pro Keypad features all the advantages of an expensive, ergonomically designed keyboard for a fraction of the cost. The affordable Lenovo option features highly responsive keys, adjustable height options, and a palm rest designed to increase comfort and decrease stress. The keypad includes all general functions, including a full numeric keypad. The combination of affordability, style, and effectiveness allowed the Lenovo brand to develop into a popular choice for consumers around the world.
---
| | |
| --- | --- |
| 4 | Kensington Comfort Type Ergonomic Keypad |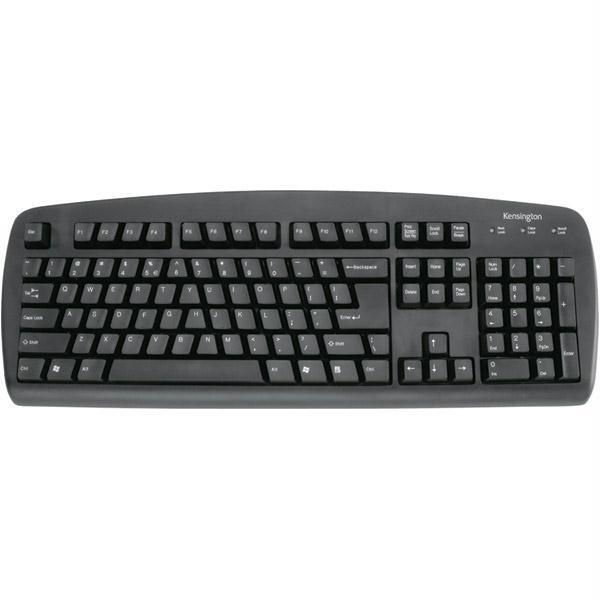 The Kensington Comfort Type Ergonomic keypad provides a unique key shape, meant to more naturally accommodate the hands and wrists. This reduces strain and the associated pain in individuals who type frequently. The full-size of the keyboard, as well as an easy-to-use, USB plug and play feature make this an even better choice. Additionally, the Kensington Comfort Type keypad is one of the most affordable options.
---
| | |
| --- | --- |
| 5 | Microsoft Comfort Curve Keypad |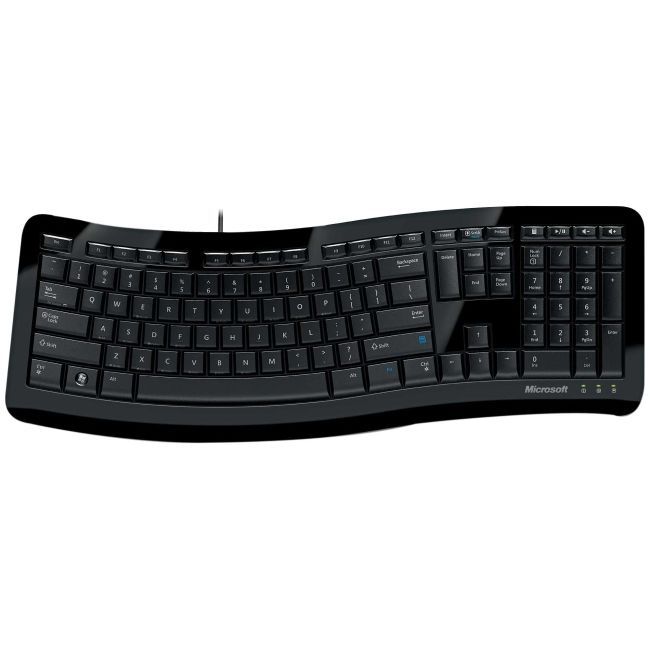 Microsoft remains a top provider of comfortable, ergonomic keyboards including the Comfort Curve. This unique curvature of the pad increases comfort naturally, while remaining familiar enough for easy acclimation. At the top of the keypad, easy access media keys make for quick, one-touch access to a variety of applications and features. The familiarity and popularity of the Microsoft brand makes this a good choice for many.
---
| | |
| --- | --- |
| 6 | Goldtouch V2 Ergonomic Keypad |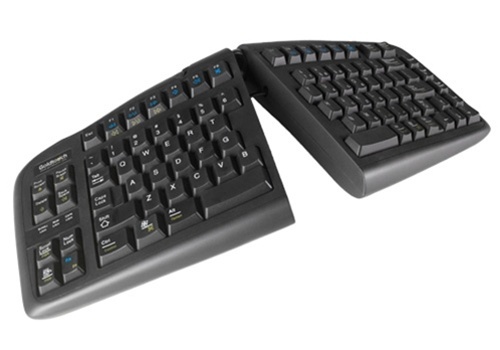 The Goldtouch V2 Ergonomic Keypad features an adjustable horizontal plane for added comfort. The unique ability to adjust the keypad at the centre, makes high-tech customisation both possible and easy while retaining an affordable price tag. The Goldtouch V2 is the second incarnation of the popular model. Though rather pricey, the benefits and revolutionary design of the Goldtouch V2 make it a popular choice.
---
| | |
| --- | --- |
| 7 | Kinesis Advantage Keypad |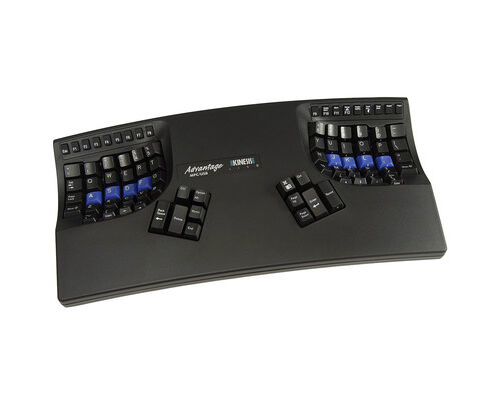 The Kinesis Advantage Keypad provides a premium option for comfortable, easy-to-install typing comfort. The wide, unique design allows users to keep wrists and hands in a natural resting pattern throughout the process. The keypad features programmable hot keys, easy USB connectivity, and more. This particular keypad is not wireless, which may cause issue for some users.
---
Finding Ergonomic Keypads on eBay
eBay
offers a wide selection of affordable
ergonomic keypad
s. Options include new, used, and refurbished models to fit virtually any budget. To peruse available options search for easy-to-understand key terms, such as "ergonomic keypad" or "
ergonomic keyboard
". Listings often flood in. Narrow the choices to a more manageable level through use of eBay's trusty refinement options. In the end, consumers should find a great, ergonomically designed keypad, perfect for their individual needs. Ergonomic keyboards remain a good investment for anyone who types regularly for work or pleasure. As the style becomes more popular, prices continue to drop, making for greater affordability.