It should come as no surprise to parents all around the world that, when it comes to teaching babies and toddlers the essential things they need to get through life, such as communicating and walking, it takes time. However, to help speed up the process and facilitate growth in these areas, many
toys
actually teach while they entertain. For helping with the development of walking, walkers and
jumper
s are a great way to advance these skills, as they teach a child to use his or her legs to walk or move around. Finding the right jumper for a toddler is easy, given the consumer has the right knowledge.
| | |
| --- | --- |
| 1 | Winnie the Pooh Bounce About Jumper |
The Winnie the Pooh Bounce About Jumper is a great stationary jumper. It comes equipped with plenty of toys, lights, and sounds, for maximum entertainment, to both stimulate the senses and encourage the development of motor skills. The jumper features three different possible seat positions and the electronics require six AA batteries to operate. Additionally, the seat of the jumper is washable, to ensure hygiene.
---
| | |
| --- | --- |
| 2 | Fisher-Price Rainforest Jumperoo |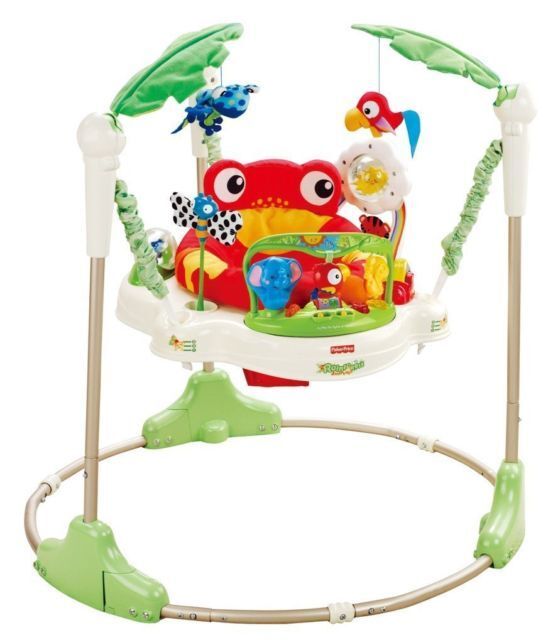 The Rainforest Jumperoo is just one of the many fine products by Fisher-Price that displays the quality of toys the company makes. It features hanging rainforest toys, a padded seat and back for comfort and safety, and because the Rainforest Jumperoo is stationary and does not require a doorway, parents can have a piece of mind without having to carefully and constantly monitor their child.
---
| | |
| --- | --- |
| 3 | Bright Starts Cute Critters Activity Jumper |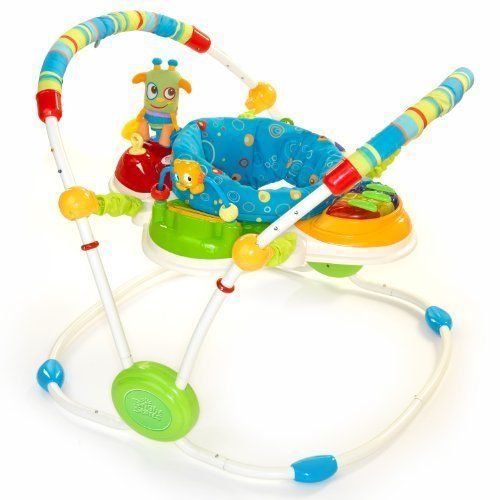 The Bright Starts Cute Critters Activity Jumper is a stationary jumper that guarantees hours of entertainment for todlers, with the safety parents desire. The activity jumper features a seat that rotates 360 degrees and a music station with three different settings. There are also bead chasers, toy loops and fabric loops, and an easy to clean toy tray.
---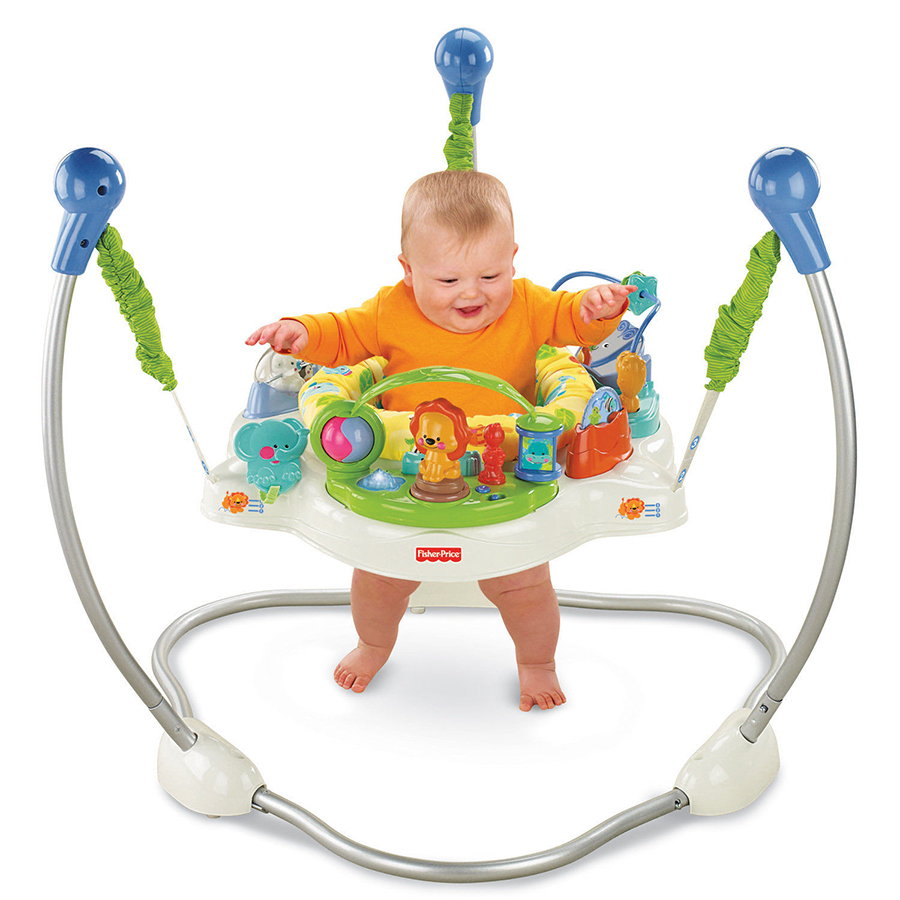 A freestanding jumper, the Fisher-Price Animals of the World Jumperoo is a jumper with a seat suspended by three springs, allowing the child to bounce up and down, move to the left and right, as well as forward and back. The seat rotates 360 degrees, and is removable, making it easy to clean. Finally, it features five toy stations, as well as music, lights, and sounds for maximum entertainment and minimal danger.
---
| | |
| --- | --- |
| 5 | East Coast Rest and Play Walker |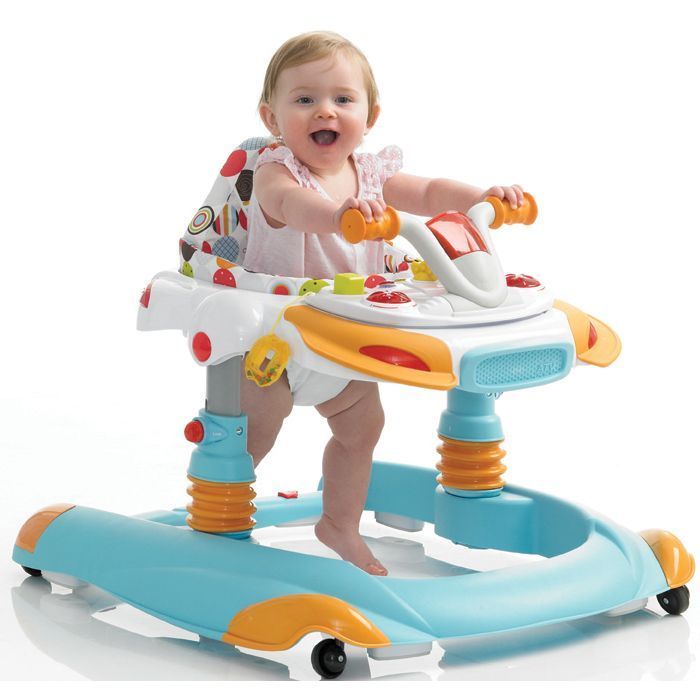 The East Cost Rest and Play Walker is a great jumper for both babies and toddlers over the age of six months. It doubles as not only a walker, but also a jumper, and features a padded seat and supportive backrest, to ensure both safety and comfort. The Rest and Play Walker comes equipped with a removable electronic play tray, which features lights and music for entertainment purposes, and has three adjustable heights for a growing child.
---
| | |
| --- | --- |
| 6 | Fisher-Price Discover and Grow Jumperoo |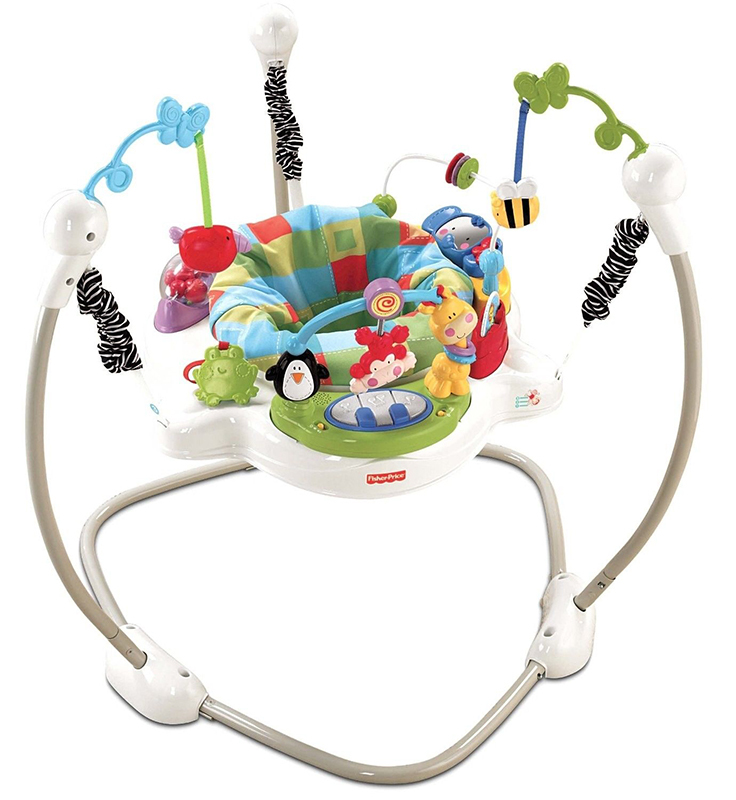 Another offering from Fisher-Price, the Discover and Grow Jumperoo features music, lights, and exciting sounds to stimulate the senses and promote learning. It is a freestanding jumper with a seat suspended by three springs, and is adjustable, with three different heights for longer use. The seat rotates completely, allowing the child to access the toys located around the seat, and the seat pad is detachable for easy cleaning, as it is machine washable and dryer safe.
---
| | |
| --- | --- |
| 7 | Fisher-Price Luv U Zoo Jumperoo |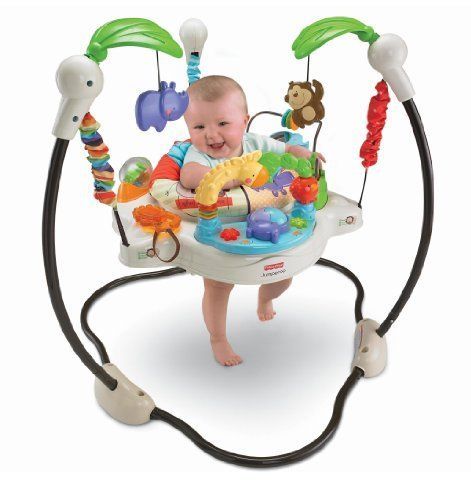 The Fisher-Price Luv U Zoo Jumperoo is a freestanding jumper that aims to promote mental and physical growth. It features a padded seat that is capable of rotating 360 degrees, suspended by three springs, and is machine washable. It also features plenty of colourful toys around the seat, as well as music and other fun sounds, to stimulate the visual and auditory senses, making it a great choice for learning and fun.
---
How to Buy Jumpers for Toddlers on eBay
For those who are searching for jumpers for toddlers,
eBay
is a great place to look, as there are items sold from people around the globe. Simply enter the keywords "
toddler jumpers
" for a list of available items. You can further refine your search by entering specific keywords, or by browsing through the many categories eBay features. When it comes to raising children, teaching them is a significant part of their overall growth. During the earliest years of life, some of the most important skills and functions are developed, and with the help of toys such as jumpers, not only do children develop these necessary skills, they often speed up the process through which a child learns those skills.