Firstly, I was asked to write one of these lovely guides for Bzzagent, in conjunction with Argos...
Having been an ebayer for some time now, I've gotten a feel for how to effectively trade and maximise your chances of selling your pre-loved/unwanted goodies on ebay. As with anything lets start at the very beginning...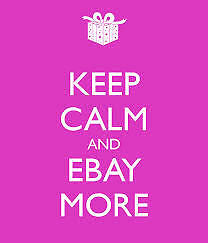 Top tip 1: Is this worth anything? Initially it is crucial to know the applicable estimated value of an item prior to listing it. What condition is it in, does it have any damage, how popular is it, on ebay and more widely? i.e is there are an interested audience out there?

Top tip 2: The pic is key...
In order to appeal to the widest possible audience, you need to do the groundwork in capuring the item in all of its glory. Consider locations where natural light is present with a neutral background. Take a number of pictures of the item, some close-up, some taking in the whole of the item, front, back etc. If the item is used and has damage, take a picture of that too. Once you feel you have a sufficient number of pics , download them to your PC and view them, selecting the best to attach to your listing, at this stage you need to carefully select the ones which present the potential bidder with as much image detail as possible, consider a max of 3.

Top tip 3: Write the description using basic, clear, honest wording
This is your opportunity to allow the item to shine through the selection of words. You own this item because you saw its beauty and you needed to own it, you want to convey that exact impression to potential bidders. Complete the applicable fields, above the description box, completing as many as you are able to. Consider what type set you are going to use for the purpose of the listing, what font and size is going to maximise interest in what you want to say. Consider the lenght of the description, is it applicable to the item you are listing, i.e if you are selling a scarf, you might only need a line or two regarding the scarf, it's condition, what payment terms you accept, how quickly item will be dispatched, if you accept international bidders etc. However, if you are selling an item such as a mobile phone or other electronic device, you are going to want to ensure you put in the grownwork in capturing its pros and capabilities, this detail is key. Ensure you strike a balance between being clear but not waffling. Be friendly and note you are happy to answer any questions.

Top tip 4: How little are you prepared to accept for the item?
When considering a starting bid, you need to ask yourself, how little can this item concieveably sell for and what is my lowest acceptance for this item in this condition?, that is your starting bid. However, be realistic, if the item you are selling is popular and likely to be listed with a number of like for like or is routinely listed on ebay, you need to strike a balance which you are content with and that will ensure a sale. Be forewarned, sometimes bidders are discouraged by unnecessarily high starting bids. Also ensure you are realistic of the cost of P&P for this applicable item, checking on the royal mail website for clarification of costs, if necessary.

Top tip 5: Once live, do monitor progress
You need to ensure you monitor activity once your listing is live, it is attracting watchers/bids. Monitor your Inbox in my ebay and speepily reply to questions regarding the item. If potential bidders are asking for more pics, attach some of the ones which you took previously and that adequately answer their question. Be ready for a possible follow-up question. Be open, patient and friendly at all times.

Top tip 6: Once bidding concludes
Hopefully by now you have successfully sold your item on ebay - Hooray!. Ebay will do all of the processing for you and alert the buyer to check out and pay for the item. Once you receive the funds into your paypal account, it is time to package up and dispatch the item. Ensure you select the most applicable wrapping which will protect the item during transit to ensure it arrives safely. Consider bubble wrap and packing tape as good buys for this purpose. Once packaged ensure it is correctly labelled. At the post office, ensure you ask for proof of postage.

Top tip 7: Concluding sell
Once the package is dispatched in line with the timing agreed in the listing, ensure you drop an short email to the buyer confirming it's dispatch. Ask then to either confirm receipt by leaving feedback or drop you a quick reply email noting its arrival. Once the item arrives, leave applicable feedback on ebay, ask yourself, how was this person as a buyer, did they pay in good time etc.

Well there we have my top 7 (known for its lucky properties...) ebay selling tips. Hope you find this guide brings you luck in selling on ebay.