Bluetooth FM transmitters
enable drivers to hear audio from MP3 players, smartphones, or iPods through the speakers in their car. These accessories transmit calls and music from Bluetooth enabled devices over the in-car FM stereo. Bluetooth FM transmitters are the perfect solution for cars that do not have an aux input or iPod adapter. They are operated easily with the touch of a button and most feature a line in/out port for audio devices that do not have Bluetooth capabilities. Buyers should consider the top eight Bluetooth FM transmitters before choosing a product.
| | |
| --- | --- |
| 1 | Belkin Tunebase FM Transmitter |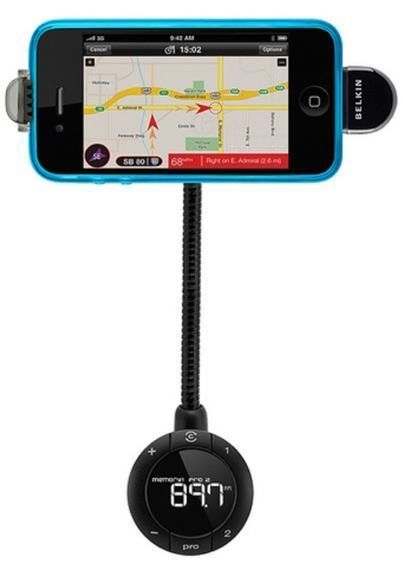 Futuristic styling make the Belkin Tunebase FM transmitter a sleek, functional choice. Users can place iPods or iPhones on the adjustable steel arm to transmit calls or music. GPS-assisted scanning is available through the ClearScan app and ensures the best sound quality possible. The transmitter comes with a 12-volt adapter that charges the device while it is docked. It has four numbered buttons that allow users to programme their favourite FM radio stations.
---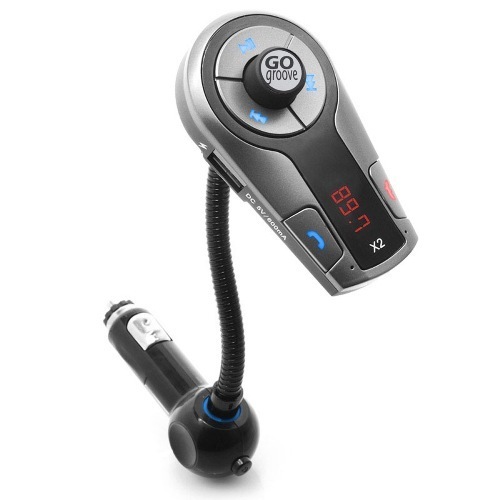 The compact design and flexible neck of the GoGroove X2 means that it fits most cars. It is packed with features, such as on-board volume, play settings, and phone controls. Users can make hands-free calls easily with the built-in microphone. The transmitter has a USB charging port, and the auto-seek feature tunes the transmitter to the clearest FM station. The GoGroove X2 make is easy for motorists to switch between music and calls safely while driving.
---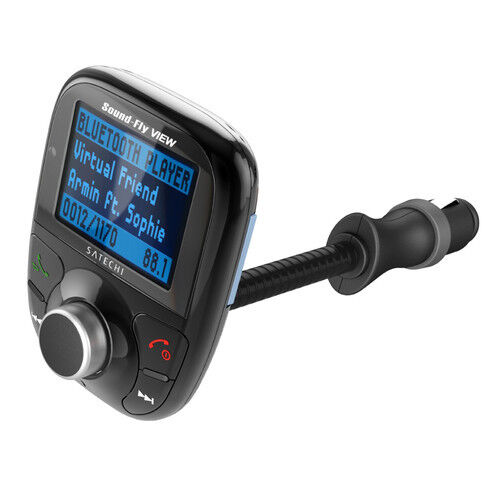 The Satechi Soundfly is a simple plug and play Bluetooth device that transmits on all FM frequencies and memorises up to seven of them. It reads both MP3 and WMA files, and it supports the Radio Data System, so caller ID and song information are shown on a car's compatible radio display. The Satechi Soundfly comes with a remote control and features Bluetooth A2DP technology.
---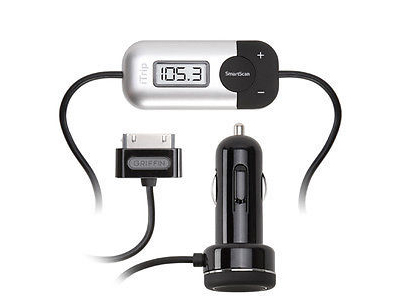 Griffin manufactures devices for wireless in-car connectivity. Its iTrip range of FM transmitters includes the iTrip DualConnect, which features a 12-volt cable for charging an iPod or iPhone. It has an aux input and programmable presets. The transmitter uses SmartSound technology to optimise the signal and ensure the best sound quality. The free iTrip Controller app lets users control the iTrip from a multi-touch display.
---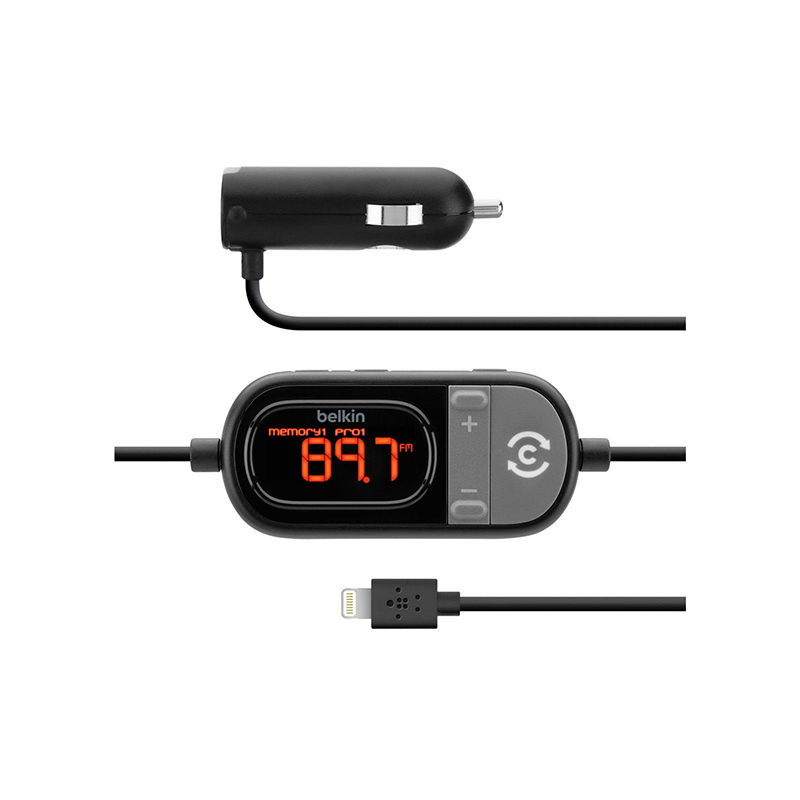 The Belkin TuneCast has a high-contrast, easy-to-read display, and features a PRO setting that boosts volume and optimises audio. The clear-scan station locator adjusts the device to the clearest station with the push of a button. The TuneCast operates without the need for permanent connections, so it is transported easily from one car to another.
---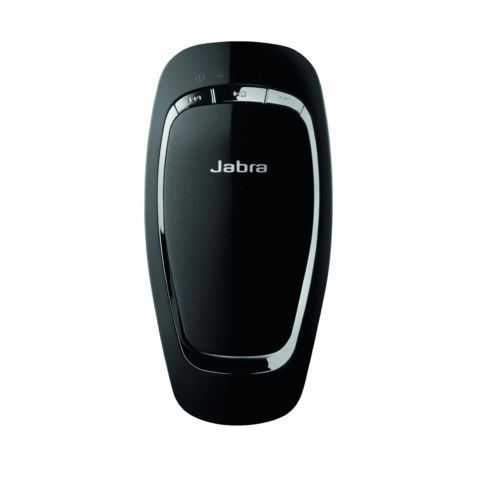 Its clever design and simple instructions make the Jabra Cruiser easy to operate. It has a dual microphone system and noise blackout, which ensure that it delivers superior sound. The Jabra Cruiser features voice guidance, battery status, and caller ID display. It connects up to two Bluetooth devices simultaneously, uses A2DP technology, and offers up to 14 hours of talk time.
---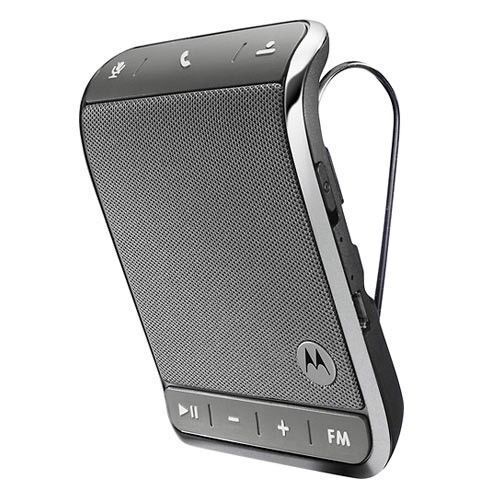 The motion-activated Motorola Roadster 2 saves battery life by switching on and connecting to a device automatically only when it senses movement in a car. The Roadster 2 allows users to listen to and dictate text messages with the MotoSpeak app for Android. Users can connect up to two devices and receive calls from both phones simultaneously. Its CrystalTalk technology with dual microphone noise cancellation and echo control ensures calls are heard clearly. The versatile Roadster connects to phones, MP3 players, and laptops.
---
| | |
| --- | --- |
| 8 | Monster Cable RadioPlay |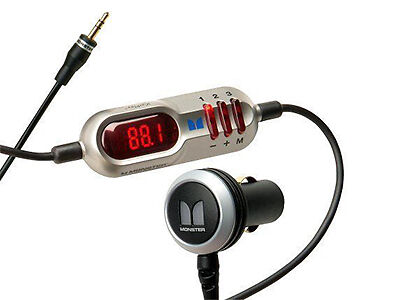 The Monster Cable RadioPlay is a basic FM transmitter. It has full FM tuning abilities and 24-carat gold contacts, which offer the maximum level of signal transfer. It has a 12-volt DC adapter and is compatible with any device equipped with a 3.5mm audio jack. The FM transmitter features three programmable presets and a dimmable LED.
---
How to Buy Bluetooth FM Transmitters on eBay
Bluetooth FM transmitters
offer an easy way to play music and make hands-free mobile phone calls in a car that is not equipped with Bluetooth.
eBay's
search features make shopping fast and efficient. Type the keywords that describe the desired item into the search bar. Browse through eBay's vast inventory to find the Bluetooth FM transmitter that you want or use the category filters to narrow down the results. eBay's rating system for sellers creates a level of transparency that brings peace of mind to shoppers.