Every household should have at least a few
power tools
, both for DIY projects and for basic emergency repairs. Purchasing power tools in a combination set provides savings over buying each tool individually, and often provides more accessories, such as batteries, drill bits, or saw blades. Combination sets come with as few as two pieces, and as many as 15 or more pieces. Avoid purchasing more tools than needed, however. A circular saw does no one any good if it just collects dust in the garage.
| | |
| --- | --- |
| 1 | Dewalt Three-piece 18V Cordless Combination Tool Set |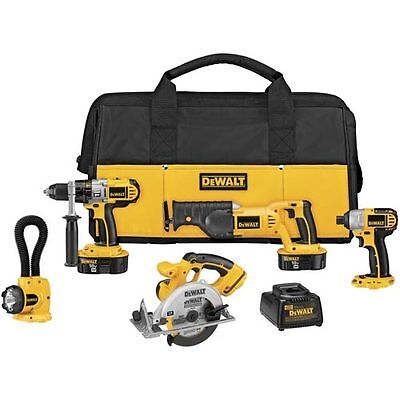 Dewalt specialises in power tools; for basic sets, the Li-ion XR series offers cordless tools suited for home or business use. The Dewalt DCK285C2 18-volt twin set comes with three pieces: a compact hammer drill, an impact driver and a charger for the batteries. It has a 38-mm drilling capacity for wood and 13-mm capacity for steel and masonry, and the impact driver offers a 6.35-mm bit holder. The set comes in its own box for easy storage.
---
| | |
| --- | --- |
| 2 | RIDGID Five-piece Combination Tool Set |
The five-piece X4 cordless power tool set from RIDGID provides all the basic power tools that one might need for any home DIY project. The RIDGID X4 18V set comes with a hammer drill, reciprocating saw, circular saw, impact driver, and LED work light. The kit also includes a charger for the batteries, a belt hook, a number 2 Phillips bit, a blade wrench, and a case.
---
| | |
| --- | --- |
| 3 | Makita 15-piece Cordless Combination Set |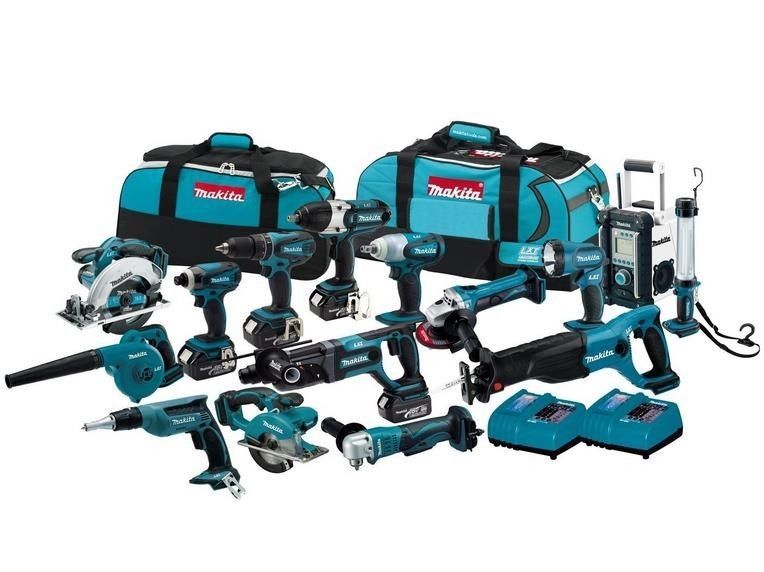 Released in 2008, Makita's 15-piece Li-ion cordless tool set includes every power tool users might need in their garage at a moment's notice. The kit contains a hammer driver drill, a hex impact driver, a cut-off grinder, a reciprocating saw, a circular saw, and a metal cutting saw. It also comes with an impact wrench, a high-torque impact wrench, a rotary hammer, an angle drill, and a drywall screwdriver, as well as a fluorescent/incandescent flashlight, a four-position flashlight, an 18-volt blower, and an AM/FM radio. The kit also comes with several batteries and chargers, and various tool management accessories.
---
| | |
| --- | --- |
| 4 | Milwaukee Two-piece Tool Case |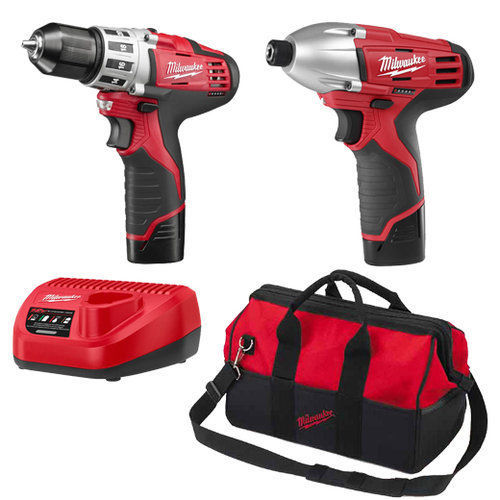 Milwaukee's M18 Combo line offers 10 different combinations of tools in the two-piece combo packs, allowing users to choose the set that best fits their household needs. For instance, one version of the kit includes a reciprocating saw and a hammer drill. Another contains a drill/driver and an impact driver, and another still features an impact wrench and a work light. These kits all come with a carrying case, two batteries, and a charging station for batteries.
---
| | |
| --- | --- |
| 5 | Dewalt Four-piece Drill and Saw Combo Set |
Dewalt's DCK440X four-tool combo kit features a hammer drill, a circular saw, a reciprocating saw, and a pivoting flashlight. The hammer drill has a 1.27-cm ratcheting chuck. The circular saw features a carbide blade, and the reciprocating saw has a safety mechanism that allows blade changes without touching the blade. The set comes with the charger and two batteries; unlike some other power tool sets, the DCK440X uses nickel-cadmium batteries instead of Li-ion.
---
| | |
| --- | --- |
| 6 | Makita Six-piece All-around Combo Set |
The Makita LXT601 six-piece combo kit provides high-quality tools for the professional user; each 18-volt tool uses a Li-ion battery. The kit includes a hammer drill-driver, circular saw, reciprocating saw, impact driver, angle grinder, and flashlight. It includes two batteries and also comes with a charger for the battery packs. Makita boasts 2,000 more cycles from its batteries and offers built-in shock protection for the batteries.
---
| | |
| --- | --- |
| 7 | Dewalt NANO Technology Four-piece |
The Li-ion battery for Dewalt's NANO Technology line provides the maximum amount of power while providing a lighter battery than alternative tool sets. The four-piece Dewalt <DCX6401 tool set includes a hammer drill/driver, reciprocating saw, circular saw, and cordless floodlight. The DCX6401 also includes 36-volt tools instead of 18-volt tools provided by many manufacturers.
---
| | |
| --- | --- |
| 8 | RIDGID Three-piece Woodworkers Combo Tool Set |
RIDGID's Hyper Li-ion three-tool set comes with pieces well suited for working with wood: an 18-volt compact drill, an impact driver, and a circular saw. The kit comes with one Li-ion battery and the necessary charger but does not include a carrying case, making it an affordable option for those who already have storage.
---
How to Buy Combination Tool Sets
Tool sets on eBay come both new and used; some users may opt to sell toolsets when they upgrade to a different model, or sell extra sets they have around. When looking at a listing for used or opened tools, read the listing carefully to determine the quality of the items and what accessories are included in the sale. Contact the seller if any part of the listing is unclear. Households need tool sets for all kinds of projects. Finding the best set to meet your needs is easy on eBay.