For consumers in search of fully fleshed out sound systems for vehicles, finding the right subwoofer components is an essential part of the process. One subwoofer component that can make or break the quality of sound produced by a system is the subwoofer enclosure. These cabinets provide the stability and structure subwoofer drivers, amplifiers, and crossover components need to produce a powerful and clear bass sound. Consumers in the market for subwoofer enclosures may want to learn about the features of some of the top choices. They may also wish to explore their retail options, such as purchasing from traditional electronics vendors and shopping on eBay.
| | |
| --- | --- |
| 1 | Kicker Comp DC12 Loaded Subwoofer Enclosure |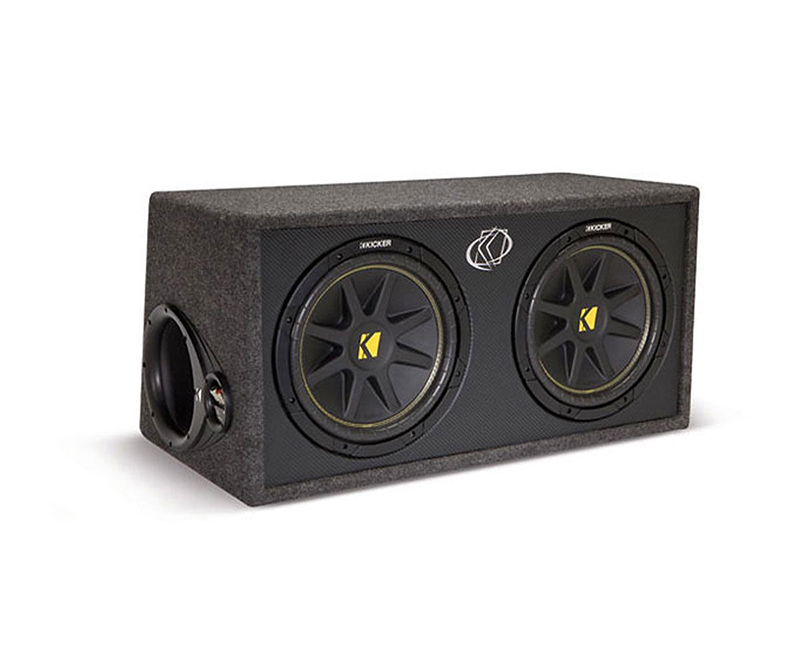 For consumers who want a drop-in ready subwoofer enclosure, the Kicker Comp DC12 loaded enclosure is a good option to consider. This enclosure comes with two subwoofer drivers and an amplifier. The Kicker Comp DC12 features a 600W maximum power rating along with a 300W RMS. Oversized ports with flared ends encourage healthy air flow and also help reduce noise and vibration in the bass produced. The wood enclosure stands up to even the biggest bass sound, and the injection-moulded polypropylene cone in the woofer ensures a clear, distortion-free sound.
---
| | |
| --- | --- |
| 2 | Q Power SBASS15 Subwoofer Enclosure |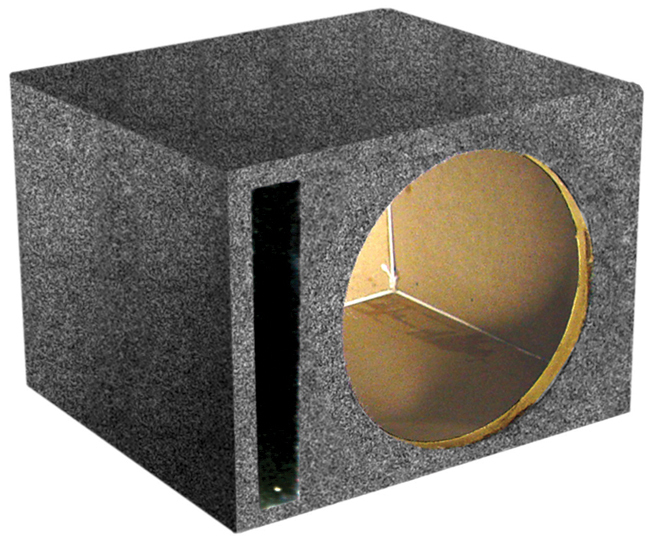 Q Power offers two variations on the SBASS15 subwoofer enclosure. Consumers can find this dual subwoofer enclosure in both a standard model and a heavy duty model. Both versions come in MDF wood for enhanced resonance and sturdiness. The heavy duty version features gold terminals for hyper-sensitive conductivity as well as L-shaped dividers. Well-stitched charcoal carpeting gives this enclosure the durability it needs to stand up to heavy performance environments.
---
| | |
| --- | --- |
| 3 | Atrend E12S Subwoofer Enclosure |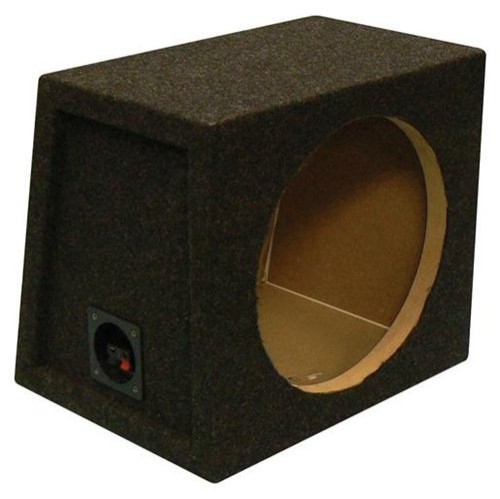 This completely carpeted enclosure from Atrend features 1-inch speaker baffles and screwed down terminal caps along with a 12-inch cabinet design that makes the enclosure a good match for many standard subwoofers on the market. The MDF construction on the Atrend E12S helps guarantee a sturdy and resilient build that delivers a resonant bass sound with determined thump.
---
| | |
| --- | --- |
| 4 | Obcon Dual 12 Universal Subwoofer Enclosure |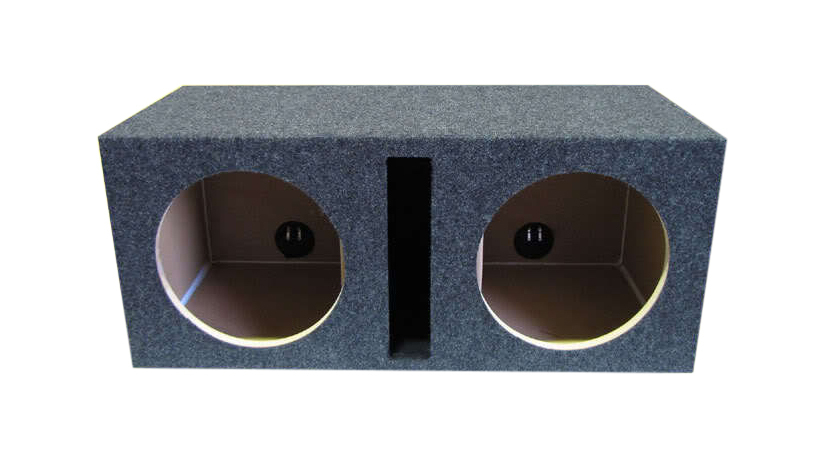 The Obcon Dual 12 Universal subwoofer features a slot-vented design and two 12-inch woofer holes. The built-in, five-way, silver binding posts help guarantee responsive connectivity with a sound system, while the U.S.-grade MDF wood delivers the industry standard in durability. Double gluing, caulk, and stapling, along with quad lock Dado joints, ensure this enclosure stands up to the most demanding big bass sound.
---
| | |
| --- | --- |
| 5 | ZEnclosures Custom Subwoofer Enclosure |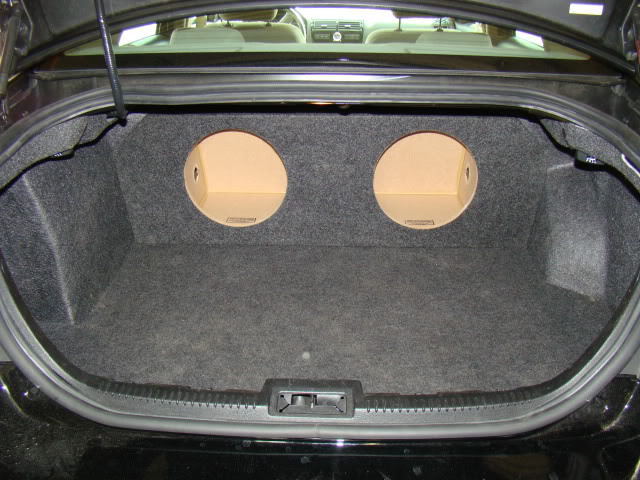 ZEnclosures custom subwoofer enclosures fit directly with the boot designs of particular car models. ZEnclosures use MDF construction to ensure durability in the cabinet and resonance in the bass sound. High-grade adhesives help create an airtight seal, while wire terminals that accept heavy gauge wire ensure responsive connectivity. Consumers can look for ZEnclosure subwoofer enclosures to fit vehicles by searching by make, model, and year.
---
| | |
| --- | --- |
| 6 | JL Audio Powerwedge Subwoofer Enclosure |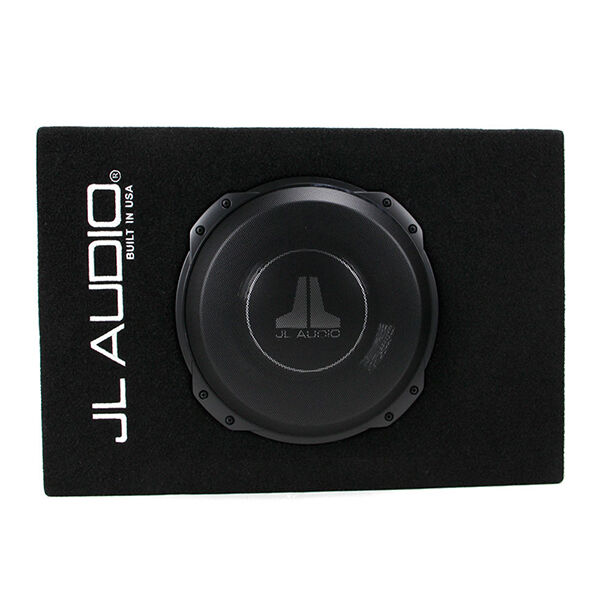 JL Audio offers a series of loaded subwoofer enclosures known as Powerwedge. These dark grey, ported, fully-carpeted enclosures feature integrated subwoofer drivers. Slot ports run along the base of these enclosures to produce extension and smooth sound. The wedge shape allows owners to install these subwoofers facing out or straight down. Systems come wired and ready for installation so consumers get the subwoofers up and running quickly.
---
| | |
| --- | --- |
| 7 | Rockford Fosgate Punch P1-2X10 Loaded Subwoofer Enclosure |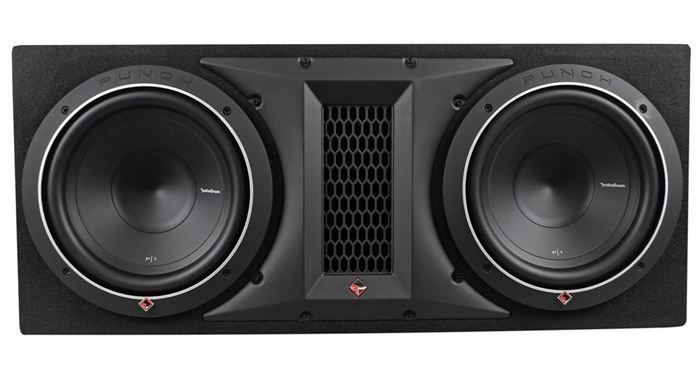 The Rockford Fosgate Punch PI-2X10 loaded subwoofer enclosure is another comprehensive subwoofer solution that contains integrated drivers in addition to the enclosure cabinet. High current binding posts provide heightened sensitivity for wiring this subwoofer to a sound system, and a high-flow, low-noise design ensures efficient performance without distortion. As with all quality enclosures, this Rockford Fosgate subwoofer has an MDF wood construction.
---
| | |
| --- | --- |
| 8 | Fierce Audio FPSP210.1 Subwoofer Enclosure |
The Fierce Audio FPSP210.1 subwoofer enclosure features a unique flat pack design that allows for easy shipping and storage when not in use. Heavy-duty MDF materials are at the heart of this Fierce Audio enclosure. The dual-cabinet design fits standard 10-inch subwoofer drivers. Setting up the enclosure is easy, thanks to terminal cups pre-wired with speaker cables.
---
How to Buy Subwoofer Enclosures for Vehicles on eBay
Whether they are in search of loaded subwoofers or custom solutions, consumers can access an array of options on
eBay
. To start a search, find the search bar on any page of the site. Enter a generic term such as "
subwoofer enclosure
" to get a broad look at the items available or run a search for a specific brand and model. Review items in detail by clicking on the highlighted titles and reading the product detail pages. With its wide-ranging catalogue and detailed product listings, eBay offers users a comprehensive way to find and purchase subwoofer enclosures for their vehicles.