An integral part of a record player or
turntable
, specialty manufacturers create phono cartridges to hold the needle at a precise height above vinyl records. This exact placement ensures skip-free playback as well as a reduced risk of vintage or favourite vinyl damage due to an improperly holstered stylus needle or player arm that is not the proper stiffness. While several companies produce phono cartridges, some stand out from the best due to their quality construction as well as their ability to accurately reproduce both simple and complex musical passages. A bit of research into these cartridges enables shoppers to make a confident purchasing decision whether the item comes from a local music shop or online at eBay.
| | |
| --- | --- |
| 1 | Clearaudio Goldfinger Statement Phono Cartridge |
The Clearaudio Goldfinger Statement is a leader in music reproduction and high fidelity analogue sound. The body of this cartridge features solid 14-karat gold construction and the magnetic coil measures in at 30 per cent thinner than others in its class, a benefit that increases efficiency and reduces mass to 16.5 grams.
---
With its rectangular shape and a weight of 12.6 grams, the Dynavector XV-1s Mono is a Hi-Fi component that appeals to mono enthusiasts due to its ability to extract full musical expression from even vintage records without an old-fashioned, clunky design. To go along with the horizontal groove flow, this cartridge reduces vertical scraping, producing an even and pleasing tone.
---
| | |
| --- | --- |
| 3 | Lyra Kleos Phono Cartridge |
The Lyra Kleos phono cartridge features corresponding signal coils and magnetic circuitry to reduce distortion and improve fidelity. The sturdy chassis comes constructed of aircraft-grade alloy materials with a redesigned contact stylus for a longer life and improved stability in an 8.8-gram size.
---
| | |
| --- | --- |
| 4 | Clearaudio Maestro v2 Ebony Phono Cartridge |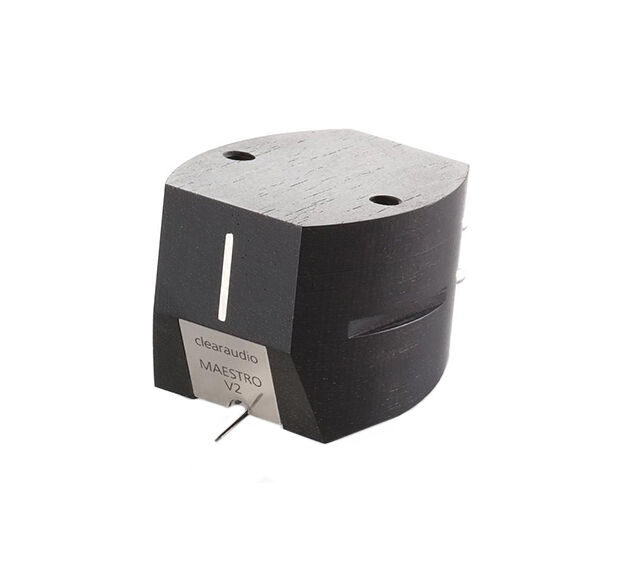 Constructed in an ebony housing, the Clearaudio Maestro V2 phono cartridge benefits from improved resonance and higher output voltage due to its efficient design. The inclusion of more powerful magnets is also a benefit to this cartridge, allowing for a greater dynamic range and more pleasing overall sound in an 8.5-gram size.
---
| | |
| --- | --- |
| 5 | Ortofon 2M Black Phono Cartridge |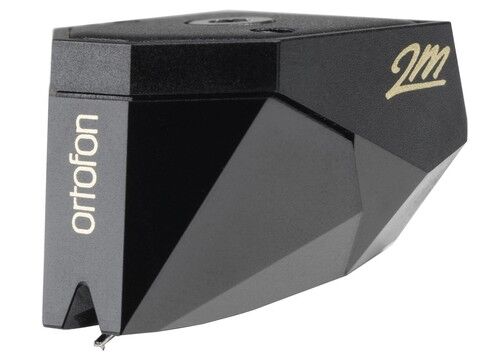 The Ortofon 2M phono cartridge features a black case and Shibata diamond stylus for easy movement over record grooves of all types, features that lead to the reproduction of accurate and pleasing sound. This design is easily mountable and a weight of 7.2 grams makes it simple for both amatuer and experienced users to place.
---
| | |
| --- | --- |
| 6 | Grado Reference Platinum1 Wood Body Phono Cartridge |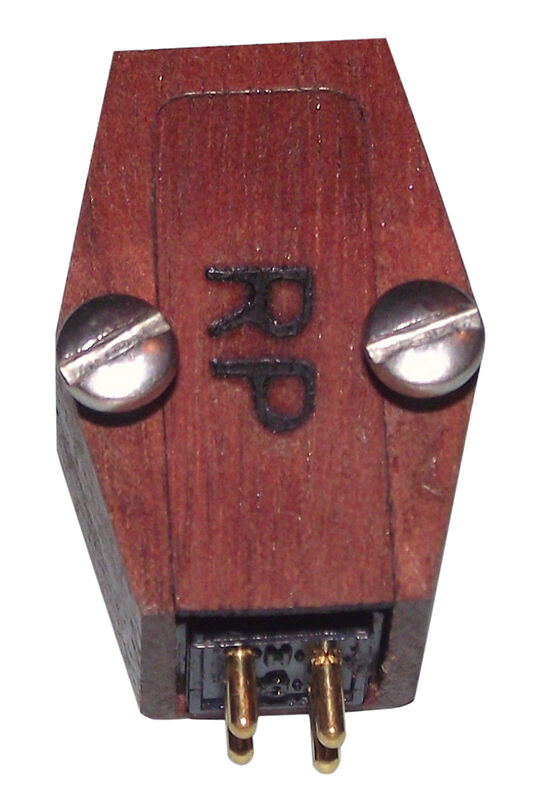 The Grado Reference Platinum1 phono cartridge features a solid wooden body to provide a balanced signal transfer from the stylus to the magnetic coils. This allows for rich, full tones and accurate high notes across all genres to appeal to listeners of all types. In addition, the OTL cantilever design reduces distortion and the 6.5-gram weight makes placement safe and simple.
---
| | |
| --- | --- |
| 7 | Denon DL-110 Phono Cartridge |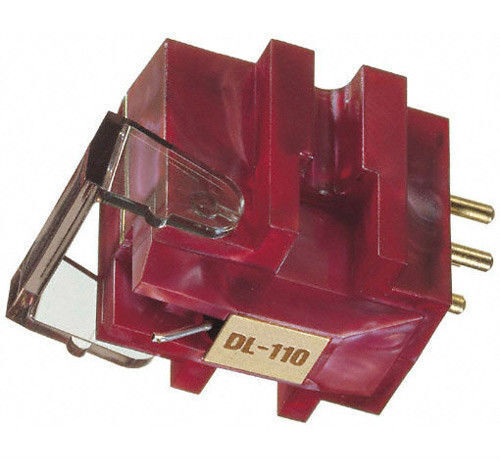 The Denon DL-110 is a high output phono cartridge with an elliptical stylus to read each groove of a standard vinyl record with a tracking force of 1.8 grams. The attractive red housing interfaces easily with a moving magnet phono input, allowing for broadcast-quality sound in an easy to install and operate 4.8-gram size.
---
| | |
| --- | --- |
| 8 | Audio-Technica 95E Cartridge |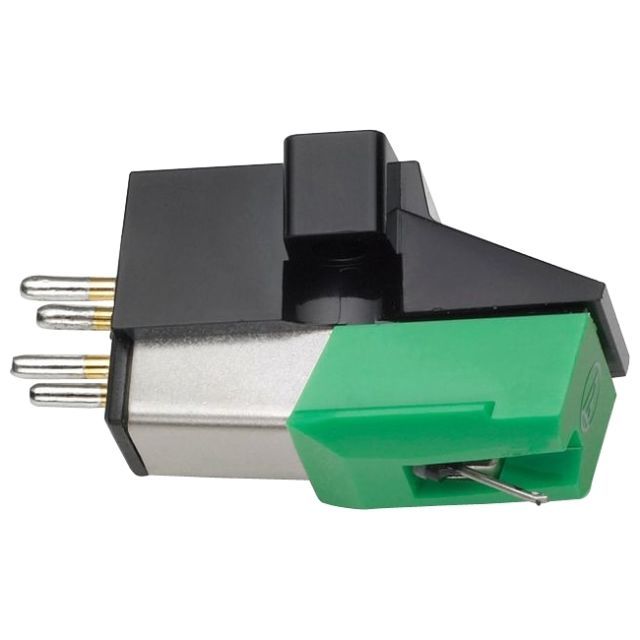 Used as a stock cartridge on several high-end turntables, the Audio-Technica 95E produces rich bass tones as well as accurate and clear mids and highs. The cartridge's elliptical stylus and standard mounting ability makes this a versatile choice, and the 6.5-gram heft is easy for vinyl lovers of all ages to manoeuvre.
---
| | |
| --- | --- |
| 9 | Audio-Technica AT3482P Cartridge |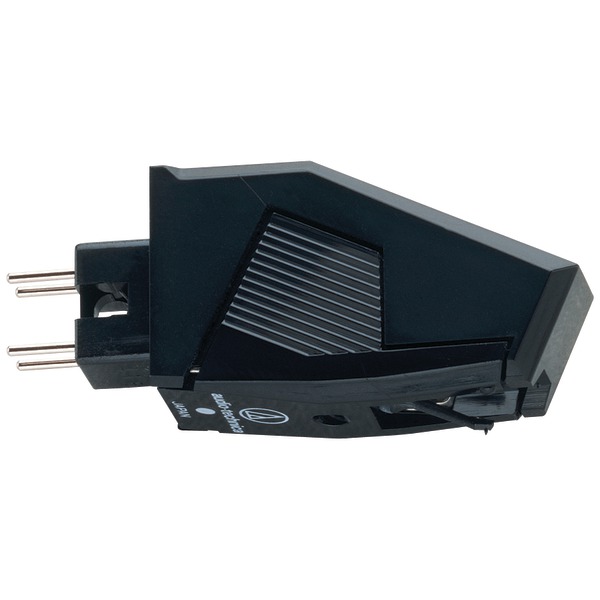 The Audio-Technica AT3482P is an entry level cartridge that delivers results across all genres. Since it is a standard 0.7-mm size, this conical cartridge integrates seamlessly with all P-mount turntables and the 17-gram weight ensures a steady and pleasing musical reproduction.
---
How to Buy Record Player Phono Cartridges on eBay
When shopping for record player cartridges on eBay, it is important to first pick a brand name or style and then use appropriate query phrases to locate the right product for you. Instead of querying "phono cartridge" in the eBay Search bar, a more condensed and targeted pool of results is obtained by using more specific terms like "Audio-Technica 95E phono cartridge", "Grado Prestige Series cartridge", or "Clearaudio ebony phono cartridge". To make the most of your eBay experience, take note of the feedback scores of the sellers from whom you are considering making a purchase and visit the eBay Talk page to ask questions and share information with eBay users around the globe.