Fashion-conscious women who want to spend the coldest months of the year feeling warm and looking great know that adding a few pairs of warm, well made, trendy
leggings
to their wardrobe makes the job easy. Leggings are available in many weights, cuts, styles, and materials. Sheer and cropped leggings are a great addition to any summer wardrobe, but for the chilly months of fall and winter, full-length leggings made of opaque material offer the warmth of another layer and the comfort that leggings are known for. Winter leggings are easy to find for sale in the marketplace at local shops and online. In addition, the eBay website has a vast array of leggings suitable for winter available in all sizes.
| | |
| --- | --- |
| 1 | American Apparel Winter Leggings |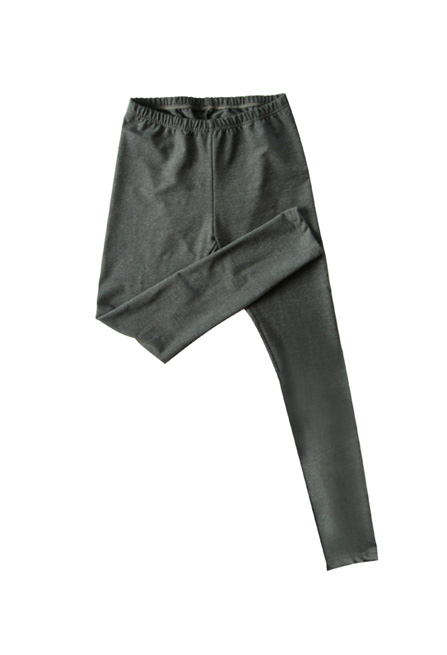 American Apparel winter leggings are a popular choice for the coldest weather. Made of soft cotton, these leggings are comfortable, soft, and available in many colours. Adding texture and interest to an outfit is easy with the grey cable-knit leggings from American Apparel.
---
| | |
| --- | --- |
| 2 | HUE Women's Corduroy Leggings |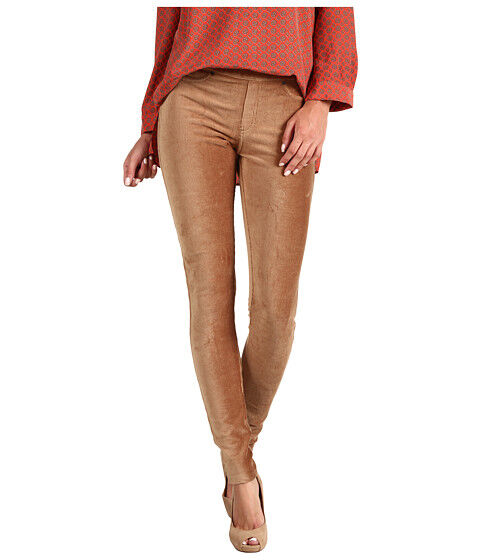 HUE women's corduroy leggings offer cutting-edge style with functioning back patch pockets, a faux fly, and front pockets. The covered elastic waistband ensures hours of comfort and warmth. Furthermore, HUE's stretch polyester blend wears well wash after wash.
---
| | |
| --- | --- |
| 3 | JOSEPH Leather Leggings |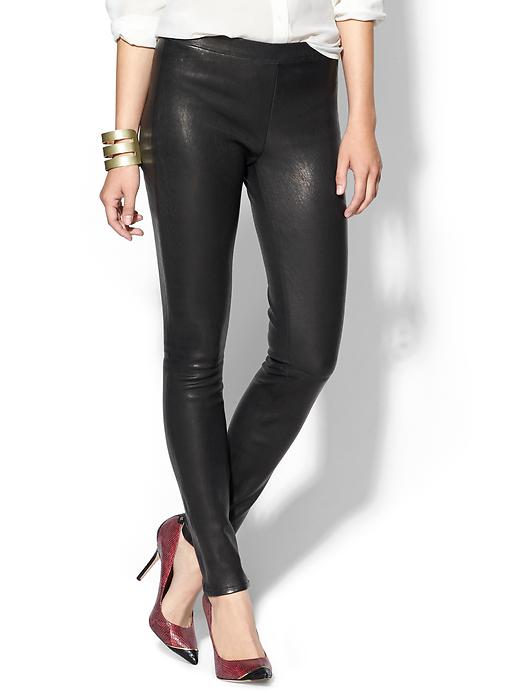 JOSEPH leather leggings are carefully crafted leather leggings that are as versatile as they are unique. These designer label leggings are a high-end take on the trendy smooth texture and satin finish of runway styles. Shoppers can wear them with a casual T-shirt or dress them up with sleek booties and a button-down silk shirt.
---
| | |
| --- | --- |
| 4 | Topshop Velvet Leggings |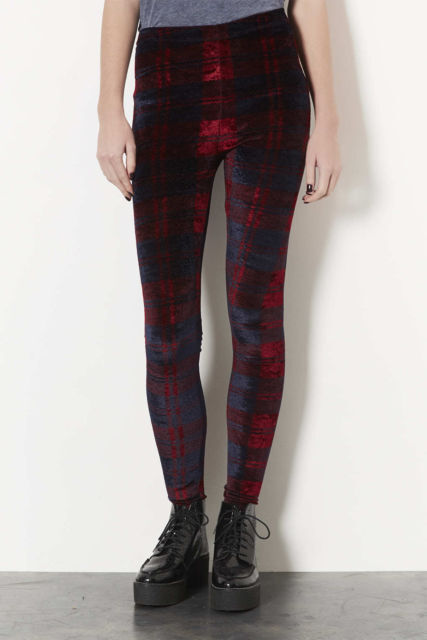 Yet another take on the new trendy textured leggings, Topshop velvet leggings are a top pick among women who know how to incorporate the latest fashion trends into their classic wardrobe for a fusion of tried-and-true and ultra-trendy. The black floral velvet leggings by Topshop are some of the brand's most popular.
---

Consumers can show a sporty side with the Adidas Core leggings. The combination of 68 per cent cotton, 27 per cent polyester, and 5 per cent elastane single jersey creates a material that is functional, moisture wicking, comfortable, and does not ever bulge or warp, even after hours of active wear. Shoppers can pair them with a sporty skirt for a fun-loving look that holds in warmth.
---
| | |
| --- | --- |
| 6 | American Apparel Cotton High Waist Leggings |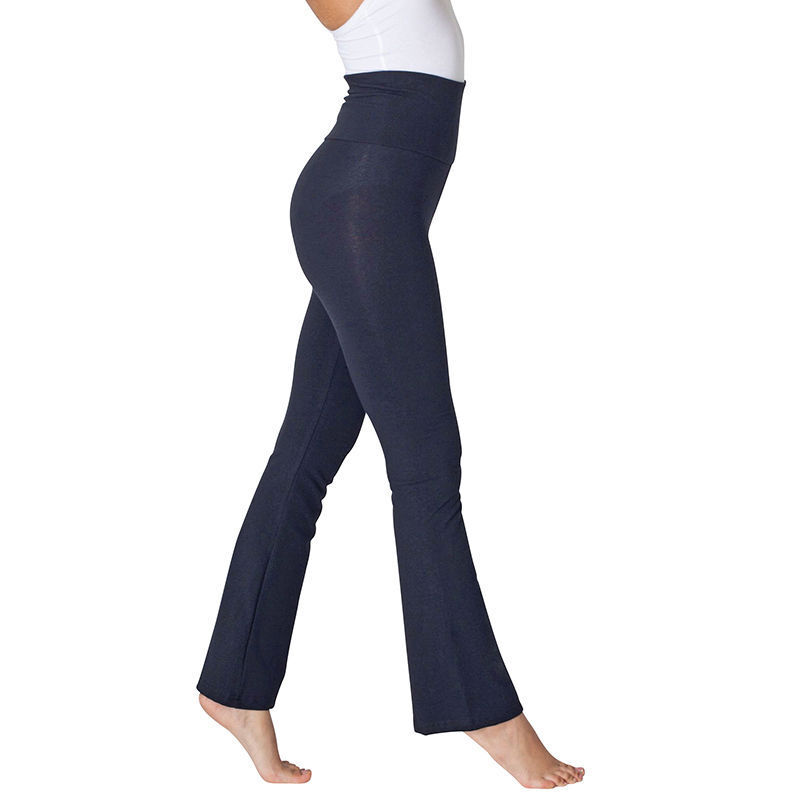 The American Apparel cotton high waist leggings are highly rated among women on the go. The high waist style is ideal for layering. Made from 95 per cent cotton and 5 per cent spandex, these popular leggings are lightweight yet functional. These full-length leggings are available in sizes extra-small through extra-large.
---
| | |
| --- | --- |
| 7 | ASOS High Shine Leggings |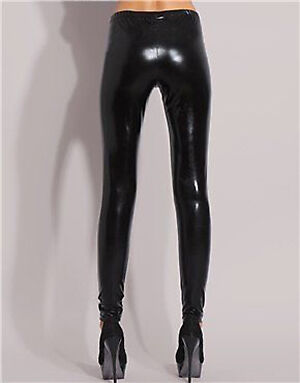 ASOS High Shine leggings extend a designer warm-weather wardrobe by offering a fashionable way to layer without sacrificing style. The London-based design team behind the ASOS label offers these wet-look high shine leggings with an elasticated high waist and a body-conscious fit. Furthermore, the fabric features a coating to help maintain the shine.
---
| | |
| --- | --- |
| 8 | Kiniki Poly Elastane Leggings |

Available in many vibrant prints and colours, the Kiniki poly elastane leggings line offers a lightweight option for those in between days when it is not quite cold enough for fleece, but an extra layer helps to keep the chill out. Poly elastane is quick drying and easy to launder. These leggings are made in England and come with a reasonable price.
---
| | |
| --- | --- |
| 9 | Butterfly Denim Look Leggings |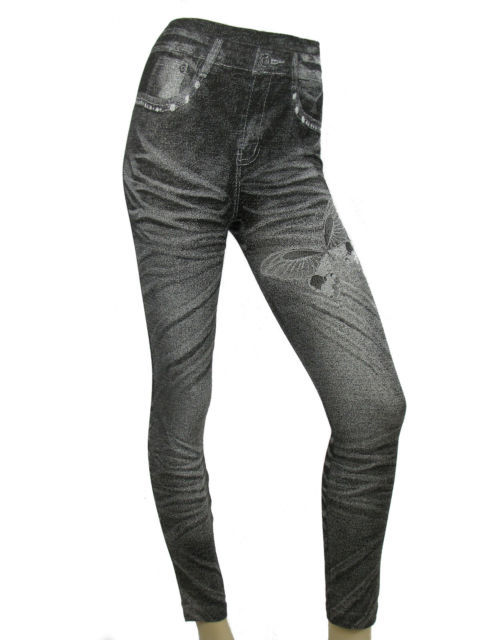 The newest trend in leggings has arrived with Butterfly printed jeggings. These full-length winter-appropriate leggings are 30 per cent cotton, 30 per cent spandex, and 40 per cent polyester. Highly sought after by women who want to add a trendy twist to their classic wardrobe, these fun denim printed leggings are a must.
---
How to Buy Top Winter Leggings on eBay
Purchasing the most popular brands and styles of winter leggings on the eBay website is easy. Execute a simple search by typing a specific search term in the search field located on every page of eBay's website. Refine search results by category, main colour, trouser size, brand, material, pattern, condition, or price. Continue to refine search results until the selection narrows enough to make the decision easy. Winter leggings are an essential addition to any fashionable woman's wardrobe. Adding a pop of colour or an unexpected layer of rich texture to a winter outfit is a cheerful way to keep fashion fun and new.